Ecosystem Events: The Future of IoT in Health
About this event
With health at the top of our minds, many are beginning to acknowledge the power that the Internet of Things can play on the accessibility of quality healthcare and innovative practices.
What To Expect:
Hear how IoT and emerging technology are providing solutions, gathering data and supporting business decisions
Gain an understanding of the challenges in the health space through in-depth conversation
Synergistic networking opportunities with key stakeholders in the Health sector
Event Agenda:
3:00pm - Opening Remarks
3:05pm - Microsoft Keynote
3:40pm - Panel Discussion with Smartone, Glenrose and W21C
4:10pm – EllisDon Feature
4:40pm - Breakout Sessions
5:00pm - Closing Remarks
About the Keynote:
Dr. Helia Mohammadi is the National Healthcare Chief Data Scientist and Healthcare Lead for Microsoft Canada and a thought leader in the research and healthcare industry. With over 14 years' experience in research and applied AI, her work has leveraged and extended Machine Learning and Cloud solutions to deeply influence key domains including predictive analytics, genomics research, and precision medicine.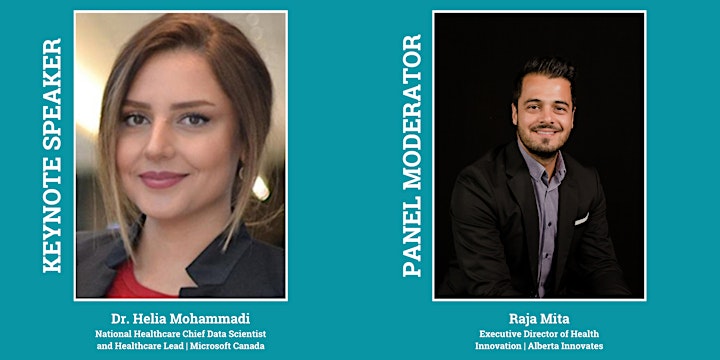 About the Moderator:
Raja Mita, Executive Director of Health Innovation at Alberta Innovates has been building cross-sectoral partnerships in the health care industry for over 10 years. In his current role, Raja is working with start-ups, large industry, academia, and health delivery agents to accelerate the integration of emerging digital and data-enabled technologies with new models of care to achieve both economic and health outcomes for Alberta. Raja is also an instructor at the MacEwan University School of Business, where he delivers undergraduate courses in business consulting, strategy, and innovation.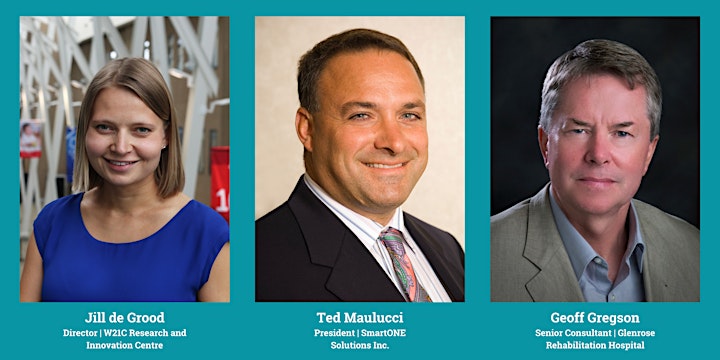 About the Panelists:
Jill de Grood, Director of W21C Research and Innovation Centre, has been in an evolving leadership role with W21C for more than nine years, and became Director of the Centre in 2013. Over the years, Jill has led and been involved in numerous industry partner projects in areas such as technology assessment, infection prevention and control, and examining the effectiveness and impact of health care innovations for patient care.
As Director of Development and Partnerships, Jill continues to bring a strategic perspective to the W21C, to solve challenges and identify opportunities for the Centre. Jill is responsible for establishing and enhancing new and existing community partnerships with government and external organizations.
Ted Maulucci is the President of SmartONE Solutions Inc., a company committed to advancing the digital living experience in communities. Mr. Maulucci is passionate about contribution and advancing innovation across Canada through partnerships and collaboration. He was named the Private Sector Canadian CIO of the Year in 2016 for his work on smart communities and has been recognized with several other awards for social contribution and innovation.
Geoff Gregson is a Senior Consultant with the Glenrose Rehabilitation Hospital (GRH) and an Adjunct Professor in the Faculty of Rehabilitation Medicine at the University of Alberta (UA). Geoff's work involves development, evidence-based assessment and deployment of new innovations that lead to meaningful improvements in quality of life for people with physical and cognitive impairment. He also works closely with industrial, academic and community collaborators in developing new products that can successfully enter the market and generate economic benefits. He holds a PhD and LLM from the University of Edinburgh (UK), an MBA from the University of Calgary and a BKin from the University of Alberta.
Stay tuned for more details on Peter Jones, Healthcare Industry Lead at Microsoft, and a panelist from EllisDon.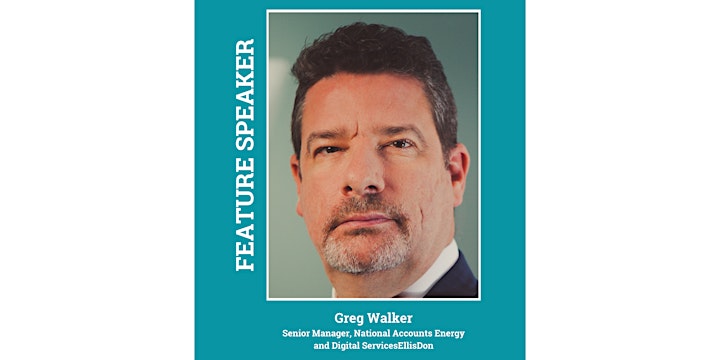 About the Feature Speaker:
Greg Walker has spent over 25 years in the world of IT Infrastructure. An experienced speaker and panelist who can engage with CIOs and technical decision makers alike, he has shared his insights at many industry events. During his career he has helped clients progress from one IT Service Delivery model to another. This has seen the transition from Mainframes to Open Systems, followed by an evolution to a fully virtualized and software-defined approach, which has ultimately led to the adoption of hybrid models of On-Premise, Cloud Computing, and IT-as-a-Service (ITaaS).
Greg started his career in IT Consulting, specializing in Unix systems, Systems Management, Networking, Virtualization, and Disaster Recovery Planning. He was one of the first Cisco CCIEs in Canada and one of the first VMware Certified Professionals in the world.
Since 2008 he has devoted himself to building Network, Data Centre, and Cloud solution practices for several organizations, and is now responsible for growing the Intelligent Building and IoT business for EllisDon's Energy & Digital Services across Canada.
This event is supported by Alberta IoT's generous annual sponsors - Alberta Innovates, Aruba Networks, MNP, Rogers Communications, Avaya, Canadian Blockchain Consortium, Lenovo, Microsoft, PCL, Socium Law, Titan Logix Corp and Tridon Communications.