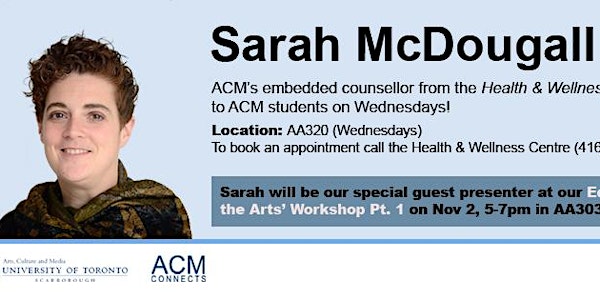 EDA Pt. 1: Equity, Diversity and Self-Care with Sarah McDougall
When and where
Location
University of Toronto Scarborough 1265 Military Trail AA303 Scarborough, Ontario M1C1A4 Canada
Description
EDA Pt. 1: Equity, Diversity and Self-Care with Sarah McDougall
Sarah McDougall works as a personal counsellor with the Health and Wellness Centre. Her training is rooted in couple and family therapy, mental health care, and addiction treatment. Sarah is very interested in learning what brings meaning and purpose to people's lives, and works to achieve their life's ambitions and goals.
Sarah McDougall is also ACM's embedded counsellor from the Health & Wellness Centre is available to ACM students on Wednesdays!
Note: Field Placement Students! You must attend this workshop before going on placement.