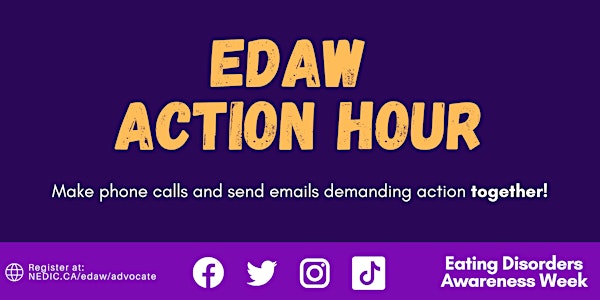 Multiple dates
EDAW2023 Action Hour
Take action online in a space full of community working towards change!
By National Eating Disorder Information Centre
When and where
Date and time
Wed, Feb 1, 2023 9:00 AM - Sun, Feb 5, 2023 9:00 AM PST
About this event
EDAW Action Hours are a virtual space where you'll be together with community members who want to push for change in support of people who are affected by eating disorders. We believe in community care and collective effort.
How does it work?
You'll join a Zoom link for a quick training (15-20 minutes) and we'll then collectively all send emails, create posts, and make calls for the remaining time. At the end, we'll celebrate our effort and discuss ways to keep up the pressure.
Note: Each event will follow the same structure so choose the date to attend that works best for you! The EDAW national organizing committee prioritized having a range of dates and times available to reflect the many time zones present across Canada, instead of choosing one consistent hour.
What you'll need:
A device (computer, phone, tablet, etc.) with internet
Access to Zoom and Google Docs
Potentially a telephone if calling folks is your preferred way to connect with people
What you'll be provided:
Access to a trained facilitator who will hold space for an hour
Resources shared via Google Docs to help you formulate your ask and who might be an important decision-maker to direct it to (e.g., elected representative, company, organization, etc.)
FAQs
What is Eating Disorders Awareness Week (EDAW)?
Eating Disorders affect people of all genders, ages, classes, abilities, races, and ethnic backgrounds. That is why, from February 1st to 7th every year, Eating Disorder groups across Canada unite to commemorate Eating Disorders Awareness Week (EDAW) with a national week of action focused on educating the public about Eating Disorders. It is a time to spread awareness of the impact of Eating Disorders, the dangerous stereotypes and myths, and the supports available for people living with or affected by them.
Recognizing EDAW helps to affirm the experiences of those individuals living with or affected by an Eating Disorder, as well as the millions of Canadians that experience food and weight preoccupation on a daily basis. By helping shed light on an issue that is fraught with stigma and secrecy, we draw attention to the need to support further research, provide better treatment options and enhanced training, engage in greater prevention efforts, acknowledge the need for caregiver support, and stigma-bust in this under-resourced area.
Eating Disorders Awareness Week is co-organized by community-based eating disorder agencies from coast-to-coast-to-coast. This year's partners on the national organizing committee include Body Brave, Bulimia Anorexia Nervosa Association, Eating Disorders Nova Scotia, Eating Disorder Support Network of Alberta, Jessie's Legacy, National Initiative for Eating Disorders, Sheena's Place, Waterloo-Wellington Eating Disorders Coalition, and Vancouver Island Voices for Eating Disorders.
Learn more at https://nedic.ca/edaw/.
Who is this event for?
Everyone is welcome, including people with living or lived experience, caregivers, professionals, and loved ones looking to support the cause.
What platform are you using?
This event will be offered via Zoom.
How do I join the event?
Create an account at zoom.us, then download Zoom onto your computer, tablet, or phone. You will receive an email with the Zoom meeting link one hour before the start of the event. Keep in mind that other attendees will be able to view the name that you use to register for your Zoom account. Your name can be changed in your account settings.
Zoom is used for video conferencing. Do I have to turn on my camera?
No, camera and mic use is optional. You are welcome to just listen and participate to whatever extent you are comfortable with.
Will live captioning be offered?
Yes. To use this feature, you will be able to click "Live captioning" at the bottom of your screen in the Zoom meeting.
About the organizer
The National Eating Disorder Information Centre (NEDIC) has been helping Canadians affected by eating disorders since 1985. Through our programs and services, we provide information, education, resources, support, and referrals to individuals struggling with food and weight issues, as well as the families, friends, and professionals who care for them. With a focus on promoting self-acceptance and positive self-esteem, NEDIC is committed to reducing risk factors for the development of eating disorders.