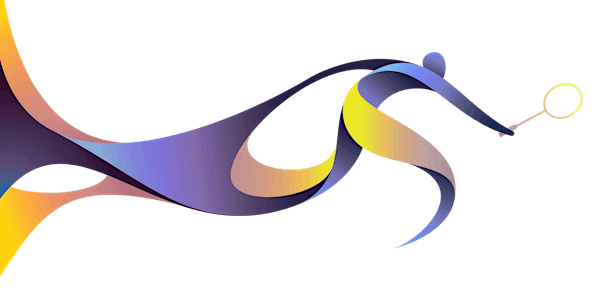 Multiple dates
EDBA Summer Badminton
Dust off your racquet and come play badminton at the Saville Centre!
By Edmonton District Badminton Association
Date and time
Sat, Aug 15, 2020 1:30 PM - Sat, Aug 29, 2020 3:30 PM MDT
Location
Saville Community Sports Centre 11610 65 Avenue Northwest Edmonton, AB T6G 2E1 Canada
About this event
Event Information
Attendance numbers will be limited according to the Alberta COVID-19 relaunch guidelines for indoor sports.
A drop-in fee of $5 will be due upon arrival. Please bring exact change. EDBA will not be able to provide change. No pay, no play.
Given attendance limits, no-shows will be tracked and not permitted at any other summer play dates.
New nylon shuttles will be provided. Players to discard shuttles after each match.
EDBA strongly encourages singles games (15 points). Two games/match.
Doubles games (to 21 points) are allowed ONLY for declared cohorts/family of up to 4. Two games/match.
Participant Information
Attendees must be 14 years of age by date of event.
All participants are required to wear a non-medical mask IF NOT ON COURT PLAYING badminton.
Please bring your own hand sanitizer (at least 60% alcohol content) and personal protective equipment (PPE) (face coverings, gloves, wipes, etc.)
Come dressed to play. Saville Center change rooms will not be available. Bring personal gym bag to contain own attire. Do not leave clothing, shoes lying around on the ground, chair, or bench.
All players must wear clean, indoor, non-marking athletic shoes.
As a courtesy to those on the waitlist, please cancel your registration at least 24 hours prior if you are not able to attend (please refer to instructions below if you need guidance with EventBrite)
Abide by EDBA Summer Badminton rules
Abide by Saville Center facility and COVID guidelines.
Please do NOT attend if:
You have tested positive for COVID-19.
You have a cough, fever, shortness of breath, runny nose, or sore throat that is not related to a pre-existing illness or health condition.
You have been in contact with someone known to have COVID-19.
You have travelled outside Canada within the last 14 days.
Registration and Check-In Requirements
Download and register using Eventbrite app (free) to manage your tickets.
Each play date requires a separate registration per attendee.
After registering, either print the ticket(s) or preferably, bring them on your smartphone for scanning.
How to Modify Your Registration
To modify your registration from within the app, go to your ticket > push the "…" (may appear as vertical dots) menu in the top right corner (iOS)>select contact organizer > enter your modifications and send to the organizer. The organizer will receive an email.
To modify your registration from within a computer browser, go to your ticker > click "Edit" next to the General Admission section/header.
How to Cancel Your Registration
To cancel your registration from within the app, go to your ticket >push the "…" (may appear as vertical dots) menu in the top right corner (iOS) > select contact organizer > ask to cancel or refund the ticket.
To cancel your registration from within a computer browser, go to your ticket > push the "cancel order" button.
EDBA Summer Badminton Rules
Three (3) or more dedicated and informed EDBA volunteers who are willing to abide by established rules and be willing to monitor and enforce rules, will be in attendance.
1. EDBA volunteers reserve the right to limit attendance, enforce the rules and can send attendees home for non-compliance or to mitigate potential spread of COVID-19. Non-compliance puts others at risk.
2. Attendees must pre-register (Eventbrite) to attend. Cancellation is required at least 24 hours prior; no-show without >24 hour cancellation will be tracked and future attendance prohibited. If your cancellation is due to being unwell, we ask that you self-isolate and not attend any of the EDBA Summer Badminton events.
3. Pre-registration is consent to EDBA for collecting name/contact according to Alberta COVID-19 Record Management requirement for contact tracing purposes.
4. Attendees must pass Fit for Play Assessment no more than two hours prior to play time.
5. Attendees are aware that onsite registration requires time and patience. Attendees may not bypass this step to fast track playing on the court.
6. Gloves are recommended for non-racquet hand to pick up shuttles. Gloves must be clean, single-use, and disposable.
7. After each game, players are to place any EDBA-provided used shuttles into the designated used/dirty shuttle container, with gloved hands; then discard glove, as applicable.
8. Attendees may bring their own marked shuttles and are responsible for the use and the disposal of their shuttles.
9. Attendees must have intention to be actively participating in badminton games. Parents may drop off their youths at the front of Saville Centre entrance. No spectators allowed unless you are waiting to play.
10. Attendees are not required to wear a mask during play but will be asked to mask between game, especially when physical distancing is not possible. NOTE: Masks are to be used as per manufacturer's specification. Dispose of used/soiled masks in trash bin. It is your responsibility to ensure you have sufficient masks and/or the correct type of masks for your own use.
11. Wash/sanitize hands after each match.
12. Upon conclusion of the event, collect all personal belongings and leave the venue immediately.
13. Reminders:
a) Avoid touching face, nose, mouth with unclean hands.
b) Sanitize racquet handles frequently.
c) Sanitize cell phones upon leaving gym.
d) Cover your cough/sneeze with your arm, then wash/sanitize hands.
e) Use non-touching gestures instead of customary hand shaking after each match.
f) No yelling, loudly celebrating, screaming, or any similar notions between players.
g) Do not share badminton racquets unless you are within the same family.
14. Recommendations
b) When possible, wash hands with soap and water (20 secs) preferred (over hand sanitizing) and when hands are visibly soiled.
c) Bring your own water bottle, labeled. Unlabelled water bottles lying around will be discarded.
d) Single use disposable gloves for non-racquet hand to pick up shuttles.