| | |
| --- | --- |
| Eddie Williams & Friends 6th Annual Party For A Purpose Fundraising Event | |
Event Details
PARTY FOR A PURPOSE 2013
Well friends, I am about to be a year older and as the saying goes a little wiser.
I truly hope all is well or at least better with you. It's that time of the year again when I ask EVERYONE for a little help in supporting this special B-Day Party For A Purpose fundraising event.
Not only do I get to reconnect with OLD friends, but I also meet new ones as well. With your help.... everyone can truly turn this event into a "Party for A Purpose" by raising some well needed funds for several local community organizations. Please see full details below.
Let me start by saying a BIG THANK YOU to everyone that has assisted us in getting the word out. Many of you have forwarded my emails, phoned friends, shared the details and invited them to attend the annual "Eddie Williams B-Day Party for A Purpose Event".
I am so appreciative to all of you as your interest and responses thus far have been very overwhelming.
I wanted to remind you why I do this event every year and how our community benefits from it. Your donations and attendance will assist to sponsor A Black History Month essay writing contest for youth aged 10-17, which is being run by a local social service agency that supports at risk youth.
The youth will be asked to answer The question "What does Black history mean to you?"
The tickets you buy and money you donate will off set the cost to give winners of the contest a ticket to an upcoming Toronto Raptors Basketball game that will take place on March 10th 2013.

They will also have a chance to meet a Toronto Raptor's star (TBA). In addition, our goal is also to provide a meal for the children. This event will  include a Q&A Session following the game and a photo-op with the Toronto Raptor Basketball Star.
Individual & Corporate Sponsor Packages Available 416 781-1695 Ext 3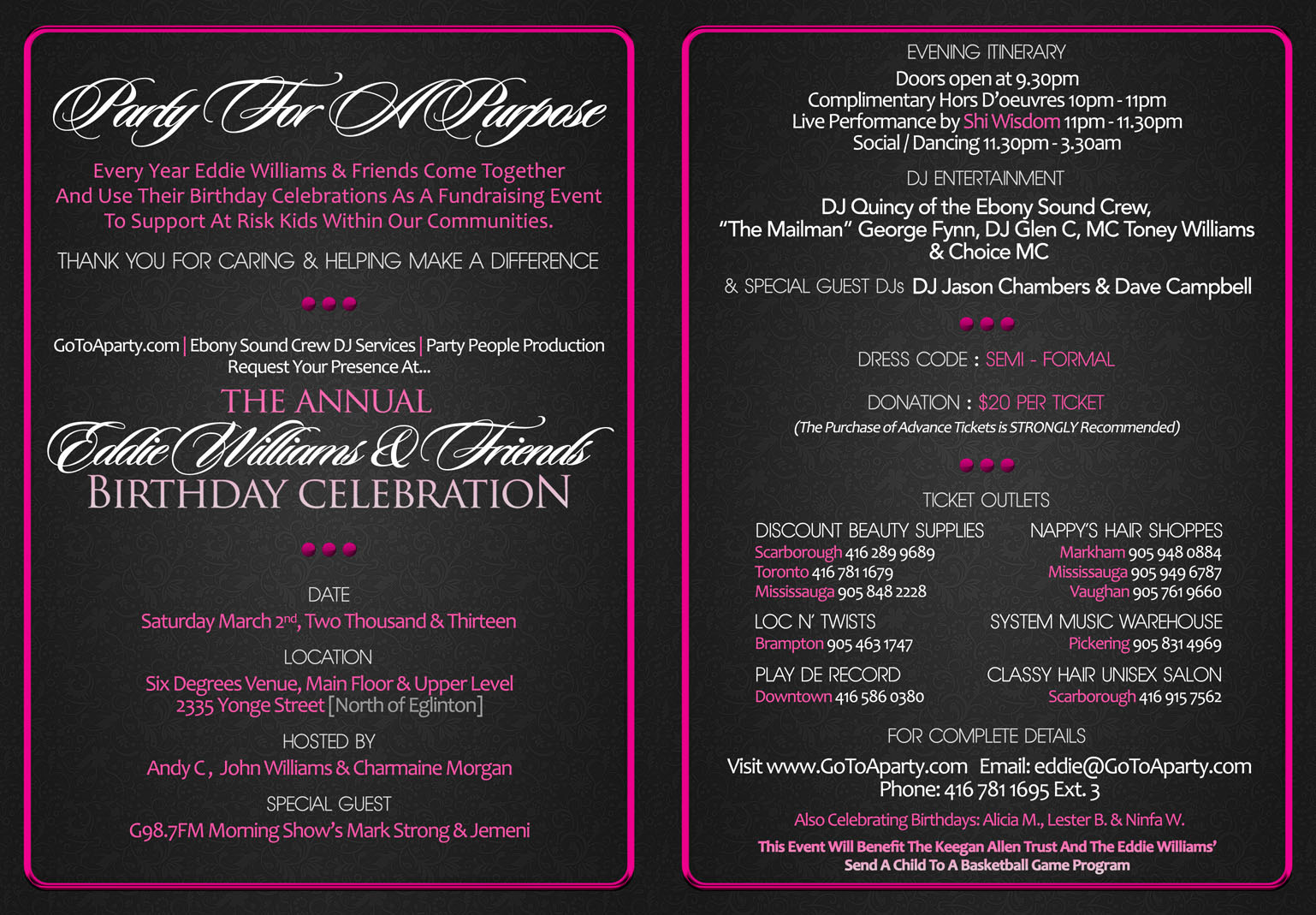 Admission Advance Tickets Available At
The

Ticket Outlets Listed Below:
System Music WareHouse
Discount Beauty Supplies
Nappy's Hair Shoppes
Evening Itinerary:
Complimentary

Hors D' oeuvres 10pm-11p
Live Performance By

Shi Wisdom

11p - 1
1:30p
Social/Dancing 11:30p - 3:30a
Hosted By: G98.7fm Morning Show Mark Strong & Jemeni
 Dj Quincy From The Ebony Sound Crew

Dj Jason Chambers

Dj The MailMan George Fynn
Dj Glen C

Mc Toney Williams & Choice Mc
There you have it... the annual "Eddie Williams B-Day Party for A Purpose" event is an opportunity for everyone to have fun, celebrate my birthday with me and give to a great cause.
So if you have not already done so, get your tickets NOW or ASAP.
You do not want to miss this event!!!!!
For bottle service
VIP
PACKAGES call Eddie Williams 416 781-1695 Ext 3
PLEASE share this info with like-minded people like yourself.
THANK YOU IN ADVANCE AND TOGETHER WE WILL MAKE DIFFERENCE IN OUR CITY!
 - -
Ebony Sound Crew Inducted Into The Canadian Stylus Dj Hall Of Fame.
Eddie "Go To Man" Williams
Entertainment Event Specialist
Where

6 Degrees Venue
2335 Yonge Street
Toronto, Ontario M4P 2C8
Canada

Organizer
Entertainment Events Planner/Coordinator
Always Doing Something Somewhere And Loving It.
www.GoToAparty.com