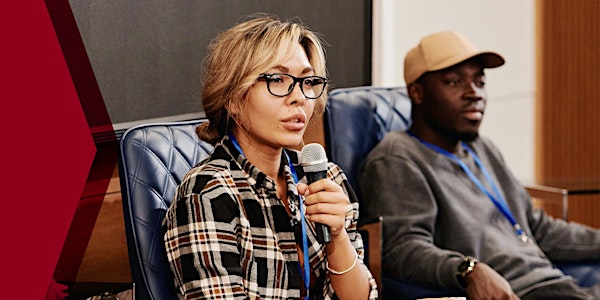 EDI: Everyone's Doing It … But Are They Doing It 'Well'? In person Event
Join us for an authentic and challenging dialogue on EDI.
When and where
Location
Desmarais Hall, 55 Laurier Avenue East | Room 4101 55 Laurier Avenue East Ottawa, ON K1N 6N5 Canada
About this event
About this event
Date: October 3
Location: Desmarais Hall, 55 Laurier Avenue East | Room 4101, 55 Laurier Avenue East, Ottawa, ON K1N 6N5
Time: 6 p.m.
Format: In person
Language: Bilingual event
Schedule
6 p.m.: Cocktail reception
7 p.m.: Panel
An authentic and challenging dialogue on thinking of equity, diversity and inclusion (EDI) as more than a box-ticking exercise. Examining the complexities of meaningful change and the unique nuances of our communities.
Moderator:
Cici Moya (BA '11) content creator, host and health advocate.
Speakers:
Soukaina Boutiyeb (BSocSc '11) is executive director of the Alliance des femmes de la francophonie canadienne (AFFC) and has been president of the Association des communautés francophones d'Ottawa (ACFO Ottawa) since 2017. She is committed to the causes of women's rights and the promotion of French in minority settings.
Anti-racism, inclusion, social entrepreneurship — as founder of the platform Culture Check, Nathan Hall (BSocSc '07) has offered help to thousands of people experiencing racism in the workplace and provided sensitive guidance to organizations that wish to make a genuine culture shift.
Awad Ibrahim is Full Professor at the Faculty of Education. He is a Curriculum Theorist with special interest in economy of hospitality (Derrida), cultural studies, Hip-Hop, youth and Black popular culture, social foundations (i.e., philosophy, history and sociology of education), social justice and community service learning, diasporic and continental African identities, ethnography and applied linguistics. Professor Ibrahim is the recipient of the Air Canada Professorship on Anti-Racism.
Jon-Ethan Rankin-Kistabish (LLL '18), member of the Abitibiwinni First Nation, lawyer at Murdoch Archambault and member of the University of Ottawa Indigenous Alumni Council.
Photographs, videos, and audio recordings of this event may be produced and may include your recognizable image. By participating in the event, you thereby consent to being photographed, video-taped and audio-taped. You thereby authorize the University to use any of these recordings for its activities and events, as well as for its print and electronic promotional material, including on the Internet via the University website or other social media websites. If you have any questions about this policy or accommodation needs or questions about the event, please contact: alumni@uOttawa.ca.