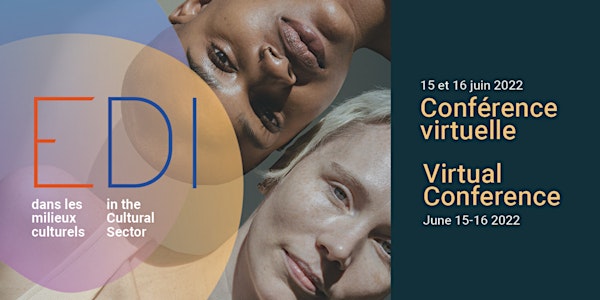 EDI in the cultural sector / ÉDI dans les milieux culturels
Pan-Canadian Virtual Conference: EDI in the Cultural Sector / Conférence virtuelle pancanadienne : L'EDI dans les milieux culturels
About this event
This conference on Equity, Diversity and Inclusion in the Cultural Sector: The Role of Cultural Organizations aims to bring together researchers, artists, practitioners, and cultural workers interested in EDI in cultural environments throughout Canada.
The overall objective of this project is to foster communication between researchers and practitioners in order to generate new knowledge about and actions toward improving EDI in cultural settings, and specifically within cultural organizations. This dialogue is intended to provide cultural organizations with tools and to offer researchers a better understanding of experiences in the field. This compendium of experiences and research results will contribute to the development of new knowledge rooted in the practice of the target audiences.
All conferences will have simultaneous interpretation in English and French.
-------------------------------------------------------------------------------
La conférence virtuelle pancanadienne intitulée « Équité, diversité et inclusion dans les milieux culturels : rôle des organismes culturels » vise à réunir les chercheur·euse·s qui s'intéressent aux questions d'ÉDI dans les milieux culturels canadiens et les acteur·rice·s du terrain dont les artistes et les travailleur·euse·s d'organismes culturels au pays.
L'objectif général de ce projet est de favoriser la communication entre les chercheur·euse·s et les praticien·ne·s afin de dégager de nouvelles connaissances en matière d'ÉDI dans les milieux culturels et plus spécifiquement sur le rôle des organismes culturels. Ce dialogue vise à outiller les organismes culturels et à amener les chercheur·euse·s à développer une meilleure compréhension des expériences vécues sur le terrain. Cette complémentarité des expériences et des résultats de recherches contribuera au développement de nouvelles connaissances ancrées dans la pratique des publics cibles.
Toutes les conférences auront l'interprétation en simultanée en anglais et en français.