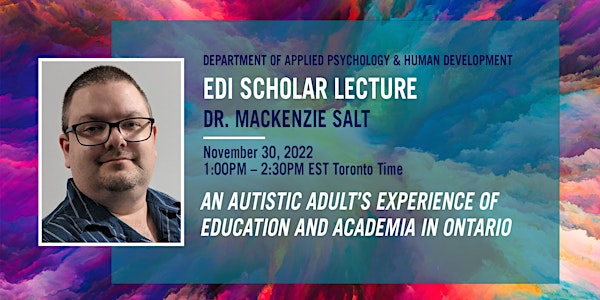 EDI Scholar Lecture - Nov 30
Topic: An Autistic Adult's Experience of Education and Academia in Ontario
About this event
Title of talk: "An Autistic Adult's Experience of Education and Academia in Ontario"
*This event will be virtual via Zoom.*
Abstract:
Autism is a neurodevelopmental condition that affects two percent of the Canadian population. Autism presents with significant variability, leading to the common saying attributed to Dr. Stephen Shore, "If you have met one person with autism, you have met one person with autism". Today one autistic person, an autistic autism researcher, Dr. Mackenzie Salt, will be talking about his experiences being a student in the primary and secondary education system in Ontario. He will also be discussing journey going through the postsecondary education system as he earned his PhD. He will be discussing positive and negative experiences along with adaptations that worked for him and how he has come to be where he is today.
Speaker: Mackenzie Salt, PhD
Bio:
Mackenzie Salt (PhD) is an autistic autism researcher and a CIHR-Postdoctoral Health System Impact Fellow with the McMaster University Autism Research Team (MacART) and the Autism Alliance of Canada. He is currently working on a number of projects, all involving gathering information from and learning from the experiences of autistic adults. He is compiling and analysing this information to inform future research as to areas of priority within the autistic community as well as to inform policy. Previously, he completed a postdoctoral fellowship working with the Pathways in ASD study via MacART. He completed his PhD in Cognitive Science of Language in 2019 at McMaster University and has a background in qualitative linguistic research as well as research and study design involving autistic participants. He recently completed the Certificate course in Family Engagement in Research offered by the Kids Brain Health Network (KBHN) and CanChild and has been advocating for and working to improve research engagement with the autism community since. He has designed a number of research engagement projects and also service evaluation projects for autism service providers, incorporating research engagement principles. He is also currently the Editor-in-Chief of the all-autistic editorial board of the Canadian Journal of Autism Equity.