Sales Have Ended
Ticket sales have ended
Ticket sales have ended, but we may still be able to get you in! Please email cpaedmontonchapter@gmail.com with the number of attendees, and we will respond as soon as we can. Thank you.
Sales Have Ended
Ticket sales have ended
Ticket sales have ended, but we may still be able to get you in! Please email cpaedmontonchapter@gmail.com with the number of attendees, and we will respond as soon as we can. Thank you.
Description
A "trailblazer" is an individual who is either the first in their field or has made a major impact on it. We are privileged to be having a conversation with three Edmontonian trailblazers - Dr. Jodi Abbott, Linda Revell, and Hon. Mary Moreau - and gain insight into both the successes and challenges experienced in their careers.
Please join us for this interactive panel session. Add your questions (or up-vote others) on our Slido poll by downloading the sli.do app and using code #trailblazers. It's that simple!
Not a fan of Apps? Type "www.sli.do" in your browser, then use code #trailblazers to add your questions or up-vote others. We will be running Slido LIVE at the luncheon so you'll see the questions you and others have asked, and have the opportunity to up-vote questions LIVE as well. (If it's easier, please email your questions to cpaedmontonchapter@gmail.com).
Our panel of speakers: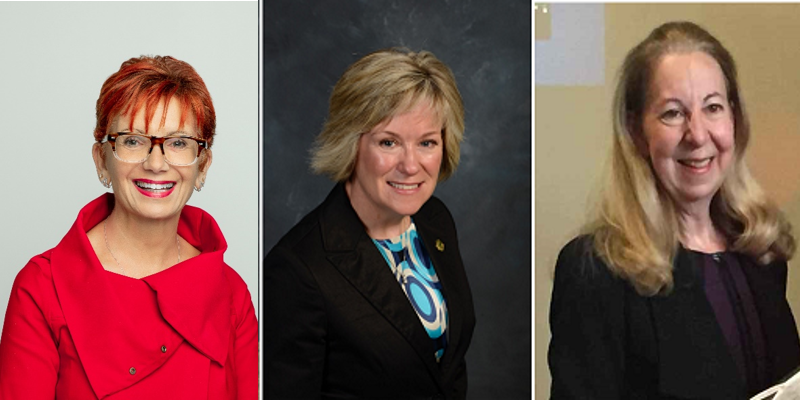 Dr. Jodi Abbott: President & CEO, NorQuest College
Since joining NorQuest College in 2010, Dr. Abbott has more than doubled the student population, unveiled innovative partnerships, and enhanced NorQuest's brand recognition. Under Dr. Abbott's leadership, NorQuest College opened a stunning new campus addition in fall 2017. Dr. Abbott chairs the Edmonton Metropolitan Region Board, was recently the Chair of Edmonton's Health City, and served as a trustee of the Stollery Children's Hospital Foundation. In 2015, she was named as one of the Top 100 Most Powerful Women by the Women's Executive Network (WXN), receiving the Trailblazers and Trendsetters Award. Most recently, she was named a Global Woman of Vision.
Linda Revell: most recently Chief Administrative Officer, Edmonton Police Service
Linda Revell was the first civilian and second female to hold the position of Chief Administrative Officer (CAO) of Edmonton Police Service (EPS). In her role Linda was the head of the Corporate Services Bureau, which supports the front line and investigative policing work of EPS through the administrative and support functions of EPS. Prior to joining EPS Linda's public sector experience was predominantly in the health care sector. Linda was the Chief Operating Officer at Covenant Health, Chief Operating Officer at First Nations Health Council, Vice President, Clinical Integration, Fraser Health Authority, and Vice President, Clinical Programs at Providence Health Care.
Hon. Mary Moreau: Chief Justice, Court of the Queen's Bench of Alberta
Chief Justice Mary Moreau was appointed as Chief Justice of the Court of Queen's Bench of Alberta on October 12, 2017. She is the first woman to have been appointed to this position on the Alberta Court of Queen's Bench. Chief Justice Moreau has chaired many Court Committees and was the President of the Canadian Superior Courts Association in 2011-12. Justice Moreau was the Alberta, NWT and Nunavut representative on the National Ethics Advisory Committee for federally appointed judges from 2014 to 2017. She has been involved as a Co-Chair, a member of the organizational committees and a panelist for several National Judicial Institute (NJI) education seminars.
Buying 4 or more tickets for this event? Reserve a full or half table, and save on the Eventbrite fees equating to 8% off the regular price! For more information please contact Carmen Dragan-Sima at cpaedmontonchapter@gmail.com.
New for this year - CPA Edmonton Chapter is offering buy-ahead Forefront Luncheon Tickets, redeemable for our Speaker Series. Forefront Tickets are a great way to save money and retain flexibility:
They may be used for CPA Edmonton Chapter luncheon, breakfast or networking events
Can be purchased in groups of 5 or more
Are fully transferable. Use them yourself, for your guests, or pass on to a colleague or friend.
Price per ticket is $39.95 + GST; you save on Eventbrite Fees equating to 8% off the regular full price!
They never expire
For more information please contact Carmen Dragan-Sima at cpaedmontonchapter@gmail.com
(CPA Edmonton Chapter Forefront Luncheon Tickets are not interchangeable with CPA Alberta Passport Tickets)
Sponsored by: