Edmonton Fancy Women Bike Ride [Year 2!]
FANCY. FIERCE. FUN. You are invited to join the Edmonton Fancy Women Bike Ride on Sunday Sept 18, 2022!
When and where
Location
Route includes Downtown sights, pedestrianized 102 Ave, Manchester Sq, & more. We'll slow roll, wave, smile, stop for photos. Sir Winston Churchill Square 9918 102 Ave NW (Near City Hall) Edmonton, AB T5J 5H7 Canada
About this event
Fancy Women Bike Ride is an international women-focussed, trans-inclusive cycling event held annually on the Sunday closest to World Car Free Day. The ride began in Turkey, as a way to ask city authorities to create infrastructure that welcomes women to cycle and interact with our urban spaces in safe, fun, new ways. The ride has bloomed to become an inclusive event in at least 151 cities. 2021 was the first time the ride has occurred in Edmonton. 2022 will be our second ride. Let's double the numbers and send the message that we need to feel welcome to use our bicycles as transportation, everywhere, anywhere!
We are inviting YEG women, trans, non-binary, queer folks and youths -especially those who don't normally ride in the city- to join us for an easy, fun, and fancied-up cruise, a slow roll on our bikes. Any type of bicycle is appropriate, but we encourage you to dress fancy (how ever you understand it)!
GUIDELINES:
- Dress code: Fancy, fierce, fabulous (whatever makes you feel beautiful, strong and great! Bring out the colour! 
- Decorate your bicycle, pose for the cameras and take selfies, greet & smile at people during the ride.
- Be inclusive to all, and support those new to cycling (offer help!)
- Bring your friends, mothers, aunties and sisters, and be prepared for a magical afternoon.
- Kids welcome. Trans-inclusive (men may join, but please ride at the back. A great way to support us is to be our photographers, and to amplify the event on social media, using #FancyWomenBikeRide or #FWBRyeg.)
- The #FancyWomanBikeRide is about inclusive spaces, about having space to be safe in our city.
RSVP appreciated, but not required. You need a bike. Any kind of bike. Normaal and Pedego bike shops will give a special deal if you want to borrow a traditional Dutch bike or an e-bike. Troubadour Cycle will give a discount if your bike needs a tune up for the ride! 
Use this link to share this via Facebook: https://fb.me/e/28QWuOFQc
"Let me tell you what I think of bicycling. I think it has done more to emancipate women than anything else in the world. It gives women a feeling of freedom and self-reliance. I stand and rejoice every time I see a woman ride by on a wheel…the picture of free, untrammeled womanhood." Susan B. Anthony, 1896
Most women who ride a bike don't need Susan B Anthony to tell them how liberating the bike can be - and yet far too few women in our cities cycle today, a pattern that is repeated pretty much everywhere outside the Netherlands and Denmark.
We know why. They're the same reasons most men don't cycle, but in spades: hostile roads, complicated journeys, fear of traffic and the extra layer of harassment that comes from not just being female in public - but putting yourself out there on a bike.
The Fancy Women Bike Rides are a truly global phenomenon and they have spread pretty much by word of mouth from their start in Izmir in Turkey to across the world. They are first and foremost about women getting out there and making themselves visible not through fluorescent yellow jackets and reflective stripes - but by being in-your-face 'fancy': fierce, fabulous and fun. It's about women reclaiming their own cities, riding together and not apologising in any way, shape or form for taking up space on the streets.
There are many initiatives out there to encourage women (and men) to cycle more. But the FWBR is not about encouraging women to cycle - it's about inspiring them, and not just to ride a bike but to see their city differently. It's about having fun - and then going home and working out how we can change our streets so that we can (if we want to) cycle like that every day of the year.
Author: Sally Hinchcliffe, Edinburgh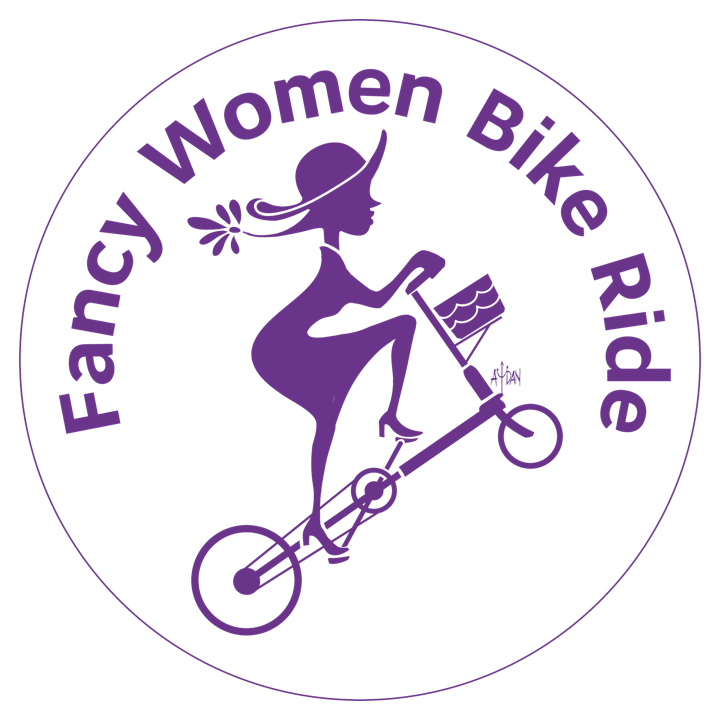 We have such great support from the bike community!
Troubadour Cycles is offering a 10% discount on a tune up, if you need to get your bike ready for the ride! (Did you know that Troubadour comes to you, to fix your bike?) Follow on Instagram: @biketroubadour
Normaal Bike will let you rent an omafiets! If you've always wanted to try a Dutch Bike, this is your chance. Contact Sarah to make your arrangements.
Maybe you want to try an e-bike? Pedego Edmonton is offering a deal for the Fancy Woman Bike Ride participants. Stay tuned for more details.
Route map pending. Feel free to tweet your route suggestions to us: @FWBRyeg