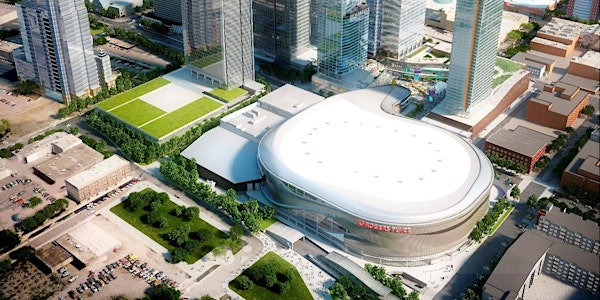 Edmonton ICE District Towers - Foundation Design and Construction
Location
University of Alberta Faculty Club
11435 Saskatchewan Drive
Edmonton, Alberta
Canada
Description
ABSTRACT: As part of Edmonton ICE District development, four towers ranging from 29 to 66 storeys are being constructed on the south side of the Rogers Place arena. Geotechnical investigations for the tower development included drilling and coring of bore holes to more than 90 m in depth, in situ pressuremeter and seismic cone penetration testing, and laboratory testing to characterize the strength and stiffness of the overburden soils and underlying bedrock.
Based on the results of geotechnical investigations, piled raft foundations were chosen to support the two tallest towers. Osterberg cell (O-cell) load tests were undertaken on two fully instrumented piles to validate and optimize the foundation design. Numerical simulations were undertaken to estimate tower foundation settlement and lateral deformation. Foundations of the two towers consist of two 3 to 3.5 m thick raft slabs and 144 drilled shafts, 1.5 m to 1.8 m in diameter and up to 75 m deep.
During foundation construction, full time geotechnical inspections were carried out. Quality assurance of the tremied concrete piles included crosshole sonic logging, impulse response testing, downhole camera inspections, and coring of selected piles to ensure the structural integrity of the piles.
This presentation provides an overview of the geotechnical investigations, foundation design and construction for the ICE District Towers.
Bio: Xiaobo Wang, Ph.D., P.Eng., P.Geol., is an Associate and Review Engineer with Thurber Engineering Ltd. Dr. Wang completed his B.Sc. in Hydrogeology and Engineering Geology and M.Sc. in Engineering Geology in China between 1990 and 1997, and his Ph.D. in Geotechnical Engineering from the University of Alberta in 2008. He has over 20 years of geotechnical experience including more than ten years in Canada with Thurber. Dr. Wang has worked on a wide variety of geotechnical assignments involving transportation, infrastructure, municipal and industrial developments. His recent projects include the Walterdale Bridge Replacement, Edmonton Valley Line LRT Development, EPCOR Tower, and Alldritt Tower.