Edmonton International Cat Festival!
When and where
Location
NAIT Shaw Theatre 11762 106 Street Edmonton, AB T5G2R1 Canada
Description
** EDMONTON INTERNATIONAL CAT FESTIVAL **
UPDATE: JULY 6, 2014: ALL OF OUR PRE-EVENT TICKETS HAVE BEEN SOLD OUT!!
There will be tickets sold at the door but their cost increases to $20 per ticket
(Kids under 12 get in free)

THANK YOU FOR SUPPORTING THE INAUGURAL EDMONTON INTERNATIONAL CAT FEST!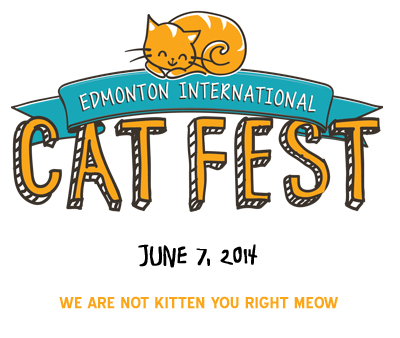 Cat lovers, come together for the first annual Edmonton International Cat Festival! This is a full day celebrating those fantastic felines in our lives and on the Internet, while supporting the Edmonton Humane Society! We are not kitten you right meow! Inspired by the Internet Cat Video Festival which originated in Minnesota in 2012 (and drew more than 10,000 attendees!) Edmonton's Internet Cat Video Festival, sponsored by NAIT's Animal Health program, will include:
A fun-filled line-up of international feline footage (Internet Cat Videos)
A local Internet Cat Video competition with judging + prizes
An international cat photo "beauty pageant" (who will be named Mr. and Mrs. Purr-fect?)
Fantastic presentations from local cat enthusiasts on topics including: The Future is Meow: What's Turning Us Into Cat People?, How My Cat Video Went Viral (and How Yours Can Too!), a storytelling of True Story (picture book inspired by two tuxedo cats adopted from the Edmonton Humane Society) and much more!!!!
Vendors, products, and cats in a controlled setting brought to you by the Edmonton Humane Society, NAIT Animal Health Program, CATMAN Furniture, cat art, cat jewellery, and more!
The London Drugs CATivities Centre featuring cat crafts and apps
Lunch with three of Edmonton's newest food trucks - Afterbite Mobile Kitchen, Perogy Princess and Attila the HUNgry!
(Virtual) appearances from three celebrity cats: The shortest cat in the world Cye, the most followed cat on Instagram Nala, and a cat like no other on the planet - Lil BUB!
100% of profits from ticket sales (and additional donations) will go directly to support the Edmonton Humane Society! A big thank you to the NAIT Animal Health program for sponsoring/hosting the event.
Venue Information
The Edmonton International Cat Festival will take place at:
NAIT Shaw Theatre (main campus, 11762 106 Street).
10 a.m. to 4 p.m.

The Edmonton International Cat Festival is a celebration of cats.
Please join us for our inaugural year!