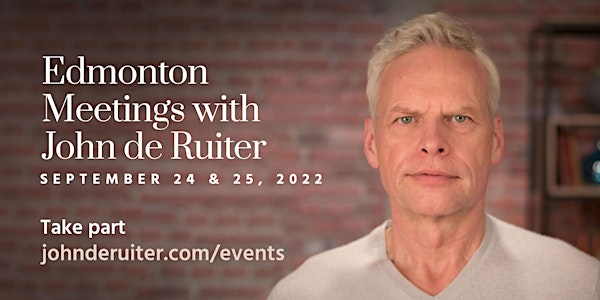 Edmonton Meetings with John de Ruiter - September 24 & 25 2022
Meetings with John de Ruiter - September 24 & 25, 2022 at 214 St Albert Trail, Saint Albert
When and where
Location
. 214 St Albert Trail St. Albert, AB T8N 5H9 Canada
About this event
"You are here to be what you really are, quietly, delicately, as love in all good and bad things that happen in your life."–John de Ruiter
Meetings with John are an opportunity to come to rest in the most profound way, allowing what you know in your heart to open into your consciousness. In silent connection as well as question-and-answer dialogue, you are invited to uncover your own knowing of truth and how to bring your deeper being into your life.
Meeting Details
Doors open 30 minutes prior to meeting start time.
Saturday September 24 at 3pm
Saturday, September 24 at 7:30pm
Sunday, September 25 at 11am
Sunday, September 25 at 3pm
*Please note, payment and registration will not be accepted 'at door'.
All meetings will be livestreamed and available for viewing through John de Ruiter TV.
Policies