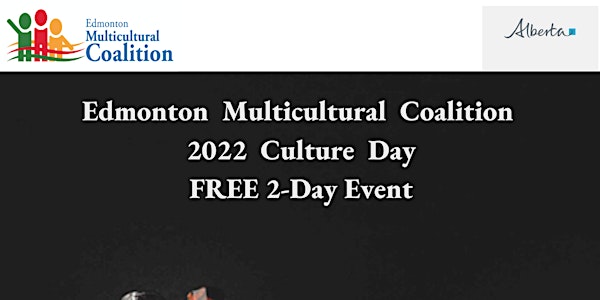 Edmonton Multicultural Coalition Alberta Culture Day Event
Please join us on Saturday, September 24th, 2022 from 3:00 -6:00 PM and on September 25th from 1:00 - 3:00 PM as we celebrate Culture Days.
When and where
Location
Edmonton Intercultural Center 9538 107 Avenue 114 Edmonton, AB T5H 0Z7 Canada
About this event
Edmonton Multicultural Coalition Association (EMCA) strongly believes that literary and cultural exchanges can be a powerful tool to combat racism, prejudice, and stereotypes and cultivate mutual transformation.
Culture is one of the humans' unique tools to express their intrinsic and extrinsic norms and values. EMCA provides a platform for diverse cultural groups to show some of their elements on this cultural day celebration. A natural outcome will be to appreciate, understand, and embrace each other's culture, supporting our unique identity of multiculturalism.
On 24 and 25 September, in collaboration with Alberta Culture Days, we will bring together diverse and vibrant ethnocultural communities to translate and recite excerpts from their favourite poems, stories or songs. By reading and translating texts together, we aim to engage communities in exploring the most profound emotions and vulnerabilities hidden in our artistic expressions, so we better understand each other - we aim to walk the talk, not just talk the talk.
Come jump on this joyous literary and cultural bandwagon. Let's come together to share food, sing, read, and dance to this sweet song of diversity that makes us so unique and vibrant.
As the philosopher, Nietzsche says: "those who were seen dancing were thought to be insane by those who could not hear the music".
Join us if you hear this music!