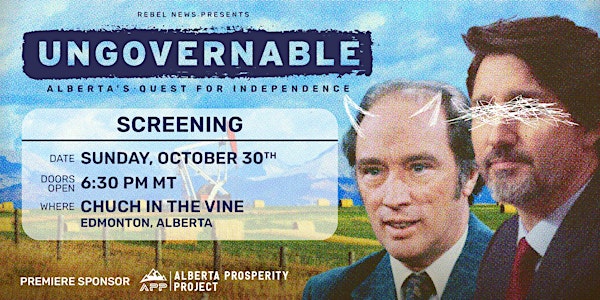 EDMONTON SCREENING | Ungovernable: Alberta's Quest for Independence
This brand new documentary explores Canada's most rebellious province — Alberta. Learn the rich history of Alberta's fight for independence.
When and where
Location
Church in the Vine 12345 149 Street Edmonton, AB T5L 2J5 Canada
Refund Policy
Contact the organizer to request a refund.
Eventbrite's fee is nonrefundable.
About this event
Details:
Join Rebels Ezra Levant, Sheila Gunn Reid and Chief Documentarian Kian Simone for a screening of "Ungovernable: Alberta's Quest for Independence" at Church in the Vine in Edmonton, Alberta.
Following the film, Rebel News and special guests from the Alberta Prosperity Project will host a Q&A session to answer audience questions about the film.
Doors open at 6:30 PM MT
Tickets:
Tickets are $12 + fees and will include popcorn and a drink, access to the screening and Q&A session after the film.
Tickets are expected to sell out.
About the film:
In February of 2022, producer Kian Simone watched as RCMP officers starved out peaceful pro-freedom protestors during a week-long standoff at the Canada-U.S. border in Coutts, Alberta. It was unclear whether that order came directly from Ottawa.
It was a familiar theme encapsulating the past 115 years of Alberta's history — since confederation, Albertans have felt ignored and mistreated by bureaucrats in central, or Laurentian, Canada.
In 1947, oil was discovered in the province, bringing new hope and optimism for Alberta's economic future. It was the world's third largest reserve, turning the province from Canada's breadbasket to an energy-producing powerhouse.
That is, until Prime Minister Pierre Elliot Trudeau came along to cripple Alberta's growth and reverse its economic trajectory.
In 2015 Alberta suffered another loss. A second Trudeau came to power, once again subjugating the province to the whims of Ottawa's elite.
The federal government's malicious political meddling has led to the rise of an independence movement that has slowly grown in strength and resolve. And in the past two years of pandemic lockdowns, a flame has ignited inside that movement — one that may never be put out.
In this documentary, Kian Simone travels across Alberta, exploring the province's rich history and meeting the people behind the growing independence movement to investigate the passive anger that has now reached a boiling point.
Join Rebel News as we detail Alberta's quest for independence and discover what makes Alberta, ungovernable.
This documentary will be available online for RebelNews+ subscribers. To learn more or to watch online now: please visit http://www.AlbertaDocumentary.com
This event is brought to you by the Alberta Prosperity Project, to learn more, click here.
SCHEDULE:
6:30 PM MT - Doors open
7:00 PM MT - Documentary screening
9:00 PM MT - Q and A with journalists, filmmakers, and special guests.