Educational Forum & Networking Hosted by: Dizruptiv & The Blockchain Societ...
Description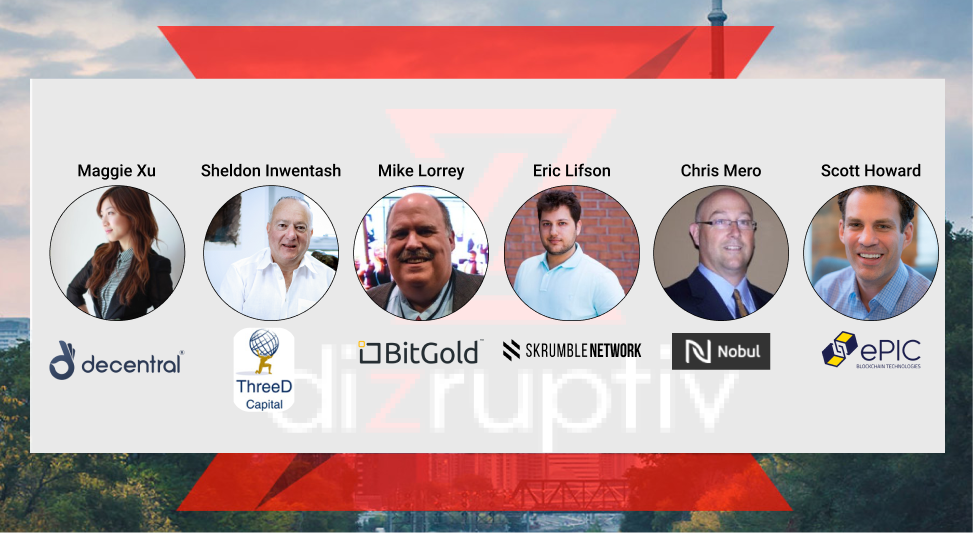 Join us for the launch of the Dizruptiv Educational forum and the April Edition of The Blockchain Society's Monthly Blockchain Updates at DMZ!
April 26th will host a Bitcoin/Blockchain/Crypto education panel and networking event featuring attendees from all backgrounds of Crypto. Hosted by the Blockchain Society & Dizruptiv!
While our discussions will be grounded in the capabilities of blockchain technology, our focus is on practical applications rather than technical details.
---

---
Your ticket will include:
One Month Subscription to Dizruptiv Forum ($79.97 value) - so you can keep asking question and networking long after the event is over on the #1 Premium Online Crypto Community.
---


Mike joined the Extropy Institute, he collaborated with Nick Szabo, Ralph Merkle, Hal Finney, Wei Dai and others, and began solving many of the problems faced by the digital currencies of the 1990's. Those culminated in Szabo's seminal essays on the concepts of bitGold that inspired the birth of Bitcoin.
He then became involved in the virtual reality industry, being a top developer in the early virtual world of Second Life. There, he had co-created the first virtual stock exchanges, including the World Stock Exchange, AVIX, SL Capex, and the Ancapistan Capital Exchange.
Currently, he co-hosts on FreeTalkLive.com and CallToFreedomLive.com on LRN.fm radio with a strong focus on crypto and other transformative technologies.
Sheldon, is chairman and chief executive officer of ThreeD Capital Inc., a Toronto-based venture capital firm specializing in investments in junior resources, technology and biotechnology.
With a business law and marketing analytics background, Maggie has been deeply involved in the blockchain space since January 2017.
Named one of Canada's Emerging Women in Blockchain by Coinsquare, Maggie is an adjunct blockchain instructor at the Blockchain Hub at York University where she instructs on topics related to smart contracts and cryptocurrency.
Maggie currently works with ICO projects and manages advisory network at Decentral, one of the leading cryptocurrency companies in Canada.
She is also a blockchain advisor to the Deloitte Junior Achievement team and recently moderated their Toronto Crypto Summit with over 300 attendees.
Scott Howard, ePIC Blockchain Technologies
Scott Howard is an enterprise and startup technology deal maker. Scott partners with world class engineers to solve complex business and technology challenges generating customer success. As co-founder, CEO of ePIC Blockchain and partner in BlockX Labs, Scott is commited to building the underlying processing power of blockchains as well as the value creating applications. Scott believes Blockchain is a new category of technology, Trustware, the merger of hardware of software into a system of trust.
Eric Lifson, Co-Founder of Skrumble Network, has 10+ years directing global strategic marketing projects, and is now leading the team behind Skrumble Network's innovative communication technology. Skrumble Network is solving the data ownership crisis with a completely new, secure communication-centric blockchain and decentralized media communication application.
Chris Mero is Chief Technology Officer at Nobul Corporation. Chris is helping Nobul to evolve real estate in the cloud with a mobile first approach leveraging blockchain, predictive analytics and natural language.
Nobul Corporation is the technology company disrupting real estate. Nobul is developing AI, Blockchain and other proprietary technologies to evolve real estate across North America.
Hosted By