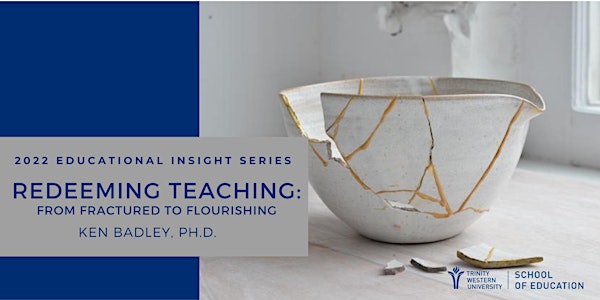 Educational Insight Series: From Fractured to Flourishing
Location
Trinity Western University
22500 University Drive
Langley, BC V2Y 1Y1
Canada
Redeeming Teaching: From Fractured to Flourishing with Ken Badley, Ph.D.
About this event
Contemporary teaching has found itself on rocky soil, and teachers today face unforeseen challenges. In "Redeeming Teaching," Dr. Ken Badley explores the pressures and trends now confronting teachers: standardization, a fracturing society, disregard for expertise, and the pandemic. He discusses how, despite the challenges, teachers can work to foster human flourishing. A panel discussion will follow the presentation.
Ken Badley, PhD, is Professor by Special Appointment at Tyndale University. He received his doctorate in curriculum studies and philosophy of education from the University of British Columbia. Dr. Badley has published textbooks related to ethics, worldviews and world religions, faith and learning, educational foundations, teaching, and curriculum design.
Tickets are available for both online and in-person audiences. A vaccine passport is required if attending in person.