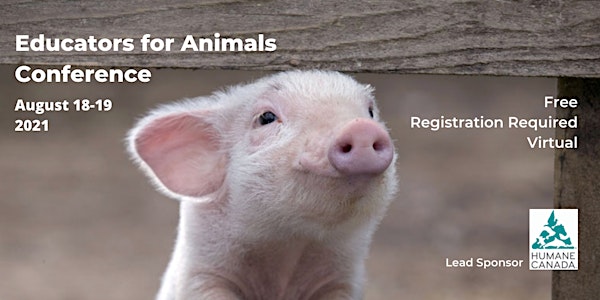 Educators for Animals Conference
For educators who are interested in incorporating animal protection into their classes and school communities (pre-K to post-secondary).
About this event
Conference website: www.educatorsforanimalsconference.ca
FREE - REGISTRATION REQUIRED THROUGH EVENTBRITE
Join us for two incredible days featuring 4 Keynote Sessions, 18 Regular Sessions, and 50 presenters sharing their best practices and insights.
Overview:
Educational institutions have a complicated relationship with animals. Educators teach about topics such as kindness, compassion, social justice, and environmental sustainability, while our schools frequently exploit animals through the food we serve, the dissections we carry out, the field trips we run, and the curriculum we facilitate that ignores their plight (among others). Educators are uniquely positioned to help turn the tide of our society's overall indifference to the suffering of countless animals.
The 2021 Educators for Animals Conference will bring together educators from around the world to explore how animal advocacy can be incorporated into classes and school communities. The conference is open to school or non-profit educators working with students at any age level - from pre-K all the way to post-secondary.
Conference attendees will:
Join a community of compassionate educators interested in animal protection;
Learn about innovative teaching practices and resources that protect and celebrate animals; and
Be inspired to take the next steps in your own advocacy for animals.​
There is no time to waste. Please join us on August 18-19 and help build a movement that protects and celebrates animals of all kinds.
By registering for the conference you agree to the Code of Conduct and Terms & Conditions.