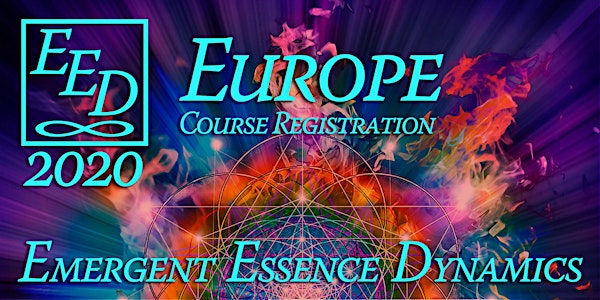 EED Europe: Training Series 2020
2021 REGISTRATION NOW OPEN: https://EED2021-eu.eventbrite.com
Refund Policy
Contact the organizer to request a refund.
About this event
RESISTANCE || RESILIENCE || RECONCILIATION
Unlock the engine driving transformation and behaviour
EED Module 1: "Revealing Essence" March 5-7 (ONLINE via Zoom)
Please visit our 2021 Eventbrite Page for coure dates and to register:
https://EED2021-eu.eventbrite.com
Early Bird Offers end FEB 26
Click to join our 2021  Free Webinar Series
Listen to our December Webinar: Applying the 7 Hermetic Principles
Emergent Essence Dynamics™  harnesses a person's innate Resilience to reconcile fear-based patterns, converting Resistance and Self-Sabotage into a liberated state of creativity and well-being. 
Develop your ability to work with any type of Behaviour as a fractal pattern
Work at Source-level to quickly uncover the core dynamic driving multiple issues
Activate super-conscious states of Resilience to release limitations and reshape behavioural patterns
Module 1: Revealing EssenceActivate core Resilience as the foundation for sustainable transformation. Confidently cut through dramas, stories and smokescreens to target the fundamental dynamics driving each moment... Learn more
Module 2: Embodying EssenceTransform all forms of Resistance into a powerfully creative force. Skillfully neutralize a person's inner battle of conflicting values and polarizing beliefs to restore wholeness and well-being... Learn more
Module 3: Conducting EssenceReconcilie a person's fears and obstacles at Source-Level. Effectively dissolve old patterns of sabotage and liberate new pathways of success, enriched with compelling desire, higher purpose and rewarding action... Learn more
(Each module is three full days of experiential training with interactive exercises, group debriefs and supervised practice.)
Accreditation: 67 CCEUs by the International Coach Federation (21 CCEUs for Module 1; 23 CCEUs for Modules 2 & 3)
ADVANCED APPLICATION COURSES:
Reconciling Conflict with EEDMaster the game, master the conflict. Reveal the "Polarity Game" of a relationship and drop it into a resilient state where each person can let go of the Victim-Persecutor cycle and feel whole and complete unto themselves... Learn more
Group Facilitation and Team DynamicsCreate unity through diversity. Simplify the complexities of team relationship dynamics down to the fractal level to restore a team's natural co-creativity, resilience and autonomy... Learn more
"EED is the best advanced training I know of. It's a profound, simple and sound methodology that enables you to quickly dive deep with your clients. Its founder, Troy Yorke, is not only an inspiring and patient teacher, but also a powerful demonstrator of what masterful coaching, facilitation and conflict reconciliation look like."

– Dieter Wunderlich, CPCC, ACC, Gallup Certified Strengths Coach – Germany
Click for a complete Program Overview
Download the EED Program Information PDF (Europe)
Drawing from fields as diverse as Quantum Physics & Buddhism, Acting & Improvisation, Neuroscience & the latest in Consciousness Research, EED breaks new ground in leadership and coaching methods using fractal dynamics to amplify Resilience, release Resistance and Reconcile core conflicts. EED's holistic and pragmatic approach significantly enhances individual & team coaching, facilitation, therapy, and conflict resolution with applications extending to the healing arts, leadership development, mediation, consulting, sales and more.
"Troy Yorke has done a wonderful job pulling together some very sophisticated concepts, presenting them in an accessible and useable format. A real value-add for anyone who works with empowering others!"
– Karen Kimsey-House, Co-founder, Coaches Training Institute
COURSE DATES 2020
SPRING 2020: 
Module 1: April 24-26 (On-line Course)
Module 1: June 12-14 (On-line Course)
Module 2: June 19-21 (On-line Course)
Module 3: October 16-18 (On-line Course)
FALL 2020:
Module 1: October 9-11 (On-Line Course)
Module 1: December 18-20 (On-Line Course)
ADVANCED APPLICATION COURSES:
Reconciling Conflict: June 5-7 ONLINE COURSE (pre-requisite: Module 1)
Group Facilitation & Team Dynamics: November 20-22 ONLINE COURSE (pre-requisite: Module 2 or Reconciling Conflict)
Select your preferred course dates on the registration page. Modules must be taken in consecutive order and may be taken in different cities if registering for the Series Package.
COURSE TIMES (in-person courses):
Module 1: Fri-Sun from 09:30–18:00
Modules 2 & 3 and Application Courses: Fri 09:30–18:00; Sat 09:30–21:00; Sun 09:30–18:00
All courses and materials are in English
ON-LINE COURSE TIMES: via Zoom Conference
Zoom Sessions: 13:00–16:30 and 17:30–21:00 CET each day (Fri, Sat, Sun) + 2-HOUR follow-up Practice Session after the training
Zoom Access Code provided upon confirmation of registration
PRICING:
Module 1 – €795 (deposit €300)
Module 2 – €975 (deposit €350)
Module 3 – €975 (deposit €350)
Series Package (M 1–3) – €2250 Early Bird* (deposit €775)
Combo Package (M 2 & 3) – €1775 (deposit €650)
Reconciling Conflict – €795 (deposit €300)
Group Facilitation & Team Dynamics – €795 (deposit €300)
Deposit required upon registration, balance invoiced separately.Venue details are provided with registration confirmationGroup registrations of 3 or more people receive a discount of 15-20%.
Seats are limited
*Early Bird offer ends 4 weeks prior to start-date of a series (Module 1 start).Series Package regular price: €2475
Want more info on EED?
Visit our website:www.essence-dynamics.com
Download our PDF Brochure for complete details on the program, course descriptions, schedule and pricing: EED Europe 2020
Join our mailing list for the latest news, updates and offers
Click to watch a Live Demonstration of EED skills: "Using Provocation to Cut through Ambiguity""Surfacing a Deeper Topic"
Listen to a webinar of EED's methods and approach: "Liberating the Resilient Self" (recorded 2020-02-12)
Get a great overview on how EED reconciles conflict: "The Fractal Nature of Conflict and Relationships" (recorded 2019-02-06)
Learn how EED builds better teams with resilience: "Agility in Team Dynamics" (recorded 2019-09-04)
(click here for more demos) 
Listen to our recent Webinar: Essential Purpose
Tips for aligning your creative essence with innate strengths so everything you do is naturally more meaningful and fulfilling
Click to join our next live  Free Webinar – DECEMBER 2 – "Applying the 7 Hermetic Principles"
Tips for flowing in harmony with the natural order of creation
Follow EED on Social Media:
Facebook: @EEDynamics
Twitter: @EEDynamics
YouTube: @EEDynamics
EED modules have been run in Canada, France, Germany, Norway, Spain, UK and UAE since 2006
Questions? Group Discounts?
Contact: Troy Yorke
TROY YORKE, creator of Emergent Essence Dynamics™, is a Performance Mastery Coach for Executive Leaders and Arts & Entertainment Professionals. His diverse background of over 25 years as an award-winning concert pianist, composer, writer, Film/TV actor and producer incorporates a wealth of knowledge working with human creativity and high-performance behaviour. A lifetime pursuit of excellence and mastery has led him around the globe working with top performers, trailblazers and thought leaders, including performing at the United Nations. Formerly Senior Faculty at Coaches Training Institute, he now travels extensively to train EED globally. His provocative style, inspirational passion and multi-faceted approach make him a dynamic trainer that liberates the creative brilliance of each individual.
Feel free to copy and forward our registration link:
https://eed-eu-2020.eventbrite.com
CANCELLATION:Free cancellation up to 6 weeks prior to your selected series/course start-date. Full cancellation policy is printed on your registration confirmation.