Description
Emergent Essence Dynamics™
Free Webinar Series 2018
with Troy Yorke
Creator and Founder of EED
The registration site for our 2019 Webinars is now open!
https://eed-webinars-2019.eventbrite.com
Please click to register for our next Webinar in January
Final Webinar: DECEMBER 5
"Living in Quantum Relationship with Everything"
Tips for accessing multi-dimensional states of relationship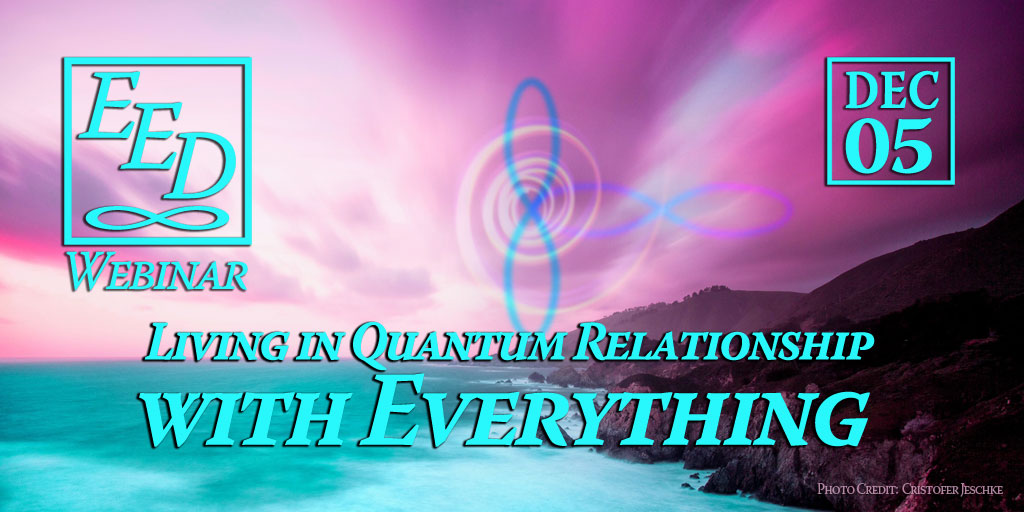 (scroll down further for complete schedule & descriptions)
Our free webinars take on hot topics not normally discussed in the coaching & personal development industry. They demonstrate how EED's most basic and innovative skills tackle those tough issues with ease. You will gain a whole new awareness of how to work more efficiently with people while walking away with some new and inspiring tools you can easily practice anywhere.
Each webinar is 90 minutes and limited to 24 participants.

"My experience with EED has been brilliant and totally amazing! Transformative, intense, empowering and reconciling are the words that come to mind."
– Sandra Reupke-Sieroux, Coach/Consultant – Hamburg, Germany
Webinar Schedule 2018



Feb 20: Coach Me If You Can!
Mar 8: Are Values Really that Valuable?
Apr 5: Know the Games Your Clients Play
May 3: Cracking Masks & Lowering Shields
June 12: Breaking the Chains of Victimhood
July 12: Empowering Clients or Weakening the Will?
Aug 7: Deconstructing Conflict – A Door to Unity Consciousness
Sep 6: Creator Consciousness and Essential Purpose
Sep 19: Awakening the Hero Within
Oct 3: Trials, Turbulence and Transition
Nov 7: Phoenix Rising – Awakening to a New Reality
Dec 5: Living in Quantum Relationship with Everything
Bookmark this registration site:
https://eed-webinars-2018.eventbrite.com
Check back every month to register for each new webinar!
Webinar 12:
Living in Quantum Relationship with Everything
Tips for accessing multi-dimensional states of relationship with Self, Others, World and Time
December 5, 2018
7:00PM Paris / 1:00PM Toronto
Everything is relationship and we experience ourselves and our reality through relationship. Whether we are in relationship with ourselves, other people, things or events, our world or even time itself, our relationships flow on different levels of dynamics. The main dynamic we experience is polarity – a fixed level of duality where we experience opposites, tension, resistance and conflict. This is not a bad place to be, but it's not the only place. We can expand our awareness to go beyond a fixed linear experience and enter a quantum state of fluid relationship where duality disappears and a plethora of possibilities open up. This is a place of plasticity where we can reinvent not only ourselves and our relationships, but reshape how we experience and influence our world... and even interact with our flow of time or timelessness.
Some key points covered in this Webinar:
An overview of the four multi-dimensional states of relationship for balancing well-being while enhancing resilience and creativity
Simple tools for increasing an active energy flow that enhances work/life balance while preventing burn-out due to stress and over-action or common depression due to fear and inaction

Tips for enhancing will, desire, vision and purpose by creating a reciprocal relationship with our past, present and future selves
Registration: FREE
---


Emergent Essence Dynamics™ harnesses a person's innate Resilience to neutralize fear-based patterns, converting Resistance and Self-Sabotage into a liberated state of creativity and well-being.
Drawing from fields as diverse as Psychology & Neuroscience, Quantum Physics & Buddhism, Acting & Improvisation, EED breaks new ground in leadership and coaching methods using fractal dynamics to amplify Resilience and Reconcile core conflicts. EED's simple and pragmatic approach significantly enhances individual & team coaching, facilitation, therapy, and conflict resolution with applications extending to the healing arts, leadership development, mediation, consulting, sales and more.
Click a city to download the EED Program Information PDF:
EED courses run in Munich, Paris, and Toronto in English

---
PAST WEBINARS:
Webinar 11:
Phoenix Rising: Awakening to a New Reality
Tips for building a New Resilient Self in the wake of breakdown and breakthrough
November 7, 2018
7:00PM Paris / 1:00PM Toronto
Life is a series of cycles of creating and crumbling and rising again, everything in constant flux and transformation. If we cling to our comfort zone of fixed identity, we create stress and resistance to these cycles, as if we are under threat with each curve ball life throws. Without a connection to Source Resilience, we ride each wave of change gripping our seat, desperately trying to preserve everything we think we know. Without flexibility and adaptability, life feels like a constant breakdown as everything we hold precious slips through our fingers, and we feel robbed. What if we were meant to crumble in order to realize our creative power of fluidity and use each moment of "destruction" as the ultimate act of creation? This webinar shows us how to use life's "destructive" moments as an opportunity to not only consciously rise and rebuild ourselves, but to intentionally restructure our reality so it serves our greatest strengths and creativity.
Some key points covered in this Webinar:
An overview of the Creative Cycle and which phases are most opportune for transformative action, reinvention and new ideas
Simple tools for holding new beliefs and intentions in place as we consciously recreate ourselves from a clean slate

Tips for developing our ability to adapt to sudden curve balls where we use those mishaps to reinforce strengths, gain momentum and inspire creativity
---
Webinar 10:
Trials, Turbulence and Transition
Tips for shedding old beliefs as we move through great change, stress or crisis
October 3, 2018
7:00PM Paris / 1:00PM Toronto
What happens when our world is turned upside down and everything we thought we knew feels like it's crumbling all around us? Change is ok when we feel in control, but when reality suddenly shifts and forces us into transition, we no longer feel at choice. We can enter crisis mode and fight all the changes in a panic or we can choose to ride the turbulence with awareness and turn it to our advantage. Every unexpected shift threatens to dismantle our whole belief system and that feels unfair. But really, it is testing our level of resilience, purpose and humility, and will only make us stronger if we stay awake to the lessons it offers. This webinar shows us how to maintain our resilience during phases of crisis, and use each test and trial as the opportunity to re-examine our "truths" and liberate a more expanded Self.
Some key points covered in this Webinar:
An overview of how beliefs, values, fears and obstacles can either work in harmonic coherence, or completely oppose one another and trigger an identity crisis
Simple tools that reinforce resilience and brain-heart coherence when experiencing stress, change or turbulence

Tips for strengthening new beliefs that reinforce creativity and well-being using just a few simple tweaks of language
---
Webinar 9:
Awakening the Hero Within
Tips for reconciling difficult life patterns using the Hero's Journey
September 19, 2018
7:00PM Paris / 1:00PM Toronto
It's easy to feel victimized at times by our challenges and obstacles, especially in crucial moments. But if we were to watch ourselves on a screen as if it were a movie, we would be rooting for our hero to overcome those difficulties and win! We naturally see the resilience in our Heroes and we are invested in their journey of tests and challenges because it inspires our own. This webinar introduces "The Hero's Journey" by Joseph Campbell as a map of our transformational cycles. When we understand where we are in our transformational process, we can reconcile our past and take the reins of our present to actively co-create our future... as the Hero we were always destined to be.
Some key points covered in this Webinar:
Brief overview of the Hero's Journey and how it helps map our own unique transformational process
Tips for awakening unrecognized strengths as we uncover the hidden purpose of our personal tests and challenges
Simple tools that help reconcile past, present and future to restore our forward momentum with agility and creativity
---
Webinar 8:
Creator Consciousness and Essential Purpose
Tips for transcending mundane traps of daily function
September 6, 2018
7:00PM Paris / 1:00PM Toronto
Everybody wants a sense of purpose rather than simply functioning on the daily grind. But it's no better to try and "push" for something bigger or greater, as if your daily contribution is not worthy or not enough - that's the biggest myth we are duped into believing. We all have dreams and aspirations, but if we push aside our innate natural strengths in favour of something we "think" is supposed to be better, we are denying our own fulfillment and trap ourselves in a futile competition with our hopes and false expectations. This webinar demonstrates how we can break out of the myth of "greater achievement" and tap into the hidden purpose we've always been living already, but never fully recognized. When we have that awakening, every "mundane" moment becomes an opportunity for higher contribution and personal fulfillment, without the need to make big "dramatic" changes in our lives!
Some key points covered in this Webinar:
Brief overview of the 8-Circuits of Consciousness and how Creator Consciousness is readily accessible
Demonstration of how to reveal a person's Essential Purpose, elevating them to to their highest sense of contribution, creative flow and well-being
Simple tools that use a person's current obstacles to restore their autonomy and resilience, naturally reinforcing their ability to embrace daily challenges
---
Webinar 7:
Deconstructing Conflict: A Door to Unity Consciousness
Tips for embracing conflict to release suffering
August 7, 2018
7:00PM Paris / 1:00PM Toronto
Our first natural approach towards conflict is to avoid, suppress, eliminate or soften it, if we assume conflict is destructive. Without understanding the "game" of conflict and how it works, we naturally run away. But if we approach conflict from Resilience and understand the inner workings of the "game" being played, we have the opportunity to harness conflict as a doorway to Unity Consciousness and release suffering. We only suffer from conflict when we don't understand it… and the first thing we don't understand is that conflict is NOT a game about "win or lose"… that is the illusion! This webinar gives you a whole new outlook on embracing conflict and points the way to liberating yourself from the "game".
Some key points covered in this Webinar:
Overview of how conflict "games" function and the dynamics driving them
Tips to neutralize the conflict "game" and enter Unity Consciousness
Simple tools to build a Resilient State in relationship and open the way to reconciliation
---
Webinar 6:
Empowering Clients or Weakening the Will?
Neutralizing co-dependency in the coaching relationship
July 12, 2018
7:00PM Paris / 1:00PM Toronto
There are many ways the coach can empower the client, but there are also many ways the coach can unwittingly chip away at the client's will-power. Even though the coach wants to keep the client motivated and accountable, co-dependency can creep into the coaching relationship, and the coach must be aware of the tell-tale signs when this happens! This webinar discusses the inherent traps of various coaching tools that can create co-dependency from the client's end and how to strengthen the client's will-power, investment and motivation without becoming a burden on the coach.
Some key points covered in this Webinar:
Overview of coaching tools that can lean towards dependency
Redefining "Accountability" and how to create compelling actions without implicating the coach
Simple tools to neutralize any trends of co-dependency and restore the client's autonomy
---
Webinar 5:
Breaking the Chains of Victimhood
Tips and traps for empowering clients
June 12, 2018
7:00PM Paris / 1:00PM Toronto
Most clients come into coaching sessions as a victim of their circumstances - that's normal. And many coaches focus on trying to transform and empower their clients so they walk away a true "gladiator" of their life. Sounds noble… but what if that's a trap? Despite high passion, clarified values, new perspectives and a renewed sense of purpose… how do you know if your client is truly free? Or is that "gladiator" only perpetuating their victimhood on a new level? Once we understand how the victim cycle works we also understand the trap of false empowerment. Once we let go of the "need' to empower and overcome, true liberation begins.
Some key points covered in this Webinar:
How the Victim-Cycle works in all its stages
Typical coaching traps that lead to false empowerment
Simple tools to neutralize victim mentality, co-dependancy and addiction to suffering
---
Webinar 4:
Cracking Masks & Lowering Shields
Navigating your client's defence patterns
May 3, 2018
7:00PM Paris / 1:00PM Toronto
We always encounter Masks, and they can make or break the coaching, depending how we work with them. We also bump up against many shields but don't always know how to get behind them. Masks and shields aren't always the client's "saboteur" or a limiting belief... they are a natural part of human behaviour. When we understand how masks and shields work, we understand our clients better.
Some key points covered in this Webinar:
The four types of Masks and four types of Shields
How to interact with the Mask and counter-act the Shield
Simple tools and antidotes to relax the client's natural defences
---
Webinar 3:
Know the Games Your Clients Play
Learning the Ins and Outs of the Coach/Client Dynamic
April 5, 2018
7:00PM Paris / 1:00PM Toronto
For every "game" a client plays with the coach, the client is also playing that same game somewhere in their life. The coach/client dynamic is a very rich resource for surfacing hidden patterns in a client, but at the same time it can be tricky to navigate. Each "game" in the dynamic is a golden opportunity to take the client into much deeper levels of transformation, but if a coach doesn't recognize how the game works, then they risk falling into a trap that could derail the coaching. This webinar introduces how "games" function as part of the coach/client dynamic, some basic traps to watch out for, and practical tips to get the most leverage from typical games a client plays.
Some key points covered in this Webinar:
Three typical "roles" a coach can fall into when baited into a game
How to prevent the game from derailing the coaching
Simple tools to turn the game around and take the client to a deeper level
---
Webinar 2:
Are Values Really that Valuable?
Tips and traps for Values-based coaching
March 8, 2018
7:00PM Paris / 1:00PM Toronto
Values are very popular in the coaching profession and they can work amazingly well to guide the client and move them forward. However, values can also get co-opted by the personality and begin to entrench the client in limiting choices and beliefs. This webinar reveals the traps inherent in Values-based work and gives practical tips how to free the client from co-opted Values and get into Source Energy where the real creativity flows.
Some key points covered in this Webinar:
Helpful tips for recognizing False Resonance and False Fulfillment
How to get to the source energy of a value
Building action and strategy from an Essential Quality rather than a value
---
Webinar 1:
Coach Me If You Can!
Dealing with "uncoachable" clients
February 20, 2018
7:00PM Paris / 1:00PM Toronto
Many coaches run into stubborn or resistant clients and some of those clients can really test the limits of the coach. If a coach is making no headway with a client, it's easy to consider that client "uncoachable"... but is that client truly immune to the coaching process? For one coach, a certain client may be uncoachable and for another coach, that same client opens right up in the palm of their hand. So is there more to this than meets the eye? This webinar busts up all the myths around what makes a client uncoachable and gives practical tips to help reduce client resistance.
Some key points covered in this Webinar:
Tell-tale signs the coach has fallen into a trap
How to turn a "resistant" client into a champion
Tips to rebuild investment in the coach/client relationship
---






Want to know more about EED?
Join our mailing list for the latest news and updates