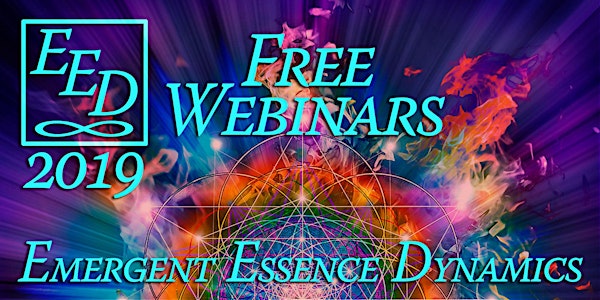 EED Free Webinars 2019
Description
Emergent Essence Dynamics™
Free Webinar Series 2019
with Troy Yorke
Creator and Founder of EED

Next Webinar: January 15, 2020
"Connecting to Source"
Tips for enriching agility, creativity and well-being through autonomy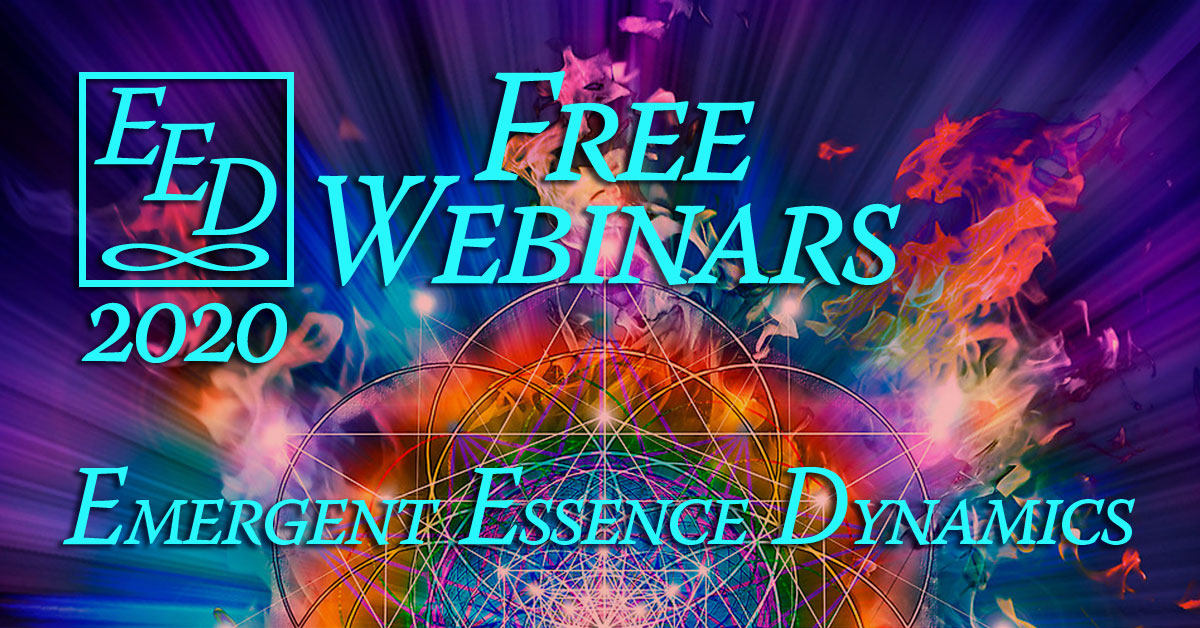 (scroll down to read about our past webinars with topics and description)

Our free webinars take on hot topics not normally discussed in the coaching & personal development industry. They demonstrate how EED's most basic and innovative skills tackle those tough issues with ease. You will gain a whole new awareness of how to work more efficiently with people while walking away with some new and inspiring tools you can easily practice anywhere.
Each webinar is 60 minutes and limited to 24 participants.

"EED is the best advanced coach training I know of. It's a profound, simple and sound methodology that enables you to quickly dive deep with your clients. Its founder, Troy Yorke, is not only an inspiring and patient teacher, but also a powerful demonstrator of what masterful coaching, facilitation and conflict reconciliation look like."
– Dieter Wunderlich, CPCC, ACC, Gallup Certified Strengths Coach – Germany


Webinar Schedule 2020
Jan 15: Connecting to Source
(more dates listed on our 2020 Webinar registration site)
Please bookmark our new site to register for all of next year's webinars!


---


Emergent Essence Dynamics™ harnesses a person's innate Resilience to neutralize fear-based patterns, converting Resistance and Self-Sabotage into a liberated state of creativity and well-being.
Drawing from fields as diverse as Quantum Physics & Buddhism, Acting & Improvisation, Neuroscience & the latest in Consciousness Research, EED breaks new ground in leadership and coaching methods using fractal dynamics to amplify Resilience and Reconcile core conflicts. EED's simple and pragmatic approach significantly enhances individual & team coaching, facilitation, therapy, and conflict resolution with applications extending to the healing arts, leadership development, mediation, consulting, sales and more.
Click to download the EED Program Information PDF:
EED courses run in Munich, and Paris in English

Want to know more about EED?
Join our mailing list for the latest news and updates
---
PAST WEBINARS
Contact Troy Yorke if you'd like a recording of any past webinar
Email: webinars@essence-dynamics.com
Webinar 15-2019:
Restoring Resilience in Relationships
Tips for enriching connection, autonomy and creativity in relationship, despite differences or conflict
Dec 2, 2019

Relationships work like mirrors, and when they bring our inner fears and weaknesses to the surface, we can either devolve into petty games and power struggles to conquer each other, or we can activate our resilience to face ourselves and work with each other as creative partners and teachers, despite differences. This workshop explores how to depersonalize differences in relationship and focus on how to augment each other's resilience and well-being to liberate autonomy and creativity in relationship, even through moments of conflict.
Some key points covered in this Webinar:
An overview of how relationships work like mirrors and play games to amplify our best and worst inner selves
Simple tools to neutralize projection and transference so we learn to clear baggage and focus on the best in each other

Tips for getting beyond power struggles, identity politics and co-dependency so we can restore productivity and creativity
---
Webinar 14-2019:
Listening with the Quantum Mind
Tips for expanding awareness to interact from super-conscious states
Nov 6, 2019

When we listen beyond our normal linear/binary thinking, we experience people and relationships in a totally different way that opens up unimagined possibilities in the way we can create and interact with each other. This is especially crucial if we are coaching, leading or working with any form of transformation. In fact, transformation won't truly happen on the linear/binary level because it limits our experience to swinging back and forth on a polarity. The polarity mindset traps us in preserving story, identity, and personal bias which only creates opposition, conflict, competition and resistance. Why? Because polarity bases its truth on "either/or". This webinar shows us how to expand our awareness beyond an "either/or" mindset and into deeper levels of quantum experience, where truth becomes more fluid, opposites become complimentary, paradox can be reconciled and we experience greater unity and coherence within our whole reality.
Some key points covered in this Webinar:
An overview of the various levels of awareness used to open super-conscious states and enter "Meta-Awareness"
Simple tools for focusing through Whole Brain activation and Brain-Heart coherence to access expanded states of awareness and heightened creativity

Tips for entering fluid relationship with your surroundings to open access to experiences of Unity and Creative Flow


---
Webinar 13-2019:
Neutralizing Power-Games and Manipulation
Tips for dealing with toxic dynamics in daily relationships
Oct 2, 2019

It's easy to get tangled up in everyone else's games and lose yourself in the process. We are taught rules to be a good person, but those "rules" can work against us if we're not careful, and lead us into power-games that manipulate us into taking on baggage that is not our own. The more we lose ourselves and the more unnecessary baggage we take on can lead to all sorts of toxicity in relationship and take us further and further away from truth. This webinar explores how to deconstruct various subtle forms of manipulation in order to restore our own sense of truth and autonomy. We can build immunity to such deceptions and neutralize their effects on us.
Some key points covered in this Webinar:
An overview of how Power-Games behave and function with a special focus on the common manipulative traps they present
Simple tools to recognize deceptive Power-Plays and neutralize their potential toxicity

Tips for building immunity to manipulative bids and restore resilience in oneself
---
Webinar 12-2019:
Agility in Team Dynamics
Tips for building better teams with resilience, alignment and autonomy
Sept 4, 2019

Working with teams can be a complex task if we are stuck trying to navigate a variety of contradictory points of view while trying to create team alignment, manage resistance and settle conflict. If we try to resolve disruptions in a team from this level, we will end up with compromise, resentment and internal competition… which means that the various polarities driving the team dynamic were never reconciled.
This webinar uncovers how the complex dynamics inherent in teams and groups can be simplified when we look beyond story, conflict or "transformation" and just focus on the patterns occurring on a fractal level. When we realize that these basic patterns ARE trying to create unity in their own unique way, it is so much easier to build resilience, autonomy and agility in a team that can function fluidly and creatively without feeling divided or compromised. It just takes takes a new level of awareness and new skills to bring that to light.
Some key points covered in this Webinar:
An overview of Team Dynamics, typical Team Archetypes and the principles of creating a "fluid" hierarchy
Simple tools for building Team Resilience based on individual strengths and unique contribution

Tips for neutralizing polarized "camps" within a group and fostering diversity within an all-encompoassing unity
---
Webinar 11-2019:
Ending the Victim Cycle
Tips for liberating personal power without sacrificing the heart
Aug 7, 2019

We all have been victimized or persecuted and we all have the choice to forgive or retaliate. But how do we hold the scales of justice without becoming persecutors ourselves? If we forgive from the heart, do we risk losing our sovereignty and become victims once again? If we retaliate with power, do we risk losing our compassion and become persecutors ourselves, only to create another victim? This webinar explores how to reconcile heart and power together, where we can forgive with compassion and strength while holding our persecutors accountable with authority and love... without fear of being victimized or victimizing others.
Some key points covered in this Webinar:
An overview of the Victim-Persecutor cycle and how it perpetuates a constant battle between the Head, Heart and Power centres
Simple tools for reconciling fear and vulnerability with power and autonomy

Tips for building a resilient connection within oneself to neutralize games of victimization and the desire for retaliation or revenge
---
Webinar 10-2019:
Unfollow the Carrot: Busting Myths on Self-Development
Tips for breaking free from chasing false fulfillment
July 15, 2019

We are bombarded with messages to grow, improve, play big and make an impact. That all sounds good, but these messages can also back-fire and actually lower self-esteem, create co-dependency, weaken the will or aggravate disappointment. So many markets play upon our desire for fulfillment but they don't focus on accentuating our natural resilience and creative ability to thrive.
This webinar explores how to navigate potential traps of transformation that reinforce fear, aggravate a sense of lack or entice our desires with false fulfillment. By exploring the true nature of our creative and transformational process, we can reorient personal mastery towards liberation, resilience and full autonomy. This is especially crucial for coaches and leaders guiding people through any change process!
Some key points covered in this Webinar:
An overview of how the transformation process works and some common traps we can meet along the path of personal mastery
Simple tools for pursuing personal transformation and fulfillment that reinforce true autonomy, well-being, resilience - not fear!

Tips for navigating manipulative bids of transformation that can weaken the will, create co-dependency or addiction to change
---
Webinar 9-2019:
Relationship Archetypes: Is All the World a Stage?
Tips for depersonalizing our dramas and working with synchronicity
June 5, 2019

We all have dramas and struggles, not just with others, but also with ourselves and the world at large. If we can depersonalize our challenges and zoom out to look at them on an archetypal level, we open a different dimension that shows us the larger fractal patterns at work in every obstacle we face. The good news is when we open ourselves to this deeper level of synchronicity, where every action and event becomes interconnected, we can achieve much greater learning and accelerate our own transformation. This webinar explores how to approach our lives and relationships from the archetypal level which is an ideal way to build Resilience, reduce reactivity and flow with greater intention in our own evolutionary process.
Some key points covered in this Webinar:
An overview of common relationship archetypes and how they inform our deepest challenges and struggles on a synchronistic level
Simple tools for bypassing dramas and accessing the essence of an archetype in any situation

Tips for working with reactive behaviours including typical masks and shields
---
Webinar 8-2019:
Resilience in Action: Increasing Passion & Will-Power
Tips for designing actions that liberate an iron will with fluid agility
May 8, 2019

Action driven by fear, stress, obligation or even excitability creates pressure which isn't sustainable and only drives up our resistance in the end. This can result in procrastination, anxiety, depression, defeat or deflation which feeds inaction. Not fun! When we are connected to source-being BEFORE any action and build investment in our vision and strategy from resilience (not excitement!), the same actions become more compelling – engaging our desire, will and well-being. Why? Because action then comes from choice and our own autonomy – and that builds in automatic accountability. This webinar discusses the key elements for designing sustainable action from resilience and how to counter-act common traps that guarantee actions will deflate.
Some key points covered in this Webinar:
An overview of the key elements necessary for designing actions sourced from resilience, making them more compelling and sustainable while reinforcing creativity, agility and autonomy
Simple tools for infusing actions with higher desire and increased investment, activating more will-power and self-accountability

Tips for overcoming fear and resistance when facing challenges and obstacles
---
Webinar 7-2019:
Mapping the Creative Cycle
Tips for maximizing our transformational process
April 3, 2019

Creativity isn't just raw talent or random inspiration. It moves through particular phases that can be captured and cultivated as we learn to flow with it. Our transformational cycles move through the same phases and when we understand this process, it changes our relationship to desires, resistance, motivation and obstacles… all working together to sculpt our own impulses into a work of art. This webinar examines how to direct our impulses through each phase of the Creative Cycle so we can channel the best expression of ourselves and act upon our fullest potential.
Some key points covered in this Webinar:
An overview of how the four phases of the Creative Cycle work together and how they map onto our own process of transformation
Simple tools for capitalizing on each creative stage and increasing the flow of inspiration

Tips for embracing resistance as a further catalyst for creativity and transformation
---
Webinar 6-2019:
The Art of Provocation
Tips for creating a healthy flow of truth and transparency in relationship
March 20, 2019

Provocation is the catalyst for creating movement and flow in relationship through action-reaction. Most often, provocation is misunderstand and confused with confrontation, but when we provoke with mindfulness we are balancing each action-reaction to direct the flow of relationship into deeper levels of truth. Without provocation, we risk running in circles, getting lost in a story that may or may not be true. This webinar examines how to be a catalyst while staying present and mindful to the impact of each action-reaction without getting off-balance. When provocation becomes an art, we can intentionally direct our relationships to flow with greater benevolence, clarity and well-being while maintaining a deeper and more productive level of truth and transparency.
Some key points covered in this Webinar:
An overview of what provocation is and is not, and how to use provocation mindfully without veering into unnecessary aggression or confrontation
Simple tools for keeping the flow of relationship truthful, healthy and enjoyable, even in difficult situations

Tips for keeping yourself mindful, balanced and aware so you are not provoking from fear or reactivity
---
Webinar 5-2019:
The Basics of Manifesting New Realities
Tips for entering Flow-States and working with Law of Attraction
March 6, 2019

Law of Attraction is not magic, it's not passive and it certainly is not about escaping one reality for another! That said, we are all co-creators participating in a co-creative reality that DOES respond to our fundamental intentions. The question is: WHAT exactly are the intentions we are broadcasting? The other question is: HOW exactly are we responding when reality broadcasts our intentions BACK to us? This webinar strips down the myths and ideas around Law of Attraction to the very basics of what it means to create and what it really demands to be a creator.
Some key points covered in this Webinar:
An overview of how Law of Attraction does and does not work so we can co-create more precisely with our reality
Simple tools for activating creative flow-states that open expanded levels of consciousness

Tips for strengthening vision, intentions and personal mantras that reinforce any new programming we set in motion
---
Webinar 4-2019:
Playing with Polarity and Neutralizing Resistance
Tips for understanding our inner conflicts and contradictory beliefs
February 20, 2019

We have many values, beliefs and desires, but why do they often contradict each other, limiting our creativity and potential? Often we feel caught in the middle between "wanting" and "fearing" to move in one direction or the other. Some call this limiting beliefs, false fears or saboteurs, but whatever you call it, they cause resistance whenever we want to act on our desires. This webinar shows you how our inner struggles are actually opposing truths caught on a polarity swing… and have nothing to do with fear OR desire! If left unchecked, we reactively swing back and forth in opposition to ourselves, creating stress, anxiety and resistance. But once you understand how these inner polarities work, you can play WITH them and neutralize any power they have over you. Then you're on your way to making resistance work for you, not against you!
Some key points covered in this Webinar:
An overview of how our fears and inner struggles function as polarities and how resistance is actually resilience in disguise
Simple tools for neutralizing the polarity swing so we can restore our inner calm to make choices based on resilience and not driven by fear

Tips for managing resistance in ourselves and in our relationships
---
Webinar 3-2019:
The Fractal Nature of Conflict & Relationships
Tips for overcoming reactivity and disempowerment
February 6, 2019

Why is it we tend to run into the same dramas again and again? It's as if we're running ourselves in circles repeating the same patterns and triggers in different situations with different people. No matter what we try to do differently, if we stay stuck in reactivity, as if on automatic, we end up making the same key choices yet again and the game goes on repeat with no win in sight. So how do we break free? What If relationships function as fractals, playing a larger game of opposing truths, meant to test our resilience and wake us up to a larger lesson? What if that lesson guarantees our liberation? This webinar shows you some simple ways to wake up to the game, and start embracing the lesson it offers. If we play the game not to win, but to master ourselves first, we can open a much larger reality in our relationships and enter Unity Consciousness.
Some key points covered in this Webinar:
An overview of how conflict functions through a series of repeating micro-patterns and how to recognize some of the basic patterns at work
Simple tools for neutralizing dramas and reactivity

Tips for how we can manage our relationships with more Resilience, Agility and Creativity


---
Webinar 2-2019:
The Basics of Reconciling Brain, Heart and Body
Tips for creating greater congruency in thought, energy and action
January 23, 2019

Working through our problems in our mind can change our ideas, but it won't change our actions, as we're still operating from old programming and learned reactive habits. To truly shift a pattern, we need to create a congruent shift in our belief, feelings, words and deeds so they all line up together in harmony. Not only that, when we are totally aligned and coherent, we open access to super-conscious states where we can reprogram ourselves on a fundamental level using neuroplasticity and enjoy a heightened sense of well-being.
Some key points covered in this Webinar:
An overview of the brain-body connection, including brain-heart coherence and working with body intelligence centres
Simple tools for reducing stress and activating a whole brain experience to increase productivity

Tips for overcoming reactivity and enhancing well-being through super-conscious states
---
Webinar 1-2019:
The Basics of Building Resilience
Tips for accessing greater flow, creativity, and well-being despite any challenge
January 11, 2019

Resilience is innate in all of us. It is our core vitality and basic will to live. When activated, our Resilience gives us the ability to bounce back from any tragedy or circumstance as it enables us to be flexible, adaptable, creative and to thrive in the face of any challenge. When our primary focus is on Resilience First, rather than chasing Transformation, our initial fears and resistance get neutralized, giving us more autonomy and will-power to truly reconcile our challenges. Through repeated access to Resilience, we forge a direct connection with our inexhaustible Source-Energy that enables us to thrive, create and transform ourselves naturally, without being driven by fear or reactivity.
Some key points covered in this Webinar:
An overview of how Resilience works and how it is innately available to us in every moment
Simple tools for accessing and sustaining Resilient States of Being to enhance our creative flow and well-being

Tips for converting fear and resistance into Resilient Energy so we face our challenges with more ease and strength
---


Want to know more about EED?
Join our mailing list for the latest news and updates