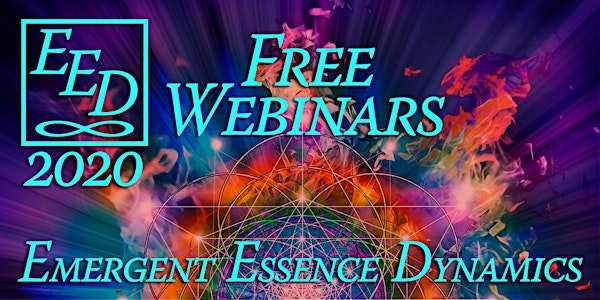 EED Free Webinars 2020
Our free webinars demonstrate how EED's innovative tools tackle tough issues in coaching and leadership with ease.
About this event
Emergent Essence Dynamics™
Free Webinar Series 2020
with Troy Yorke – Creator and Founder of EED
For a limited time, we are offering open access to select recordings of past webinars! Scroll down to "Past Webinars" and click the highlighted title to listen.
Next Webinar: December 2, 2020
"Applying the 7 Hermetic Principles"
Tips for flowing in harmony with the natural order of creation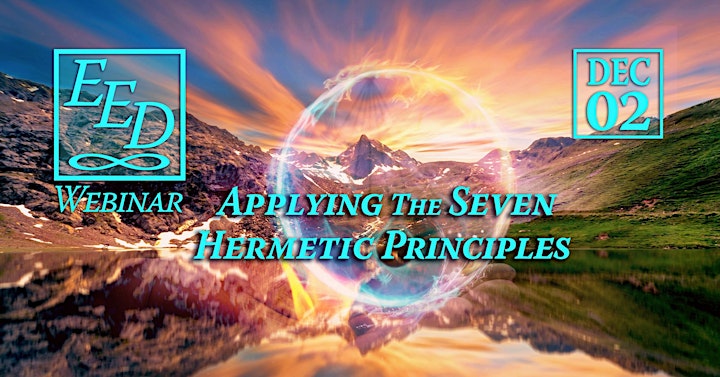 (scroll down for further details & complete schedule)
Our free webinars take on hot topics not normally discussed in the coaching & personal development industry. They demonstrate how EED's most basic and innovative skills tackle those tough issues with ease. You will gain a whole new awareness of how to work more efficiently with people while walking away with some new and inspiring tools you can easily practice anywhere. 
Each webinar is 60 minutes and limited to 24 participants.
EED Course Registration for 2020 is open!
NEXT COURSE DATE: Module 1 – Revealing Essence (Dec 18-20 ONLINE)
Europe: https://eed-eu-2020.eventbrite.com
Download our EED Program Information PDF: Europe 2020
"EED is the best advanced coach training I know of. It's a profound, simple and sound methodology that enables you to quickly dive deep with your clients. Its founder, Troy Yorke, is not only an inspiring and patient teacher, but also a powerful demonstrator of what masterful coaching, facilitation and conflict reconciliation look like."  – Dieter Wunderlich, CPCC, ACC, Gallup Certified Strengths Coach – Germany
Webinar Schedule 2020
Jan 15: Connecting to Source
Jan 29: False Narratives & Emotional Tyranny
Feb 12: Liberating the Resilient Self
Feb 26: The Art of Designing Powerful Questions
Mar 11: Embodiment & Genuine Presence
Mar 25: The Art of Releasing Resistance
Apr 1: Masks, Boundaries & Sacred Space
Apr 8: Dark to Light – Death's Door and Rebirth
Apr 15: Core Vitality & Resilient Well-Being
Apr 22: Essentials of Healthy Relationship
Apr 28: Awakening the Higher Mind
May 6: Accelerated Learning and Mastery
May 13: Releasing Fear and Taming Obstacles
May 20: Dress the Knight to Slay the Dragon
May 27: War-Games of identity
Jun 10: The Unnatural Nature of Forgiveness
Jun 24: Reconciling Essence and Identity
July 8: Flow-States and Creativity
Aug 5: Putting Myths to Rest – Vulnerability & Authenticity
Sept 2: Discernment, Wisdom & Intuition
Sept 16: Essential Purpose
Sept 30: Managing Fear, Stress and Anxiety
Oct 7: Shamanic Vision
Nov 4: The Alchemy of Law of Attraction
Dec 2: Applying the 7 Hermetic Principles
Bookmark this registration site:
https://eed-webinars-2020.eventbrite.com
Webinar #25-2020:
Applying the 7 Hermetic Principles
Tips for flowing in harmony with the natural order of creation
December 2, 2020 (7PM Paris / 1PM Toronto)
Some key points covered in this Webinar:
An overview of the 7 Hermetic Principles and how to naturally incorporate them into daily life
Simple tools for accessing a natural flow of creativity in all your daily activities
Tips for restoring a state of resilience and autonomy using the Hermetic Principles and EED skills together
Registration: FREE
Emergent Essence Dynamics™  harnesses a person's innate Resilience to neutralize fear-based patterns, converting Resistance and Self-Sabotage into a liberated state of creativity and well-being. 
Drawing from fields as diverse as Quantum Physics & Buddhism, Acting & Improvisation, Neuroscience & the latest in Consciousness Research, EED breaks new ground in leadership and coaching methods using fractal dynamics to amplify Resilience and Reconcile core conflicts. EED's simple and pragmatic approach significantly enhances individual & team coaching, facilitation, therapy, and conflict resolution with applications extending to the healing arts, leadership development, mediation, consulting, sales and more.
EED courses run in Munich, Frankfurt, Paris and Online in English
2020 Course Registration now open!
NEXT TRAINING: Group Facilitation & Team Dynamics (Nov 20-22 ONLINE)
Registration & Info: https://eed-eu-2020.eventbrite.com
Want to know more about EED?
Visit our Website: www.essence-dynamics.com
Click these links for complete details:
Registration Europe: https://eed-eu-2020.eventbrite.com
Join our mailing list for the latest news and updates
Follow EED on Social Media:
Facebook: @EEDynamics
Twitter: @EEDynamics
YouTube: @EEDynamics
Contact us:info@essence-dynamics.com
PAST WEBINARS
For a limited time, we are offering open access to select recordings of past webinars. Simply click the hyperlinked webinar title to listen.
Contact Troy Yorke if you'd like a recording of any past webinar not linked
Webinar #24-2020: (click for recording)
Tips for purifying intentions to create from higher will, wisdom and resilience
November 4, 2020
Law of Attraction is often misunderstood as "commanding" the universe to manifest what you want. It takes much more than imagining a Vision or believing a Belief to create a new reality. This webinar dives into the transpersonal aspects of Law of Attraction that don't often get talked about. From the alchemical point of view, law of attraction is a natural process of purification and transmutation of ourselves, our relationships and our world that exalts the highest expression of humanity.
Some key points covered in this Webinar:
A pragmatic overview of the "secrets" behind Law of Attraction and how to set your creative energies in motion
Simple tools for strengthening will-power, vision and creativity
Tips for dealing with obstacles and resistance that "appear" to impede your creative endeavours
Webinar #23-2020: (click for recording)
Tips for accessing altered states of deep wisdom and creative flow
October 7, 2020
We all daydream, envision and imagine possibilities in our mind's eye. But it's important to note if we are reacting to pre-conditioned programming or truly exploring new and surprising information. Our dreams function in the Shamanic state of consciousness which is beyond the limits of ego or identity. Since we all dream, we all have access to this state. This webinar outlines how we can harness a free-flowing connection to Shamanic Vision and begin to learn from our fears, joys, and desires and reprogram our beliefs. This is the playground to set in motion new paths and possibilities, and is one of the first key steps to co-creating new realities in the world around us.
Some key points covered in this Webinar:
An overview of how dream-states shape and program our daily actions and behaviour
Simple tools to reprogram fundamental beliefs and fears that block creativity
Tips for embedding strong will, investment and desire into our creative visions, strategies and actions
Webinar #22-2020: (click for recording)
Tips for recovering resilience, creativity and enjoyment when facing challenges, chaos or crisis
September 30, 2020
Repeated anxiety and stress will program an automatic fear response that can potentially sabotage our choices if we let it go unchecked. We can recondition ourselves to respond differently when confronted with stress, chaos or fearful conditions so we remain lucid, creative and connected to our resilience. When we are able to remain resilient, despite whatever happens to us or around us, we naturally activate our peak strengths to create the best out of life.
Some key points covered in this Webinar:
An overview of how fear, stress and anxiety function and how to take back creative control of ourselves
Simple tools for restoring resilience at a moment's notice
Tips for neutralizing worry and deprogramming obsessive "nightmare" scenarios that play through our minds on repeat
Webinar #21-2020: (click title for recording)
Tips for aligning your creative essence with innate strengths so everything you do is naturally more meaningful and fulfilling
September 16, 2020
Life Purpose can derail us if we think of it as something to aspire to or something to achieve. It can get especially confusing if we think we need to accomplish BIG things in order to feel purposeful and fulfilled. If our idea of Life Purpose is embedded with competition or non-acceptance of our natural self, it takes away from our own autonomy and makes the life path we pursue somebody else's purpose. That sets us up to live by someone else's standards, not our own. This webinar takes Purpose back to its simplest form and rebuilds it from pure Essence so we realign with our natural strengths and natural sense of contribution. When we discover that our purpose is already innate within us, we can orient all our activities toward a pure and simple expression of our unique essence, which, in its most refined state, makes a powerful contribution to the world around us… naturally.
Some key points covered in this Webinar:
An overview of how Essential Purpose naturally reconciles your innate strengths with daily challenges, bringing deeper meaning to everything you do, no matter how big or small
Simple tools for discovering the unique and natural contribution your innate strengths offer to the world around you
Tips for embracing life's lessons with intention and purpose, so your contributions in life become ever greater and more natural while enhancing your own enjoyment, creativity and well-being
Webinar #20-2020: (click title for recording)
Tips for accessing our higher faculties to navigate life beyond education, logic and social conditioning
September 2, 2020
There are many levels of knowledge we can access and each has its own particular function. Each level navigates life differently and influences how we make our choices. Our higher faculties access wisdom and intuition but there are many myths about what makes a person wise and many misconceptions about intuition. We also celebrate logic and education, but are these really promoting our highest levels of intelligence available or are they keeping us in a lower, limited mindset? This webinar outlines the various levels of intelligence we can access, how to cultivate the higher levels and how to combine them all in order to move through life with pristine clarity, fluidity and autonomy.
Some key points covered in this Webinar:
An overview of how discernment, wisdom and intuition greatly differ from knowledge, logic, education and aquired beliefs
Simple tools to develop higher awareness, heart-brain coherence and intuitive knowing, all of which enhance creative, out-of-the-box thinking
Tips for bypassing social programming, beliefs and bias to access your own inner source of innate wisdom
Webinar #19-2020: (click title for recording)
Tips for releasing ourselves from predefined rules and trappings that obscure what we call genuine "self-expression"
August 5, 2020
The pursuit of genuine self-expression does involve letting go of masks and shields but it does not adhere to a particular image of what authenticity should look like. There are many myths floating around about the importance of being vulnerable and how one should behave when truly "authentic". Many of those myths can be a mind trap. This webinar breaks down the essence of vulnerability, along with its pros and cons, and redefines what it is to be authentic from a resilient place connected to Source. It is possible to be open, generous, transparent and genuine while still maintaining boundaries and exercising discernment.
Some key points covered in this Webinar:
A redefinition of vulnerability and authenticity through the lens of resilience and autonomy which creates greater strength, fluidity and presence in all relationships
Simple tools for developing congruency of thought, feeling, word and action while connected to Source
Tips for maintaining boundaries while still remaining open, transparent and freely expressive without feeling censored or impeded by others
Webinar #18-2020:(click title for recording)
Tips for developing a willful, regular and disciplined access to divine inspiration... otherwise known as craft!
July 8, 2020
Creative inspiration may feel random at times, but it can be cultivated to be called upon at will. Although we may feel like we hit on random highs of creative periods, with practice, we can control how we access our highest creative energies - but that takes awareness and discipline! This webinar gives you some basic techniques to clear a path within yourself to allow creative energy to enter and flow through you. With patience and persistence, you can learn to gradually let go of mental control, and open yourself to willfully act from an unimpeded flow of pure creative potential.
Some key points covered in this Webinar:
An overview of the creative process and how the mind-body connection is key for accessing regular creativity, intuition, and inspiration
Simple techniques for entering a flow-state and maintaining a clean focus of high creativity
Tips for working through interruptions of flow like creative blocks, perfectionism and procrastination
Webinar #17-2020:(click title for recording)
Tips for bridging our divine nature together with our daily experiences to become more expressive human beings
June 24, 2020
When embarking on a personal growth or spiritual journey, we are often told to get Ego out of the way. This is partially true, but if we try to eliminate Ego or Identity entirely, we are throwing the baby out with the bath-water! This webinar examines how to maintain our Identity without cutting off the connection to our higher divine essence. With practice, we can ground ourselves in Essence and work more harmoniously in our world, tapping into unity with others, without sacrificing individuality or diversity… and this opens a cleaner and more practical path of personal evolution.
Some key points covered in this Webinar:
An overview of how Ego and Essence can work together harmoniously without losing heart, power or autonomy
Simple tools to channel our divine Essence and express a greater range of inspired creativity
Tips for diffusing Ego trips and Identity traps so we enjoy greater flow and fluidity in daily life
Webinar #16-2020:(click title for recording)
Tips for doing the hard work to end the victim-persecutor cycle and get on the road to freedom
June 10, 2020
Forgiveness is not an easy path to follow. It seems easier to exact revenge in the name of justice or just write-off the relationship and try to move on. But if we focus on pay-back or avoid accountability, we end up perpetuating the cycle! This webinar explores how to reconcile Power and Compassion together so we can step out of our roles as Victim and hold our persecutors accountable WITHOUT becoming a Persecutor ourselves. It's easy to create more victims but it's not easy to forgive and reconcile. Forgiveness doesn't feel natural, but it certainly is possible… and that reconciliation opens the way to let go of old wars and old stories, opening a new trajectory for humanity.
Some key points covered in this Webinar:
An overview of the Victim-Persecutor cycle and how forgiveness in fact counters natural human instinct
Simple tools for cultivating resilience and humility in preparation for letting go of our roles in the cycle
Tips for neutralizing urges to exact revenge or become persecutors ourselves while still being able to fairly enact justice and hold others accountable to their actions
Webinar #15-2020:(click title for recording)
Tips for developing immunity to identity politics and emotional manipulation
May 27, 2020
It is human nature to seek validation and control in order to survive. However, this very need leaves us susceptible to manipulation as we seek a source OUTSIDE of ourselves rather than connect with the resilient source within. This webinar addresses at length how identity is a double-edged sword: it is a necessary vehicle to create, manifest and thrive, but it is also vulnerable to power-games, propaganda, and manipulation. We are living more and more in an escalating battleground of who's right, who's best, and which side do we choose in order to live our best lives as better people. Part 1 outlines how identity wars are created to distract, divide and distress while Part 2 gives the antidotes to manipulative game tactics so we restore our natural resilience and return to a divine state of unity, creativity and autonomy.
Some key points covered in this Webinar:
An overview of the traps of identity and how our good intentions can sometimes leave us vulnerable to manipulation
Simple guidelines to recognize subtle tactics of manipulation that seem to bolster the identity but actually weaken the will and aggravate fear
Tips for unhooking from the effects of indoctrination, emotional warfare, gas-lighting and other "invisible" weapons targeted at identity and personal values
Webinar #14-2020:(click title for recording)
Tips for building resilience, will-power and desire to confront any challenge
May 20, 2020
Everyone wants change for the better, but not everyone wants to do the actual work. Wouldn't it be ideal if we could just wave a magic wand and make all our challenges disappear? Then we could spend more time enjoying the rewards of our dreams, instead of rolling up our sleeves to fight daily battles. This webinar focuses on how to activate a person's natural strength, will and desire to engage head-on with their issues, fears and challenges, so they truly enjoy the journey of their daily transformational process.
Some key points covered in this Webinar:
An overview of the basic template for setting up a successful process of transformation that is compelling and sustainable
Simple tools for establishing a clear focus and strong investment in the change process
Tips for uncovering the deeper layers that will unveil the hidden "dragon" driving the core issue
Webinar #13-2020:(click title for recording)
Tips for embracing fear and resistance as a catalyst for creativity
May 13, 2020
There is a time and place for fear. It can impede our momentum and creativity or it can be used as a catalyst for resilient action. It all depends on how and when we focus on it in the transformation cycle. This webinar breaks down the strategic moments when it's healthier to put fear aside or include it to reinforce our strengths, vision and integrity.
Some key points covered in this Webinar:
An overview of the creative cycle and where fear fits in to enhance a healthy flow-state
Simple tools neutralizing unnecessary fear in order to focus on nurturing resilience, well-being and new ideas
Tips for confronting fear to awaken new strengths and using obstacles as a catalyst for inspired action
Webinar #12-2020:(click title for recording)
Tips to maximize flow and productivity with whole-brain learning processes
May 6, 2020
Mastery takes time but it doesn't have to take forever to achieve. Yes, it demands a balance of patience and persistence, along with compassion and discipline… but it does not have to feel like a chore either! This webinar breaks down how the learning process is built on fractal cycles that balance polarities. Once we understand how each stage fits together, learning becomes a pleasure as we become more adept with ourselves through each new skill we acquire.
Some key points covered in this Webinar:
A step-by-step overview of the mastery process and how learning follows a fractal cycle
Simple tools to create peak brain-states for optimum learning and performance
Tips for managing stress, fear and anxiety when performing under pressure or deadlines
Webinar #10-2020:(click title for recording)
Tips for promoting resilient partnership and preventing toxic patterns
Apr 22, 2020
Our mindset determines the quality of our relationships. When grounded in resilience, we have the choice to engage with power-games and reactivity or steer the relationship into its dream essence and discover its creative potential. Resilience in relationship neutralizes victimhood and fear, restoring a healthy give and receive of well-being.
Some key points covered in this Webinar:
An overview of how to create a resilient flow in relationship and reduce toxic behaviours
Simple tools for balancing well-being in relationship with a healthy exchange of creative energy
Tips for neutralizing toxicity and returning to a resilient state
Webinar #9-2020:(click title for recording)
Tips for invigorating your daily activities with life-giving creative energy
Apr 15, 2020
Everything we experience is energy. How we choose to use that energy determines whether it feeds or depletes our vitality. This has nothing to do with an energy being positive or negative. It has everything to do with how we handle the various energies we meet. This webinar outlines how to connect with the pure, vital essence of anything we experience and use its energy to strengthen our resilience and well-being. We have the ability to take anything life throws at us and turn it to our favour.
Some key points covered in this Webinar:
An overview of how to access and circulate vital energy as a source of resilience, strength and stability
Simple steps to extract vital energy from anything you experience and anchor its life-giving essence into your body
Tips for using the circulation of vital energy to enhance daily actions, personal well-being and relationships
Webinar #8-2020:(click title for recording)
Tips for working with the Shadow and illuminating hidden strengths
Apr 8, 2020
In our darkest moments we discover our greatest strengths. The shadows we confront in times of difficulty present the perfect lessons that will move us forward if we embrace them. When mastered, these lessons provide the exact breakthrough we needed to fulfill our sense of purpose and contribution. Does this mean everything is falling apart in the process? Maybe, but is that really true? This webinar outlines how to embrace chaos and remain resilient while adapting to times of upheaval and transition. Our greatest moments arise when we are able to let go of everything we thought we knew... which begins a rite of passage towards greater illumination.
Some key points covered in this Webinar:
An overview of how the Hero's Journey guides us through our darkest moments to activate new strengths
Simple tools for making peace with our fears and challenges from a foundation of resilience
Tips for maintaining strength and creative insight in the face of chaos or great difficulty
Webinar #7-2020:(click title for recording)
Tips for balancing the genuine expression of power, heart and truth in relationships
Apr 1, 2020
We do not need to wear our heart on our sleeve with EVERYONE in order to feel authentic! When we create healthy boundaries, we maintain healthy relationships. Just because we set a boundary, it does not mean we are losing connection or authenticity. It means we are simply creating a mask. It is important to reconcile our inner sacred self with the masks we wear, otherwise we risk holding false boundaries or feel like a fraud. This webinar discusses how to reconcile ourselves with all the outer masks and boundaries we create, and more importantly, how to be fluid with those masks as relationships change and evolve.
Some key points covered in this Webinar:
An overview of how to map our various masks and boundaries so they connect to our sacred self and create healthier relationships
Simple tools for navigating true intimacy without sacrificing integrity or strength
Tips for setting clear boundaries that are resilient and organic rather than rigid, reactive or fearful
Webinar #6-2020:(click title for recording)
Tips for neutralizing fear and reactivity
Mar 25, 2020
How we react to the changing world around us will determine whether we imprison or liberate ourselves. Are we resistant, fearful, complacent or resilient? Although fear and resistance are a natural part of our being, they don't have to take over our actions, decisions or logic. This webinar discusses simple ways to distinguish between what is natural instinct and what are reactive patterns of fear. When we know how our reactive patterns work, we can neutralize our fears and return to a clear resilient mind that makes decisions based on common sense and true creativity.
Some key points covered in this Webinar:
An overview of how reactive fear-patterns behave and how resistance can impede or accelerate a change process
Simple tools for activating an inner sense of resilient calm that weathers any storm
Tips for managing fearful reactivity, returning the mind to a state of clarity, creativity and common sense
Webinar #3-2020:(click title for recording)
Tips for programming a resilient mind-set
Feb 12, 2020
What drives the need for fulfillment and transformation? How can emotions augment or distort the transformation process? What does it take to truly shift into a Resilient mindset? This webinar radically shifts your whole approach to leadership, coaching, team work and relationships. It shows you precisely how to pierce through the smokescreens of fear, doubt and resistance to instantly activate the true resilient nature of any human being.
Some key points covered in this Webinar:
An overview of how the Resilient Self functions and what drives our basic need for transformation
Simple tools for creating emotional investment when programming a new narrative
Trouble-shooting Tips for to prevent fear or resistance from blocking free access to a resilient core
Webinar #2-2020:(click title for recording)
Tips for deconstructing fear-based programming and restoring a sense for Truth
Jan 29, 2020
Story and emotion are a powerful combination that make a potent vehicle for programming the reality we live in. So what stories are we listening to and how do we navigate which reality we buy into? Each person's story can be very different and polarize into a battle of realities, resulting in emotional power struggles. Add fear to the mix and emotional narratives can be weaponized to manipulate who we "think" we are and influence the actions we take. This webinar breaks through the smoke and mirrors of emotional narratives so we can restore a foundation of truth within ourselves, reclaim our higher mind and begin to release ourselves from any undesirable programming.
Some key points covered in this Webinar:
An overview of how story and emotion are used together for programming "belief" systems and how they can get co-opted by fear tactics
Simple tools for de-triggering emotional narratives to restore a neutral, mindful and resilient state
Tips for releasing undesirable programming and protecting ourselves from emotional manipulation
Webinar #13-2019:(click title for recording)
Tips for dealing with toxic dynamics in daily relationships
Oct 2, 2019
It's easy to get tangled up in everyone else's games and lose yourself in the process. We are taught rules to be a good person, but those "rules" can work against us if we're not careful, and lead us into power-games that manipulate us into taking on baggage that is not our own. The more we lose ourselves and the more unnecessary baggage we take on can lead to all sorts of toxicity in relationship and take us further and further away from truth. This webinar explores how to deconstruct various subtle forms of manipulation in order to restore our own sense of truth and autonomy. We can build immunity to such deceptions and neutralize their effects on us.
Some key points covered in this Webinar:
An overview of how Power-Games behave and function with a special focus on the common manipulative traps they present
Simple tools to recognize deceptive Power-Plays and neutralize their potential toxicity
Tips for building immunity to manipulative bids and restore resilience in oneself
Webinar #12-2019: (click title for recording)
Tips for building better teams with resilience, alignment and autonomy
Sept 4, 2019
Working with teams can be a complex task if we are stuck trying to navigate a variety of contradictory points of view while trying to create team alignment, manage resistance and settle conflict. If we try to resolve disruptions in a team from this level, we will end up with compromise, resentment and internal competition… which means that the various polarities driving the team dynamic were never reconciled.
This webinar uncovers how the complex dynamics inherent in teams and groups can be simplified when we look beyond story, conflict or "transformation" and just focus on the patterns occurring on a fractal level. When we realize that these basic patterns ARE trying to create unity in their own unique way, it is so much easier to build resilience, autonomy and agility in a team that can function fluidly and creatively without feeling divided or compromised. It just takes takes a new level of awareness and new skills to bring that to light.
Some key points covered in this Webinar:
An overview of Team Dynamics, typical Team Archetypes and the principles of creating a "fluid" hierarchy
Simple tools for building Team Resilience based on individual strengths and unique contribution
Tips for neutralizing polarized "camps" within a group and fostering diversity within an all-encompoassing unity
Webinar #11-2019:(click title for recording)
Tips for liberating personal power without sacrificing the heart
Aug 7, 2019
We all have been victimized or persecuted and we all have the choice to forgive or retaliate. But how do we hold the scales of justice without becoming persecutors ourselves? If we forgive from the heart, do we risk losing our sovereignty and become victims once again? If we retaliate with power, do we risk losing our compassion and become persecutors ourselves, only to create another victim? This webinar explores how to reconcile heart and power together, where we can forgive with compassion and strength while holding our persecutors accountable with authority and love... without fear of being victimized or victimizing others.
Some key points covered in this Webinar:
An overview of the Victim-Persecutor cycle and how it perpetuates a constant battle between the Head, Heart and Power centres
Simple tools for reconciling fear and vulnerability with power and autonomy
Tips for building a resilient connection within oneself to neutralize games of victimization and the desire for retaliation or revenge
Webinar #10-2019:(click title for recording)
Tips for breaking free from chasing false fulfillment
July 15, 2019
We are bombarded with messages to grow, improve, play big and make an impact. That all sounds good, but these messages can also back-fire and actually lower self-esteem, create co-dependency, weaken the will or aggravate disappointment. So many markets play upon our desire for fulfillment but they don't focus on accentuating our natural resilience and creative ability to thrive. 
This webinar explores how to navigate potential traps of transformation that reinforce fear, aggravate a sense of lack or entice our desires with false fulfillment. By exploring the true nature of our creative and transformational process, we can reorient personal mastery towards liberation, resilience and full autonomy. This is especially crucial for coaches and leaders guiding people through any change process!
Some key points covered in this Webinar:
An overview of how the transformation process works and some common traps we can meet along the path of personal mastery
Simple tools for pursuing personal transformation and fulfillment that reinforce true autonomy, well-being, resilience - not fear!
Tips for navigating manipulative bids of transformation that can weaken the will, create co-dependency or addiction to change
Webinar #5-2019:(click title for recording)
Tips for entering Flow-States and working with Law of Attraction
March 6, 2019
Law of Attraction is not magic, it's not passive and it certainly is not about escaping one reality for another! That said, we are all co-creators participating in a co-creative reality that DOES respond to our fundamental intentions. The question is: WHAT exactly are the intentions we are broadcasting? The other question is: HOW exactly are we responding when reality broadcasts our intentions BACK to us? This webinar strips down the myths and ideas around Law of Attraction to the very basics of what it means to create and what it really demands to be a creator.
Some key points covered in this Webinar:
An overview of how Law of Attraction does and does not work so we can co-create more precisely with our reality
Simple tools for activating creative flow-states that open expanded levels of consciousness
Tips for strengthening vision, intentions and personal mantras that reinforce any new programming we set in motion
Webinar #3-2019:(click title for recording)
Tips for overcoming reactivity and disempowerment
February 6, 2019
Why is it we tend to run into the same dramas again and again? It's as if we're running ourselves in circles repeating the same patterns and triggers in different situations with different people. No matter what we try to do differently, if we stay stuck in reactivity, as if on automatic, we end up making the same key choices yet again and the game goes on repeat with no win in sight. So how do we break free? What If relationships function as fractals, playing a larger game of opposing truths, meant to test our resilience and wake us up to a larger lesson? What if that lesson guarantees our liberation? This webinar shows you some simple ways to wake up to the game, and start embracing the lesson it offers. If we play the game not to win, but to master ourselves first, we can open a much larger reality in our relationships and enter Unity Consciousness.
Some key points covered in this Webinar:
An overview of how conflict functions through a series of repeating micro-patterns and how to recognize some of the basic patterns at work
Simple tools for neutralizing dramas and reactivity
Tips for how we can manage our relationships with more Resilience, Agility and Creativity
Webinar #1-2019:(click title for recording)
Tips for accessing greater flow, creativity, and well-being despite any challenge
January 11, 2019
Resilience is innate in all of us. It is our core vitality and basic will to live. When activated, our Resilience gives us the ability to bounce back from any tragedy or circumstance as it enables us to be flexible, adaptable, creative and to thrive in the face of any challenge. When our primary focus is on Resilience First, rather than chasing Transformation, our initial fears and resistance get neutralized, giving us more autonomy and will-power to truly reconcile our challenges. Through repeated access to Resilience, we forge a direct connection with our inexhaustible Source-Energy that enables us to thrive, create and transform ourselves naturally, without being driven by fear or reactivity.
Some key points covered in this Webinar:
An overview of how Resilience works and how it is innately available to us in every moment
Simple tools for accessing and sustaining Resilient States of Being to enhance our creative flow and well-being
Tips for converting fear and resistance into Resilient Energy so we face our challenges with more ease and strength