Event Information
Refund Policy
Refunds up to 1 day before event
Are you supporting your Board of Directors as an Executive Assistant or Corporate Secretary? This workshop is for you.
About this Event
Capacity Canada presents: Effective Board Support for Executive Assistants. The workshop is being lead by Board Governance expert, Marion Thomson Howell with two very experienced practitioners, Catherine Heal, Manager, Governance and Corporate Projects at Grand River Hospital and Andrew Jardine, Executive Assistant to the Principal and Secretary to the Board of Directors at King's University College at Western University
This two session online workshop is being held on the following dates:
Monday, April 12, 2021 - 1:00 pm to 2:30 pm ET
Wednesday, April 14, 2021 - 1:00 pm to 2:30 pm ET
You will learn the following:
Governance basics that board assistants need to know
Meetings – preparation, organization, minutes
Ways in which board assistants can be a valuable resource to the board
Learn more about regulatory requirements and governing documents
We will share information and best practices, facilitate discussions with our experts, engage you through polls, and group discussions in breakout rooms.
Course fee is $275 for both sessions. Class is limited to 25 people.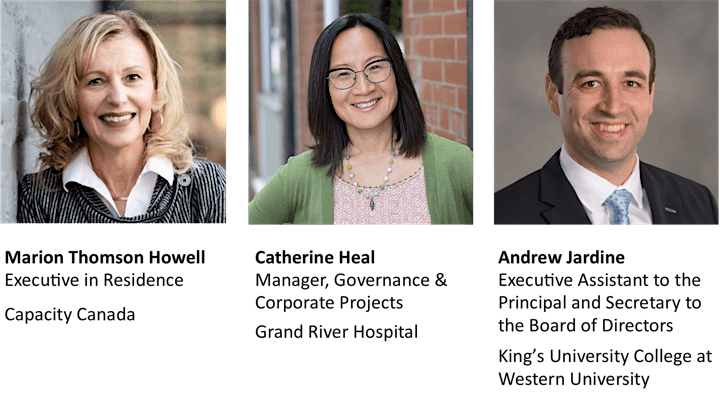 Marion Thomson Howell
Marion Thomson Howell is and Executive in Residence at Capacity Canada and President of ShaughnessyHowell Inc., one of the top training and development companies in Canada. She is known for her outstanding ability to engage a group and to lead them through a dynamic learning experience.
She has worked with staff and senior leaders from organizations like Manulife Financial, Cowan Insurance, the City of Kitchener and the Ontario Public Service helping them determine how to fulfill their role as leaders in changing times.
Marion has extensive experience in governance serving on boards at St. Jerome's University and St. Mary's Hospital and as an elected trustee for the Waterloo Catholic District School Board. She has translated that experience to helping not-for-profit boards strengthen their own governance practices as a coach, trainer and facilitator.
Catherine Heal
Catherine's 25-year career spans urban planning, business, finance and healthcare. She has worked in non-profit organizations large and small, governments and small businesses. To put her MBA and accounting education into practice, Catherine co-founded and operated two small businesses. Be it light rail transit projects, private investment analyses, development of corporate by-laws or starting businesses, Catherine embraces each challenge with curiosity.
Catherine has held leadership positions on three boards since 2004, and was the Chair of Kitchener Downtown Community Health Centre. Catherine is the Chair of LINK Picnic. Catherine has been Manager of Governance and Corporate Projects at Grand River Hospital since 2017. She enjoys applying her diverse background to continuously learn about and improve governance at the hospital so that its Board could fulfill its accountabilities effectively.
Andrew Jardine
Andrew is Secretary to the Board of Directors and Executive Assistant to the Principal at King's University College, Andrew provides strategic governance and administrative guidance to further the mission and vision of King's University College.
Andrew uses his strategic management skills acquired through his MBA at Wilfrid Laurier University combined with his rich humanities education at King's University College (Honours Philosophy) to provide senior leaders with comprehensive support in the post secondary sector.
Date and Time
Location
Refund Policy
Refunds up to 1 day before event