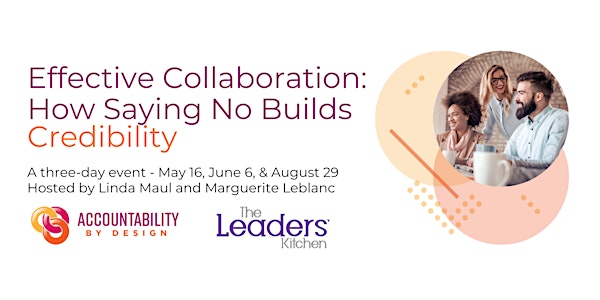 Effective Collaboration: How Saying No Builds Credibility.
A collaborative approach to 'saying no' that builds credibility and relationships, to help us move past our human compulsion to say 'yes'
By Accountability by Design
Date and time
Tue, May 16, 2023 8:00 AM - Tue, Aug 29, 2023 10:30 AM PDT
Refund Policy
Contact the organizer to request a refund.
Eventbrite's fee is nonrefundable.
Agenda
9:00 AM - 11:30 AM
Confidently and Consciously Practice Saying 'Yes' or 'No"
---
This program directly addresses our human tendency to over-commit. There are serious consequences to relationships with self and others if we say yes, and the answer should be 'No'.
Strategize: Gain clarity on the difference saying 'No' would have for you.
Align: Connect learning to your values, goals, capacity, and credibility.
Communicate: Use our model to discern 'Yes' or 'No', and guide conversation.
Celebrate: Practice makes perfect! Celebrate increased confidence and focus.
About this event
As a leader, you're passionate about getting the right things done the right way and supporting your team to get results. And you need some support to:
Get past the overwhelm of never ending requests of you and your team.
Say 'No' when you know you, and your team, can't meet expectations.
Energize yourself and your team, and build your credibility.
You fear you and your team could lose credibility by not delivering on your commitments. You know the right answer in a particular situation is 'No', but you keep saying 'Yes' because you are too tired, or too busy, to discern the risks associated with saying 'Yes' or 'No'.
You are not alone and in fact a recent survey of our clients, indicates the majority of leaders surveyed, are feeling just like you. The good news is other teams we have worked with have moved from chaos & overwhelm to being CALM, CONFIDENT AND COLLABORATIVE …and you can too!
Join us for this program: May 16th and June 6th
for three hours each, and celebrate your growth on Aug. 29th for two hours.
IMAGINE making an even bigger difference as you grow your team's confidence to get the right things done well, to lead with healthy, set flexible boundaries and feel energized! That is what makes this program different from all the rest.
About the organizer
Need more accountability?
Is the uncertainty of our marketplace today keeping you and your team up at night?
Is your team struggling to find clarity in an ever-changing environment?
Are you and your team challenged to meet your organizational goals and objectives?
You are not alone; we are all in this together.
Guiding change, fostering collaboration, and supporting accountability are the most important leadership competencies of today. Our C3 System of clarity, collaboration, and celebration strengthens these critical leadership competencies and guarantees results as you apply your learning.