Effective Communication - Free - Online - Presentation from 12pm to 1pm Wednesday June 2, 2021.
About this event
Are you one of the 66% of people who feel stressed or anxious if they know a difficult conversation is coming up? We have all had to have those conversations that make us uncomfortable. You stress over it until it happens and sometimes it works well and other times we end up so stressed prior that we can't say what we wanted to say and the other person can't seem to hear us. This workshop will walk you through why this is happening and how to prepare for and move through these types of conversations in a productive manner, where you and the other party will leave feeling seen, heard and understood.
Effective Communication is brought to you by Victim Services aux victimes Cochrane Smooth Rock Falls and will be presented by Lisa Wilson. Lisa has taken her success as a Human Resources leader in large corporations and is bringing this same opportunity to small to medium sized companies. Offering training and coaching before and during those particularly sticky situations. Lisa is a Leadership/Corporate Coach, Certified Human Resources Leader and a trained Mediator. With an HR career spanning 15 years, her drive had her in a manager's role 5 years into her career. She is an active volunteer with Toastmasters. She is no stranger to leading and loves sharing her knowledge and experience with her clients.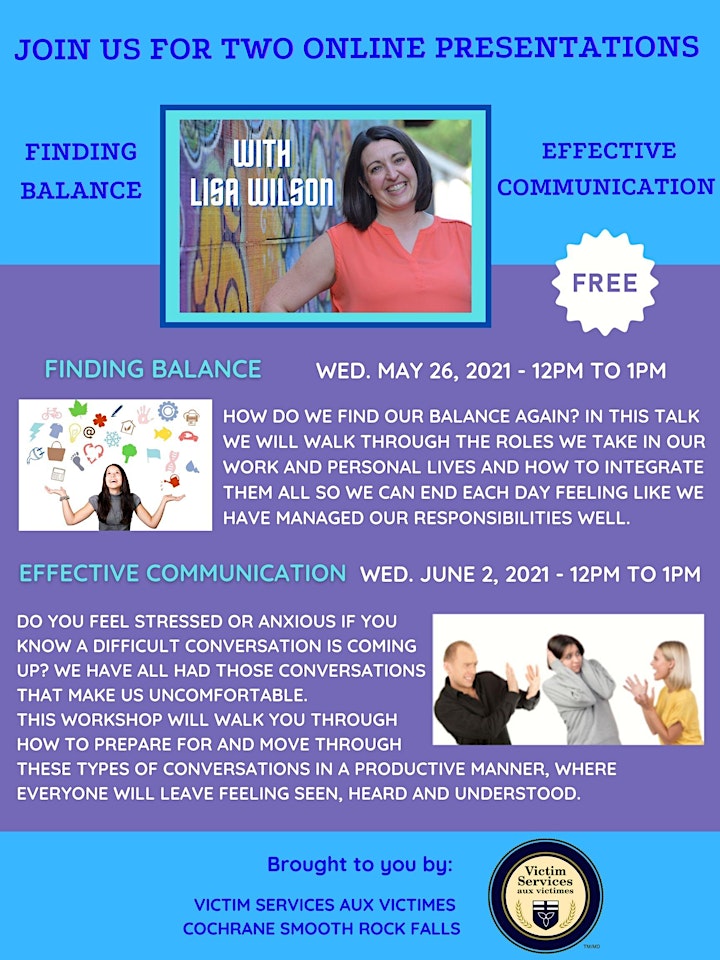 Organizer of Effective Communication