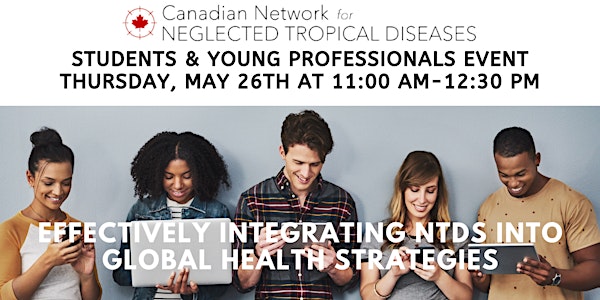 Effectively Integrating NTDs Into Global Health Strategies
This is a virtual event for students & young professionals on integrating Neglected Tropical Diseases (NTDs) into global health strategies
About this event
This virtual event for students and young professionals will host a panel of guest speakers from Canada and abroad who are integrating NTDs into their global health work. The last half hour will be dedicated towards engaging participants in a collaborative advocacy workshop to advance NTD goals in global health.
Our featured guest speakers are below.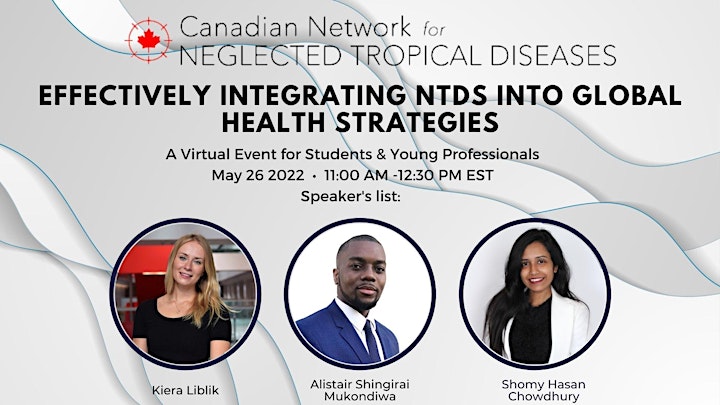 Kiera Liblik
(she/her) is a medical student and master's student at Queen's University in Kingston, Ontario. As a member of the Emerging Leaders Group of the Interamerican Society for Cardiology, Kiera is helping delineate the impacts of NTDs on cardiovascular health. One of their current projects is the Neglected Tropical Diseases and other infectious diseases affecting the Heart project (NET-Heart project), which examines the literature on NTDs and their cardiovascular implications. Kiera was the Co-Coordinator of the textbook developed as an outcome of this project (https://www.elsevier.com/books/the-net-heart-book/saldarriaga/978-0-323-91122-1).
Alistair Mukondiwa
(he/him) is a Medical Doctor and global health advocate. He is currently an Advisory Board Member of Youth Combating Neglected Tropical Diseases working on mainstreaming youth-led action against NTDs. He served as Vice-President of the International Federation of Medical Students' Associations (IFMSA). He co-founded a non-profit, 'I Am Zimbabwean,' working on computer literacy, academic support for teenagers in resource-limited communities. Alistair was recognized as one of the Ten Outstanding Young People by Junior Chamber International (JCI) -Zimbabwe.
Shomy Hasan Chowdhury
(she/her) is an award-winning Water, Sanitation, and Hygiene (WASH) activist from Bangladesh. Shomy co-founded the global non-profit Awareness 360, through which she empowers young people across 25+ countries in advancing the UN sustainable development goals. Last year she made it to the Forbes 30 Under 30 List & was spotlighted as a Featured Honoree For her outstanding social impact. She is an Advisory Board Member of Youth Combating NTDs, among other roles. Her notable recognitions include the President's Volunteer Service Award (Gold) by President Barack Obama, the Putra Icon Award, and The Diana Legacy Award.