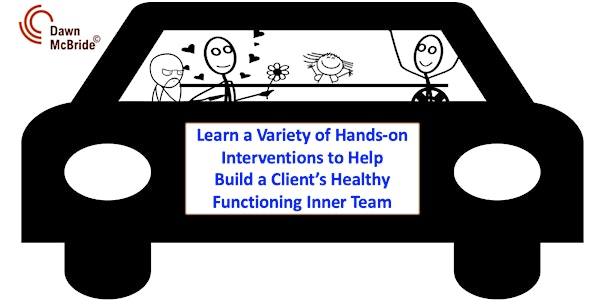 EGO STATES & GAMES - TRANSACTIONAL ANALYSIS (with expressive arts)IN-PERSON
Transactional Analysis - a powerful form of therapy. Come learn how to implement this therapy, using expressive arts & diagrams. IN PERSON
When and where
Location
Elks Hall: 491 1st Ave, Fernie, BC V0B 1M0 802 2 Avenue Fernie, BC V0B 1M0 Canada
Refund Policy
Refunds up to 7 days before event
Eventbrite's fee is nonrefundable.
About this event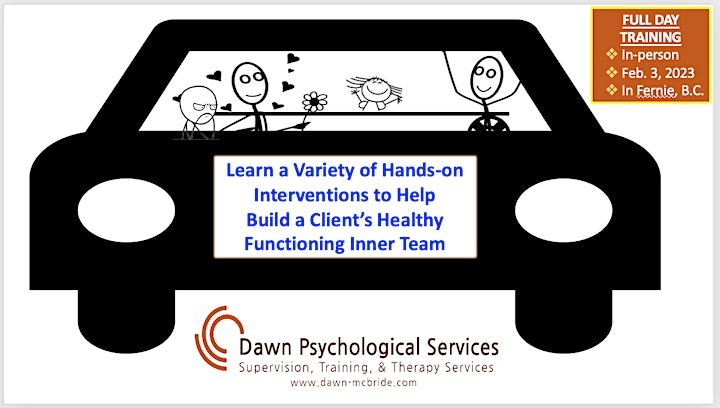 WELCOME! This page will describe the upcoming IN-PERSON training as well as outline relevant policies regarding the registration/training. Please feel free to contact us at admin@dawn-mcbride.com or use the contact tab on Dawn's informative webpage: www.dawn-mcbride.com
DESCRIPTION OF THE TRAINING EVENT: Transactional Analysis is one my favourite therapies to use when working with individuals, couples, and families. I regard it as an engaging form of therapy that offers simple visual strategies to promote insight and change. For me, it is entertaining form of therapy to use with clients in the community, schools, organizations, and in healthcare settings. I believe it is a very culturally sensitive form of therapy. In this training, I will share how I use/adapt TA concepts in my practice in two main areas:
1. EGO STATES USING EXPRESSIVE ARTS: I believe TA does a fantastic job outlining how ego states are a metaphor to represent our thoughts, feelings, and behaviours. From three different perspectives, I will demonstrate how I adapt/explain ego states to clients using expressive arts (e.g., props, sand tray work, & metaphors). We will examine, from a *TA lens, how mental wellness and dysregulation can be documented. This work will set the stage to invite clients to become curious about the dynamics and interactions between their ego states (*based on how I understand/use TA).
2. GAMES PEOPLE PLAY: TA is well-known for documenting games people play (i.e., defense strategies) in an attempt to get their needs met (e.g., such as to feel psychologically defended or safe). A core game to know is the amazing drama triangle (Karpman's triangle). I will share how I present this concept to clients. Ample time will be spent examining the three habitual, psychological roles people may take when under stress ("drama"), how these roles interact (feeding the drama) and can sabotage healthy communication. We will look at a variety of strategies to teach clients how to avoid accepting invites onto the drama triangle and how to jump off the drama triangle when we become stuck on it. And, I will also introduce other GAMES PEOPLE PLAY. It is a day of insight, fun, and PD. Join us!
Overall, I will aim to make this a great learning day for you with discussions and examples. It will be my intention that you leave the training with ideas you can implement the very next day with your clients and supervisees. Let's learn in person again!
IMPORTANT DETAILS:
A. DATE & TIMES: On a Friday --> February 3, 2023 from 9:30 a.m. (MT - same time zone as Calgary) to 3:45 p.m. and Dawn will hang around afterwards for additional questions and discussions (until 4:15p.m.). Doors open at 9:00 a.m. and you are encouraged to arrive early to have time to enjoy some morning coffee/snacks and network. Lunch will be on your own and will likely start around 12:30 p.m. for about 45-60 minutes.
B. LOCATION: In beautiful Fernie, British Columbia (about 3 hours from Calgary;2 hours from Lethbridge). The training is being held downtown at the Fernie's Elks Hall (491 1st Ave, Fernie, BC V0B 1M0).
C. FEE & CERTIFICATE OF ATTENDANCE: Each participant base fee, for a full, active day of in-person learning, is ONLY $135.00 Canadian plus required fees - taxes and Eventbrite hosting fee (which are added on at the end). Your receipt, issued immediately via email. We have a cancellation policy (see below). A certificate of attendance will be provided to each registrant within 5 days of the event being held. Please let us know if you need further documentation to earn credit for attendance at this training event - we are happy to help how we can.
D. HANDOUTS: Handouts, and other training resources, will be distributed during the training. There may be fill-in-the blanks in the handouts. BONUS: There will be a show & tell counselling prop table on site!
E. CANCELLATION AND TRANSFER POLICY: You are welcome to cancel your registration for a full refund (minus Eventbrite fees, approx. $9) anytime up to seven (7) days before the training event is held. Due to the work involved in offering our trainings (e.g., number of people who have registered, managing space limitations) our cancellation policy is that NO refunds are issued within seven (7) days of the training event being held. If you are not able to attend the event within six (6) days of the event being held (there will be no refunds) then you are welcome to transfer your DPS registration to another DPS training event (subject to availability & eligibility) anytime up to 48 hours of the training event being held for an additional administrative fee of $20 and to pay any registration fee difference. Please note we do not issue transfers within 48 hours of the training date due to administrative time and preparation needs. ** Since this DPS training is in-person, an exception will be made for an unexpected serious illness ( i.e. COVID-19 related) declared within 24 hours of the training being offered - working on the honour system. In this case, refunds of 50% will be issued (minus Eventbrite fees & an administrative fee of $20). Given the nature of the training, no recordings of this event will be made.
F. IF WE NEED TO CANCEL THE TRAINING: We reserve the right to reschedule or cancel a training event, at any time, due to unforeseen circumstances (e.g., changes to DPS staff availability to be present on the day of the training such as car/traffic problems or illnesses, equipment/software failure, or insufficient registration within six (6) days of the event being held - minimum registrant requirements vary). In these cases, we shall issue a refund of your full registration fees or can offer you a credit to apply to another DPS training event. We have not had to cancel a training event at the last minute and we shall keep our fingers crossed we never have to :)
ADDITIONAL NOTES:
1. THIS TRAINING DOES NOT REPRESENT ANY PARTICULAR BODY: The ideas presented in this training are based on Dawn McBride's professional knowledge (stemming from her clinical, research, & career experiences) and how she has understood/adapted the theory of Transactional Analysis in her counselling practice for the last 15 years. Dawn is not an instructor of TA for certification/registration purposes.
2. ALWAYS... ACCEPT - MODIFY - REJECT: In no way is Dawn indicating or advocating her approach to TA is the only way to practice TA - she is simply sharing how she has adapted TA to make it work for her when helping youth, couples, families, organizations, and individuals.
3. PERMISSION TO USE but NOT DISTRIBUTE: The material in these trainings will be published by Dawn McBride, and are under the intellectual property of Dawn McBride/DPS. Participants in the trainings are given the right to use/modify the material as long as they do not publish it, post it on the internet, or distribute it (other than to clients). Publishing rights remain with Dawn McBride/DPS. The handouts are NOT to be published or shared with those who have NOT taken paid/registered to take the training. Thank you for respecting DPS/Dawn's intellectual property.
4. NO RECORDINGS: No recordings, in any form, are permitted of Dawn or of the material she is sharing.
DO YOU NEED MORE INFORMATION: Please feel free to contact us at our business email at admin@dawn-mcbride.com or you are welcome to use the contact tab on Dawn's informative webpage: www.dawn-mcbride.com
Thank you so much for your interested in this workshop. We look forward to meeting you - and great news Jarvis will be on-site to ensure you are well looked after this IN-PERSON training event. He may even bring samples of his gluten-free cakes he sells. MMMM!
* * DO YOU NEED MORE INFORMATION about this training?
* * WOULD YOU LIKE TO BE NOTIFIED OF UPCOMING TRAININGS VIA YOUR EMAIL?
•IF YES: Please feel free to contact DPS staff at admin@dawn-mcbride.com or you are welcome to use the contact tab on Dawn's informative webpage: www.dawn-mcbride.com
Thank you so much for your interest in this training. We look forward to meeting you. Many people tell us it is a great learning day that helped them transform their session notes to a more relational, transparent, and efficient manner. We are eager to meet you and to learn of your issues and concerns.
We hope to see you :)
Thank you again for your interest.
[AUTHOR NOTE: All the information on this page falls under the authorship/intellectual property of Dawn McBride/DPS]