Join any 1hr Round of Deep Work or more. Let's hop online together for Virtual Coworking, get more work done, and feel more focus and flow.
About this event
To The Entrepreneurs Who Work From Home...
The world is changing, and so is our work.
In a time of major uncertainty, there is one thing we can be certain of: It's time to work together. We have built this Workathon to make that more possible.
How much focused work could you get done by scheduling 1 dedicated day on your laptop to just...do...work (with a group of people holding you accountable to your goals)?
The website updates?
The client follow ups?
The social media posts?
The speech prep?
The online course
The financial Organization?
The video edits?
The photo edits?
The blog edits?
The office clean up?
THE LIST GOES ON...
Bring those item(s) to this 1-day virtual event and work alongside a team of like-minded entrepreneurs, who are committed to getting their deepest work done. This 1-day model is a hybrid style of the daily version of Deep Work Sprints. .
We are 2 friends named Elan and Blake. Together, we have facilitated over 1000 Virtual Coworking experiences for entrepreneurs. As a way to contribute and make a bigger impact during Covid19 we wanted to share the magic of Virtual Coworking the way we like to do it. Working in a way that is easy, fast, focused and fun.
For that reason we are hosting this group and Virtual Workathons.
Let's hop online together, get work done, and feel that focus and flow.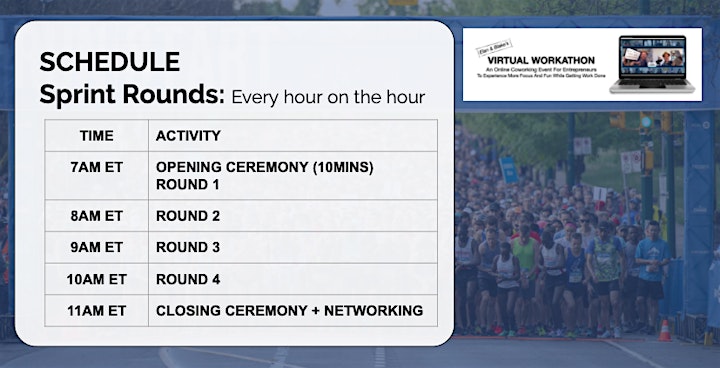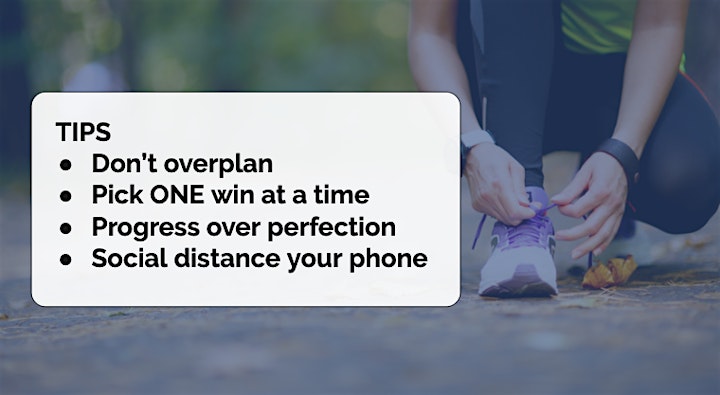 MORE DETAILS (...the thorough kind)
TIMING:
Every hour on the hour is a facilitated Work Sprint. Expect 5 to 10 minutes of facilitation each hour.
Join on the hour, every hour for as much or as little as you like.
CAN'T MAKE THE WHOLE THING? No problem! Some people come for only 1 hour. Login at the top of ANY hour (that's when we do the CHECKPOINTS and welcome new joiners) during the event and stay as long as you can.
LOCATION = YOUR LAPTOP!
This event can take place from anywhere you and your laptop happen to be. We meet on zoom so we can all be on video together, working (it's like Skype video chat).
HOW TO PREPARE FOR THE DEEP WORK WORKATHON...
CHOOSE YOUR WORK/PROJECTS/TASKS
Show up 2 mins early. (Starts on the hour every hour)
FOOD AND ENERGY: snacks and water
AUDIO: Bring Headphones (This helps sound quality for the whole team)
STYLE: Bring hats, sunglasses, vests, tuxedos and even pyjamas (Whatever brings you to life on camera)
WE MEET ON ZOOM (DOWNLOAD THE "ZOOM" APP): We will be doing every session on Zoom(a great service for video calls with multiple participants). Download the app on your laptop, so you can log in on your computer. You can download at zoom.us or search for it in the app store.
COMMON QUESTIONS...
Q: What is the average number of participants?
A: 5-50 participants.
Q: How do I login to the Workathon?
A: All the login info will be provided once you register. You simply login to enter the zoom room and you will see Elan and Blake (and any others already logged in), ready to facilitate the group experience.
Q: Will I be on camera?
A: Yes. Some people wear sunglasses and hats, so we don't need to "get ready for camera" before the session.
Q: Why are we recommended to be on camera the whole time if we are barely talking to each other?
A: Having more than 1000 Virtual Coworking Sprint sessions, people appreciate the power of the visual presence from fellow members. Imagine going to a coffeeshop and seeing everyone else working. Oddly, it can motivate you to keep working. Seeing coworkers on camera has a similar power.
Q: What if I cannot speak during the welcome and wrap up due to noise levels?
A: No problem. You can use the comment/chat box as your way of contributing to the session.
Q: What if I cannot be on for the entire 4 hours, but still want to join.
A: No problem. Join in. Some people join simply for 1 hour of deep work. It's still super powerful. 4 hours is simply more powerful.
Q: Can I move around or leave my laptop at all during the work session?
A: For sure. Some people tune in from their home office, balcony, garage studio, other locations that require them to move around during the entire work session. Find your place for focus and flow.
Q: Who the heck are Elan and Blake, the leaders of this Deep Work Workathon?
These guys have been best pals since 2004 and each lead their own Virtual Coworking programs for entrepreneurs around the world. Together, they have facilitated over 1000 Virtual Coworking sessions for Entrepreneurs and lead teams every single weekday through Deep Work Sprints - A Virtual Coworking accelerator to accomplish goals fast.
Q: What if I do my best work with minimal group interaction and don't want to share much of my project details with others?
A: Perfect. The goal is for you to do your best work, the way you do your work best. This virtual experience is built for people who benefit from high accountability and group support, as well as people who just need the structure and consistency!
HOW ELSE CAN ELAN AND BLAKE BE HELPFUL? JUST ASK.
Send Blake or Elan your questions via text or email (reply times will be slower on email).
Elan: 416-400-4393, elan@deepworksprints.com
Blake: 647-987-4359, blake@deepworksprints.com
It is awesome to work alone, but it is more awesome to work alone, with others.
See you at the Virtual Workathon,
Elan and Blake
P.S. When you register, you will receive the login information for the virtual event (that way you know where to hop on at the start of the Workathon).
P.P.S. To learn more about Deep Work Sprints, visit www.DeepWorkSprints.com