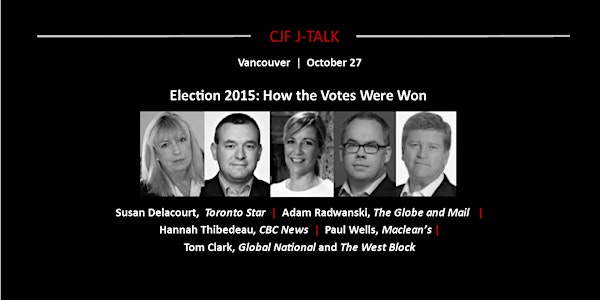 Election 2015: How the Votes Were Won
When and where
Location
Segal Building, Simon Fraser University 500 Granville St. Vancouver Canada
Description
CJF J-TALK
Journalism matters | #CJFjtalk


VANCOUVER


Election 2015: How the Votes Were Won



Online ticke sales have now closed. Limited tickets will be available at the door, cash only.
Follow this event on Twitter via #CJFjtalk or the J-Source liveblog.

In the wake of the Oct. 19 federal election, which strategies and issues had the most impact in this tight and historic long-running election race? What role did attack ads, social media and limited media coverage play? Did hot button, high-profile issues such as the niqab and Syrian refugees swing votes?

Join this discussion with Susan Delacourt, author and columnist for the Toronto Star; Adam Radwanski, political columnist with The Globe and Mail; Hannah Thibedeau, political reporter for CBC News; and Paul Wells, political editor of Maclean's magazine.


MODERATOR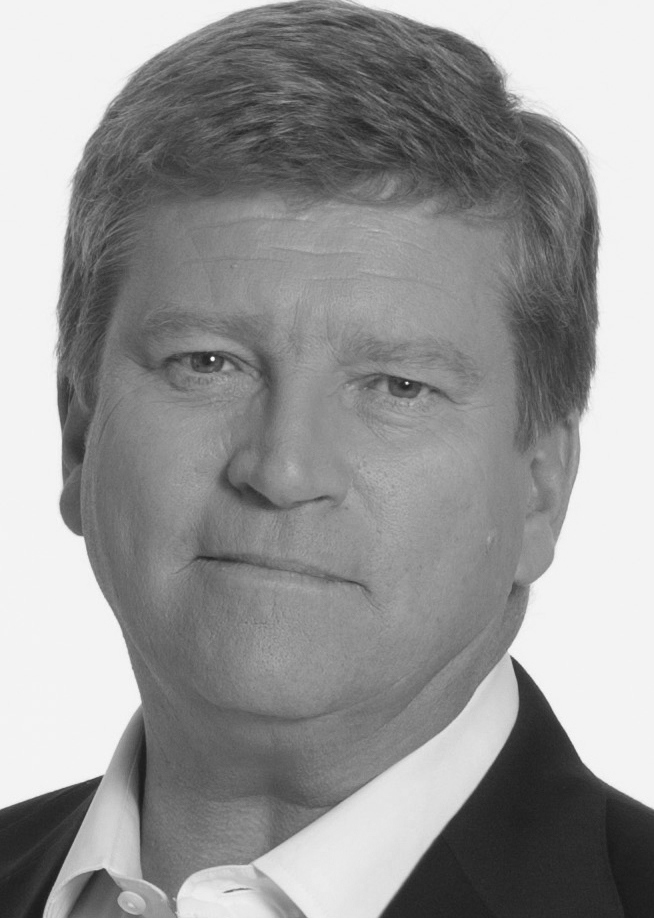 Tom Clark
Chief political correspondent for Global National
Host of The West Block with Tom Clark


Tuesday, October 27
Registration and Reception: 5:30 p.m. | Discussion: 6:30 - 8:00 p.m.

Segal Building (Event Room 1300/1500)
Simon Fraser University
500 Granville St., Vancouver



ABOUT THE SPEAKERS

SUSAN DELACOURT is a political author and commentator, who has been writing about Canadian politics since the late 1980s. Currently a weekly columnist with the Toronto Star, she's also been a reporter with The Globe and Mail, the Ottawa Citizen and the National Post, as well as a regular political panelist on CBC and CTV. At Carleton University's Riddell School of Political Management, Delacourt is a senior fellow and an instructor in political communication. Author of four books, Delacourt's latest was Shopping For Votes -- the story of how marketing and consumerism have changed Canadian politics. The book was a finalist for the prestigious Hilary Weston Writers' Trust Prize for Canadian non-fiction in 2014, as well as for the Dafoe prize in Canadian history. Delacourt has also won two honours for her career in political reporting: the 2014 Hy Solomon award from the Public Policy Forum and the 2011 Charles Lynch prize from her parliamentary-press-gallery colleagues. She has also been a finalist in the National Newspaper and National Magazine awards for her work through the years. @SusanDelacourt

ADAM RADWANSKI is a politics columnist for The Globe and Mail. Radwanski specializes in finding innovative ways to cover modern election campaigns, having played a leading role in The Globe's coverage of several elections, including the 2011 federal and provincial campaigns, and in 2012 U.S. presidential campaign. Previously a member of The Globe's editorial board and the politics editor for globeandmail.com, he was formerly the managing editor of Macleans.ca. He has worked as an editorial writer and columnist at the National Post and as a columnist for the Ottawa Citizen and The Hill Times, and was the founder of Canada'a first online political magazine. Radwanski has also written extensively on the arts, doubling as the Post's music critic from 2004-06. He won the 2009 National Newspaper Award for editorial writing, for which he was also a finalist the previous year. He frequently appears on radio and television programs as an expert on provincial and federal politics. @aradwanski

HANNAH THIBEDEAU is a veteran political reporter having covered the Hill for three organizations over 13 years, both behind the scenes and in front of the camera. She covers politics for CBC TV, CBC Radio and CBC Politics online. @HannahThibedeau

PAUL WELLS is the political editor for Maclean's magazine. Wells is one of Canada's foremost political commentators. He speaks in both official languages on all of the matters of the day, from Canada's position in the global economy, to the inside scoop on what's really happening inside the Parliament buildings. In addition to writing for Maclean's, Wells has written for Time magazine, the National Post, La Presse and the Literary Review of Canada. Wells is the author of Right Side Up: The Fall of Paul Martin and the Rise of Stephen Harper's New Conservatism and his most recent title, The Longer I'm Prime Minister: Stephen Harper and Canada, 2006-, which won the 2014 $25,000 Shaughnessy Cohen Prize for political writing. Wells studied at the University of Western Ontario and the Institut d'Etudes politiques de Paris. He is on the Advisory Committee of the new Glendon School of Public Affairs and is a Fellow of the new School of Public Policy and Governance at the University of Toronto. @InklessPW

ABOUT THE MODERATOR

TOM CLARK is the chief political correspondent for Global National and the host of The West Block with Tom Clark. He has interviewed every prime minister since Lester B. Pearson and covered every federal election campaign since 1974. At CTV, he served as Beijing bureau chief, Washington correspondent, and senior correspondent of CTV's W5. Besides his permanent postings, Clark has spent much of his career travelling the world, reporting from 33 countries. He has reported from six active war zones, most recently from Afghanistan. @tomclarktv



CJF J-Talks Series Sponsor


Reception Sponsor





In-Kind Supporter