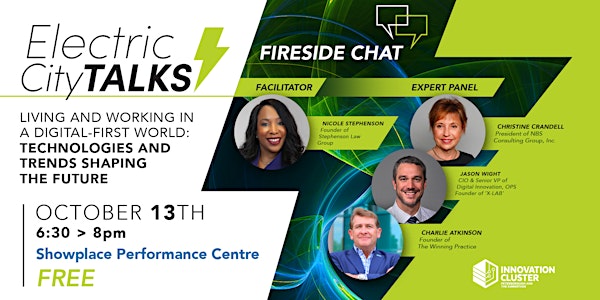 Electric City Talks: Living and Working in a Digital-First World
A fireside chat featuring 3 expert panelists who will provide their perspectives and open up discussions on the digital-first world.
When and where
Location
Showplace Performance Centre 290 George Street North Peterborough, ON K9J 3H2 Canada
About this event
Join us for our first IN-PERSON Electric City ("EC") Talk since 2020!
In celebration of Small Business Week, we are welcoming entrepreneurs, students, academics, partners, and our local business community to attend this EC Talks featuring a fireside chat facilitated by Nicole Stephenson, Board of Directors Chair, with 3 expert panelists also from our Board of Directors – Christine Crandell, Jason Wight, and Charlie Atkinson.
**Please do not register if you cannot attend this event in person.**
EC Talks: Living and Working in a Digital-First World - Technologies and Trends Shaping the Future
Focusing on topics of clean technology, information technology, and business innovation as it relates to our digital-centric world, our 3 expert panelists will provide their perspectives on business strategy, culture, sales, customer journey, marketing strategy, and the opportunities for innovation in rural communities.
✔️Learn from experts in their field
✔️Gain a better understanding of what steps your business should take next
✔️Explore ways to bring innovation to the operation of your small business
✔️Have the chance to ask questions to our panel of industry leaders
✔️Huge networking opportunity
✔️Leave feeling inspired and electrified!
6:30pm Doors Open
6:45 - 8:00pm Fireside Chat
ABOUT OUR FACILITATOR
Nicole Stephenson sits on the Innovation Cluster's Board of Directors and is the Founder of Stephenson Law Group. With over 15 years of Canadian capital markets experience, Nicole practises corporate and securities law with a specific focus on corporate finance and capital raising initiatives for public and private companies, compliance and registration matters, and will and estate planning for entrepreneurs and business owners. She also advises senior management, boards of directors and shareholders on corporate governance, regulatory matters and business strategy.
Prior to founding Stephenson Law Group, Nicole spent over twelve years at the Ontario Securities Commission, a Canadian stock exchange and in private practice at a corporate and securities law boutique.
ABOUT OUR PANELISTS
Christine Crandell sits on the Innovation Cluster's Board of Directors and is the President of NBS Consulting Group, Inc. (d/b/a New Business Strategies), a global customer experience and strategy consultancy. She is a recognized expert in customer experience, strategic planning, and digital transformation serving Fortune 1000 and growth stage companies worldwide. Christine has been an advisor to companies such as Coupa (NASDAQ: COUP) and Social Dynamx, and has led M&A due diligence for Good Technologies/Blackberry.
Jason Wight sits on the Innovation Cluster's Board of Directors and is the Chief Information Officer and Senior Vice President of Digital Innovation at Ontario Power Generation ("OPG"). He is also the Founder of 'X-LAB.', an innovation accelerator that fosters creative thinking across OPG, develops new revenue streams, and drives efficiency improvements. As an Engineer in Physics with great leadership abilities, Jason has held a variety of leadership positions over his tenure with OPG which led to his current role as Chief Information Officer where he advances technological solutions within OPG's fleet and within the overall nuclear industry.
Charlie Atkinson sits on the Innovation Cluster's Board of Directors and has over 40 years of experience building teams, growing businesses, merging companies, optimizing P&L's, restructuring, and more for a variety of corporations such as Xerox, Kodak, and Hewlett Packard Enterprise where he retired in 2017. A year after retirement, Charlie founded his new consultancy, The Winning Practice, which provides results-inspired strategic excellence focusing on four key areas: people, partnerships, productivity and profitability. Charlie is also on the National Board of Directors for ITAC (Information Technology Association of Canada).
About EC Talks
Electric City Talks ("EC Talks") is a high-energy speaker series that brings global disruptors to Peterborough and the Kawarthas, drawing in audiences of up to 500 people.
Innovation Cluster Peterborough and the Kawarthas is known for bringing notable speakers to the region, including Michele Romanow, Johnny Cupcakes and Nicole Verkindt.
*By signing up for this event, you will automatically be added to our email marketing list so you can stay updated on our latest news, tips and upcoming events! You can unsubscribe to our emails at any time.
If you do not wish to be added, please email admin@innovationcluster.ca.