Event Information
Refund policy
Contact the organizer to request a refund.
Eventbrite's fee is nonrefundable.
Join Suitcase in Point for a workshop series for emerging theatre artists, featuring incredible facilitators from across Canada.
About this event
CALLING ALL THEATRE LOVERS
Suitcase in Point is thrilled to announce a series of public workshops, conversations and panels with our incredible guest artists of Electric Innovations!
Join us for a workshop series featuring renowned theatre artists including Samson Bonkeabantu Brown, Miriam Fernandes, Ali Joy Richardson and Miquelon Rodriguez. Participants will learn about Risk Taking and Play, Mental Health and Original Creation, Theatre Ecology and Structure, and Innovation and Design.
All public workshops are open to folks of all ages and offered with a Pay What You Can option. Select your rate when registering.
Electric Innovations is presented in partnership with the National Theatre School of Canada.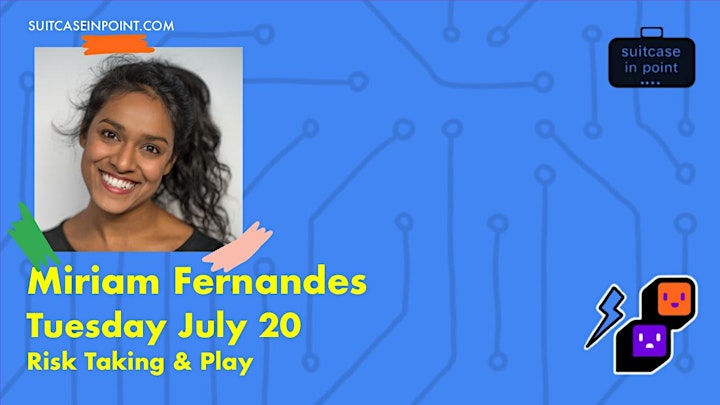 Risk Taking & Play with Miriam Fernandes
Graduate of École International de Théâtre Jacques Lecoq, Miriam will talk about theatre training beyond Canada. She'll speak about her own experience training in physical traditions of theatre creation from across Europe, America and Japan. We'll do a deep dive into her time in Paris at Ecole Jacques Lecoq, and how the school uses the body as a centre of storytelling, looking at the traditions of mask (neutral mask, full mask, commedia dell'arte), mime, buffon, and clown, among others.
We'll explore risk-taking and play, the importance of failure, and creation through improvisation. We'll also touch on training with the SITI Company in New York who train in two practices: Viewpoints (developed by choreographer Mary Overlea) and Suzuki Training (created by Tadashi Suzuki in Toga Japan). Join us to explore how various training traditions can lead to the creation of a different kind of theatre.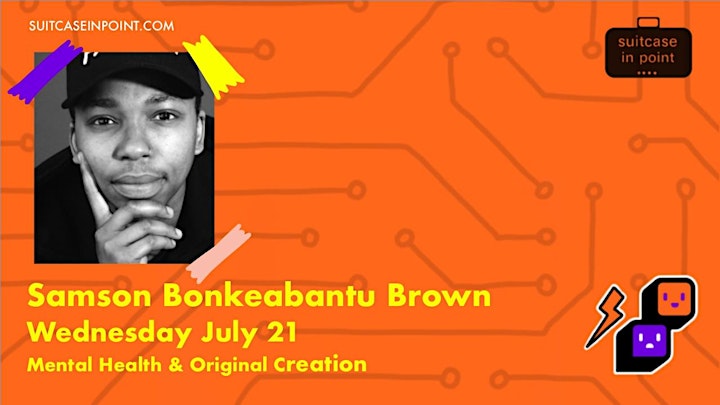 Mental Health & Original Creation with Samson Bonkeabantu Brown
Come get a glimpse into the world of Ancestral Anthropology, Conduit Writing, and working in your creative purpose with Samson Bonkeabantu Brown. Samson will share what it looks like to take a backseat in your creative practice. This talk is an open forum where questions are encouraged.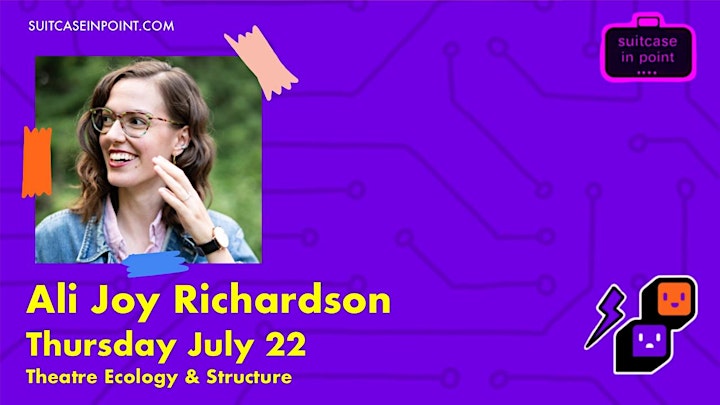 Theatre Ecology & Structure with Ali Joy Richardson
What's it really like to be a professional theatre artist? And what does "professional" really mean?
It's time to bust some myths and shake up the old stories about what constitutes a successful artistic career. Join Ali for a talk about pursuing sustainability over stardom, escaping the pressure to Only Do Art, and why not all the career advice you get in high school is worth following.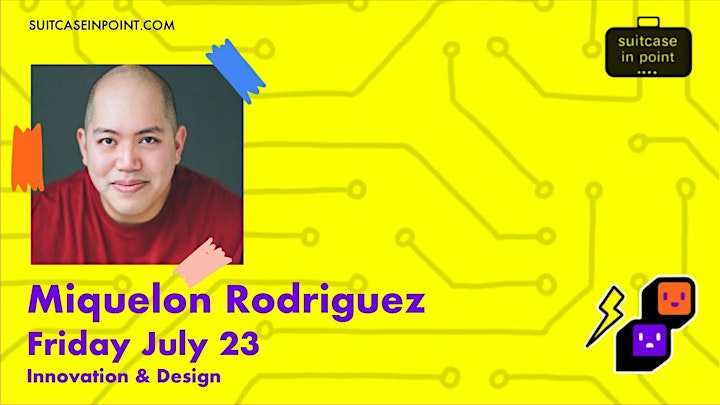 Innovation & Design with Miquelon Rodriguez
Join us in gather.town to talk about digital design and creative virtual spaces.
Despite the pandemic, theatre artists across the country continued to tell stories and present creations by trying their hand at some form or another of digital content creation. And though the first few months of "panic content" seemed to be stuck on Zoom, the more daring of us realized a future where the virtual and digital spaces could exist alongside the live performance spaces more openly and more collaboratively than before the digital was all we had left. This public module will explore some of the basic concepts and tools needed by the artists willing to take the dive into online forms of content — thankfully, beyond Zoom — while going through some of the design thought-processes from the live space that thrived in the virtual space, and new ways of thinking from the digital realm worth continuing into our physical spaces. (And we'll be doing most of it in gather.town.)
Date and time
Location
Refund policy
Contact the organizer to request a refund.
Eventbrite's fee is nonrefundable.
Organizer of Electric Innovations Theatre Intensive Public Workshops
Founded in 2001, Suitcase in Point is a courageous ensemble of artists and producers who engage and excite the Niagara community with original multi-arts performances and events, including the In the Soil Arts Festival. Through original work and collaborative community projects, we provide audiences with unique perspectives on contemporary life and culture. Our approach and our work aim to challenge perspectives and encourage change, tolerance, and self-awareness with an aim to promote a healthier, more connected community.??Suitcase in Point nurtures new generation artists through mentorship and residency programs, provides studio space for development and rehearsal, and creates meaningful connections between emerging and established artists from across Canada.