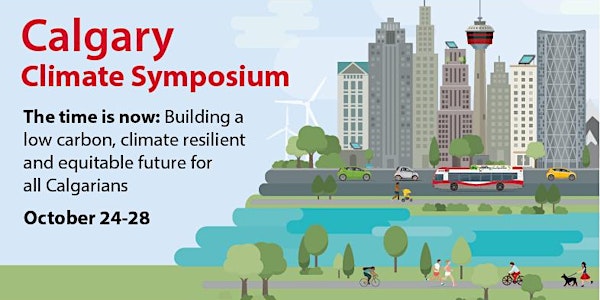 Electrification: Possible Pathways, Technologies and Innovation
Electrification: Possible Pathways, Technologies and Innovation - Calgary Climate Symposium
About this event
Electrification is a concept that has been identified as both a solution to reducing GHG emissions as well as an economic opportunity for Calgary. Join representatives from Shell, ENMAX, and Zeno Renewables for presentations on electrification – what is it, and what are the electrification pathways and technologies that will move us towards our 2050 net zero emissions target?
Moderator: Josh Pentland, Calgary Chamber of Commerce
Presenters:
Jenna Anand, Shell Canada
Jenna supports Shell's Renewables & Energy Solutions business as a Value Chain Integration CR Advisor. She develops integrated solutions to help decarbonize different sectors such as cities, mobility and aviation. Jenna graduated from the University of Calgary in Chemical Engineering and has a long career in energy project management, which includes solar, EV charging and microgrid development. She also sits on the UBC Clean Energy Research Council Advisory Board and is an Energy Futures Lab Fellow. Jenna lives in Calgary and enjoys painting & hiking with her two sons.
Mike McCarthy, ENMAX
Mike is the Manager of Grid Innovation for ENMAX Power in Calgary, Alberta. ENMAX's Grid Innovation team is preparing the electric system to meet the demands of an increasingly electrified world. By adopting new strategies and emerging technologies ENMAX is transforming the way it plans, operates, and maintains a modern grid. Mike lives in Calgary with his wife their two-year-old son.
Gursh Bal, Zeno Renewables
Gursh is fortunate to hold the title Co-CEO which has his key focuses being company expansion, idea generation, industry research and development, company culture development, creativity, problem solving, and managing key relationships. His primary objective is to grow and nurture a team that feels valued and relevant to the future of what humanity has to offer to our home (earth) and beyond. Gursh is excited about this industry because working in renewables is an opportunity to do good that is greater than yourself while also making a good living. It is a beautiful blend of advancing yourself at a personal and community level simultaneously.
Kai Fahrion, Zeno Renewables
In 2015, Kai started Virtuoso Energy with Gursh. At that time, there was (and still is) a gap in the way energy is used and viewed locally and globally. Starting a company allowed him to address this issue while empowering others to make a positive impact. Today, Kai occupies the role of Co-CEO, which gives him the exciting responsibility of working on special projects, growing the company, developing team unity, and providing leadership for our vision. It has been an amazing journey so far and it's been very fulfilling to see the amazing individuals we have on our team come together to help achieve the greater vision of the company.
About the Calgary Climate Symposium
The Calgary Climate Symposium is an opportunity to open up the conversation about climate change – how and why to talk about it, how it affects Calgarians and what we can do about it together. Connect with community leaders, entrepreneurs, prominent climate experts and City staff for a series of unique (and free!) virtual learning opportunities at the Calgary Climate Symposium, October 24 to 28, 2022.
The Calgary Climate Symposium will explore:
how Calgary can position itself for a low carbon future and leverage economic opportunities,
how Calgary can strengthen communities to be resilient to climate change impacts and hazards, and
how to ensure no one is left behind as we plan for the future.
View the complete symposium schedule and register for other sessions at Calgary.ca/ClimateSymposium. Join the Calgary Climate Symposium conversation: #yycClimateSymposium
Microsoft Teams Live Events:
Session participants are encouraged to look at the system requirements provided by Microsoft to ensure they will be able to participate.