Description
Electronics are the foundation of our world, but many people don't know about them or where to start learning. The fact is, there are a lot of devices you can build these days without a huge amount of technical knowledge. We'll get you started, and you'll go home with a nice electronics starter package, including a fully-featured brand new multimeter, a mini breadboard and a bunch of fun components!
This popular course has been revised and updated, to expand the practical circuit design skills and include some fundamental digital logic content. We're also greatly increasing the value of the course by including a brand-new and fully-featured digital multimeter, a tool which is essential for electronics work (and is so much better than the multimeter that we have now, that we're getting one for ourselves... it even has features that the instructor's fancy Fluke multimeter, shown in the event photo, doesn't).
We'll show you how NOT to use a soldering iron like these doofuses with burned fingers:

Our instructor has the interesting distinction of learning the theory of electronics as a kid, and then building nothing whatsoever for several decades after that. But he builds stuff now: disco sticks and goggles, joule thieves, ultrasonic interfaces for musical instruments and flight controllers for rocket-planes are a few examples. He also built, and can demonstrate, the high power drivers for the LED strip in the new sign in the Makerspace!
For ages 15+, although younger enthusiasts can also enjoy this course if accompanied by a parent or guardian.
What's in the component pack?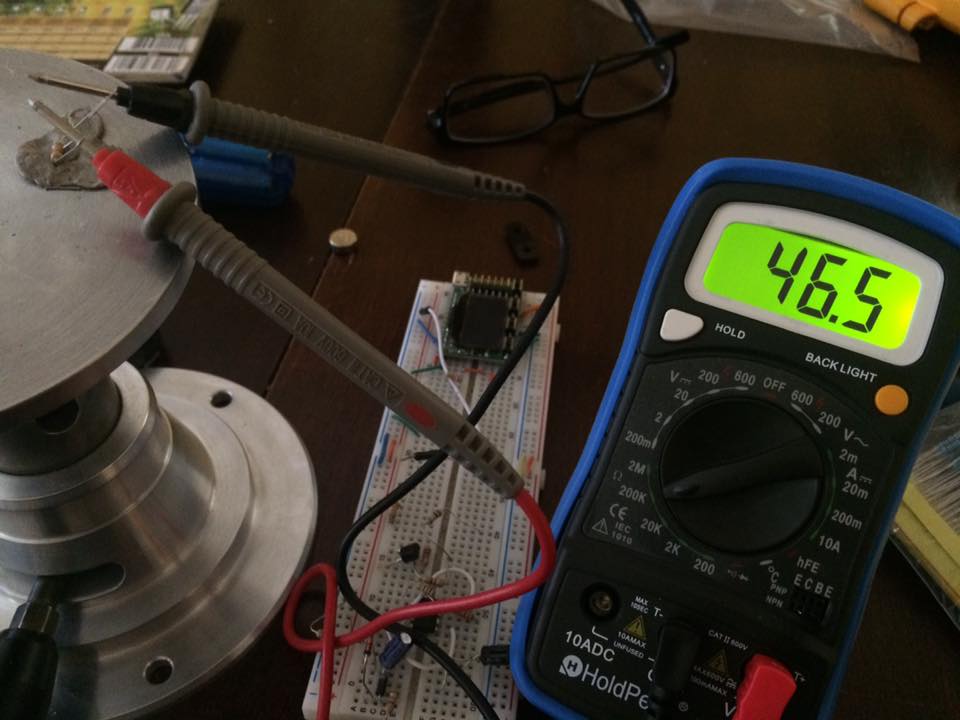 This is one of the actual meters, in testing at the instructor's house!
Our tentative list includes a digital multimeter (including measurements for voltage, current, resistance, diode and transistor testers, temperature probe, and a backlight), a mini breadboard and jumper wires, a 9V battery and clip, a selection of resistors, LEDs, and pushbuttons, and 5 NPN transistors. In class, we will be building a simple digital logic circuit in an inverter, buffer, AND, OR, NAND and NOR configuration!
What will we learn?
We'll start from the very basics: conductors, insulators and semiconductors; Ohm's Law and resistors; series and parallel circuits and how to read and draw schematics. From there we'll discuss capacitors, diodes and transistors; and after that we'll talk about digital logic, and build a demo circuit based on the recent Find-Your-Keys Illuminated Handbag tutorial project. At the end, you'll understand how to design simple digital and analog circuits, including how to drive your own circuits from an Arduino or Raspberry Pi!