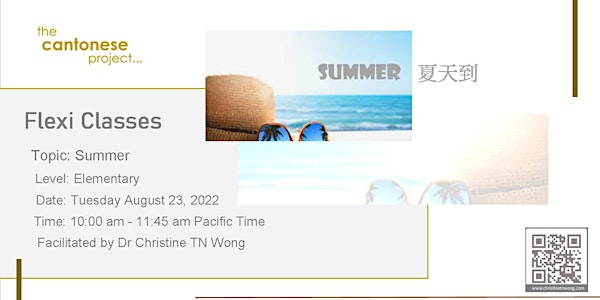 Elementary | summer
Learn Cantonese beyond boundaries from the comfort of your place...
About this event
The Cantonese Project [Flexi Classes], facilitated by Dr Christine TN Wong, are online classes created in a flexi schedule to help adult learners:
build vocabulary for daily conversation
enhance communication skill
enrich Cantonese & Chinese cultural understanding
delivered via ZOOM (link to be emailed 1day prior to the class date)
capped at 10 persons
Level Outline
Elementary - For beginners with basic knowledge of Cantonese. Students will learn how to use everyday expressions; communicate in simple and routine tasks requiring a simple and direct exchange of information on familiar and routine matters; and describe immediate environment and matters in areas of immediate need.
Beginner | Elementary | Intermediate | Advanced
Interested in other levels, themes or learning options...
Please email to thecantoneseproject@gmail.com