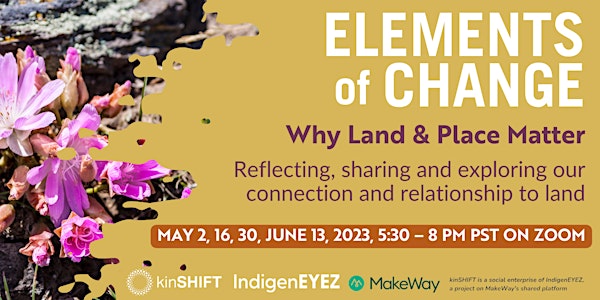 Elements of Change: Why Land & Place Matter
Deepen your learning in an intimate setting centering Indigenous voices and opportunities to listen, reflect and grow.
Refund Policy
Contact the organizer to request a refund.
Eventbrite's fee is nonrefundable.
About this event
21 days 3 hours

Mobile eTicket
"...one of the things I make sure non-Indigenous people understand is we don't need you to help heal us, we need you to fix yourselves. We need you to get those people out there who are perpetrating this process of working against reconciliation under control. We need you to straighten yourselves out, we don't need you to just step forward and say, "Well, here is what we can do for you," because my question is always, 'What are you doing for yourself? What are you doing to get rid of that violent vocal force that is holding us all back...holding this country back?' Because that is what's going to stop reconciliation."
—The Honourable Justice Murray Sinclair
Elements of Change: Why Land & Place Matter
facilitated by Denise Lecoy & Liam Grigg
NEW DATES - Tuesday evenings: May 2, 16, 30, June 13, 2023, 5:30 – 8 pm PST ON ZOOM
Elements of Change: Why Land & Place Matter is specifically intended for settler Canadians who have already taken at least two or more of kinSHIFT's Elements of Truth workshops (Earth, Air, Fire or Water) and are ready to deepen their learning in a more intimate setting that includes small and large group dialogue. This four-part workshop centers Indigenous voices, providing opportunities to learn from our experienced facilitation team.
Why Land & Place Matter provides a deeper understanding of the relationship to land when working towards improved relations with Indigenous peoples. We will explore Indigenous perspectives on land, including the concepts of belonging, interdependence, and relationship. Why Land & Place Matter will challenge Canadian settlers to examine their responsibilities in the collective struggle to protect our land and resources for future generations.
Together, we'll examine everyday acts of anti-Indigenous racism, navigate discomfort and silence, and explore actionable ways to challenge the colonial status quo.
Our workshops are limited to 30 participants. You will become a part of a learning circle, and we ask for your commitment to attending all four workshops in the series. We commit to offering opportunities for experiential learning, self-reflection, mutual support and collective imagining of better pathways forward.
PRE-QUALIFICATION CHECKLIST
Please ensure you can affirm each of these statements before registering:
1. I have already completed (or will have completed by the time Elements of Change starts) at least two Elements of Truth: BEFORE RECONCILIATION workshops.
2. I understand the concept of making space and holding space for learning through an Indigenous worldview.
3. I am committed to centering Indigenous voices and concepts in the spaces where I work and live.
4. I have done some preliminary work in coming to know my settler power and privilege, and I am ready to further explore how I can affect change within my spheres of influence.
5. I understand this work is unsettling and will require me to extend kindness and compassion to myself and others.
Frequently Asked Questions
How much are tickets?
The Elements of Change workshops are $425 CAD plus applicable tax and Eventbrite fees each.
Use promotional code ELEMENTSOFCHANGE30 to get 30% off when you register three (3) or more people in Why Land & Place Matter.
If you're registering a group, please note that each individual member should join from their own device. Elements of Truth uses Zoom's breakout room feature for smaller group discussions. These are most effective when each participant joins independently.
Who should attend this training?
Non-Indigenous settlers who have already attended at least two of kinSHIFT's Elements of Truth: BEFORE RECONCILIATION workshops, have an understanding of some of the key concepts and processes of colonization and decolonization, and who feel ready to take another step in their learning journey.
Do I have to participate in all four workshops?
Yes. It is expected that participants commit to attending the entirety of all four sessions in the Elements of Change series.
What outcomes can I expect?
Together, we'll examine everyday acts of anti-Indigenous racism, navigate moments of discomfort, and explore actionable ways to challenge the colonial status quo.
We help settlers deepen critical self-reflection in terms of their responsibilities to Indigenous peoples and place. Our work aims to support settlers better understand their positionality within a colonial context to co-create a better future for all peoples.
How should I prepare?
We'll provide pre-and post-workshop learning materials via email once you've registered. While it's not required, we recommend checking out the videos and articles on this list: https://kinshift.ca/resources/
I won't be near a computer—can I call in?
All kinSHIFT workshops are interactive and are most impactful when we can see and hear each other. While you can call in, Elements of Change is best attended using a video-capable device, laptop or desktop.

Revenue generated from kinSHIFT directly funds our work with Indigenous youth and communities. Thank you for your support. kinSHIFT is a project of IndigenEYEZ, a community-based initiative empowering emerging Indigenous leaders since 2013. IndigenEYEZ is a project on MakeWay's shared platform.