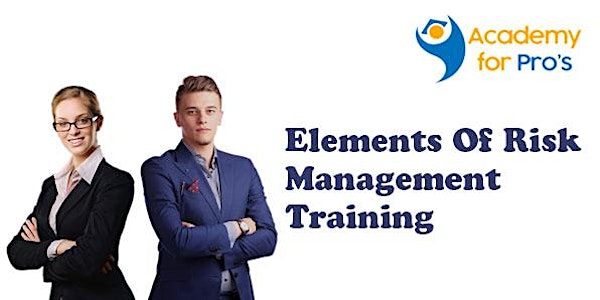 Elements of Risk Management Training in Hong Kong
Our classroom training provides you the opportunity to interact with instructors and benefit from face-to-face instruction.
When and where
Location
For venue details reach us at: info@academyforpros.com Hong Kong, NT Hong Kong
Refund Policy
Refunds up to 7 days before event
About this event
Certificate: Course Completion Certificate Language: English
Duration: 1 Day Credits: 8
Course Delivery: Classroom/ Virtual Live/ On-Site
Course Overview:
The mission of every organization is affected by today's global economy and the digital era. Organizations are critically dependent on information technology (IT) to better support their business goals. Risk management plays a critical role in protecting an organization's information assets, and its mission therein, from IT-related risk. An effective risk management process is an important component of a successful IT security program. The principal goal of an organization's risk management process should be to protect the organization and its ability to perform their mission, not just its IT assets. Therefore, the risk management process should not be treated primarily as a technical function carried out by the IT experts who operate and manage the IT system, but as an essential management function of the organization.
Risk is the net negative impact of the exercise of a vulnerability, considering both the probability and the impact of occurrence. Risk management is the process of identifying risk, assessing risk, and taking steps to reduce risk to an acceptable level. This course provides an overview into the specific criteria, steps and actions necessary to implement and sustain a comprehensive Information Risk Management program.
Target Audience:
This workshop is intended for:
Primary
Internal and external auditors (IT, financial, operational)
Risk Compliance Officers
Professionals involved in organizational or IT GRC strategic initiative
Secondary Audience
Management consultants
Controllers
Directors of Human Resources
Facilities Managers
Learning Objectives:
After completing this course, you will be able to:
Address various risk methodologies and assess application to individual enterprise environments.
Explain and utilize risk assessment and analysis methodologies.
Identify significant components of risk and their respective definitions.
Define risk management goals and objectives.
Document risk practices and risk types.
Recognize the ISO principles of risk management.
Understand the COBIT 4.1 and COBIT 5 elements related to IT risk identification and management.
Apply the nine (9) steps of the NIST IT risk assessment methodology to an enterprise-wide risk assessment project.
Prepare and evaluate a Statement of Risk Management.
Describe the role and value of IT risk management as a basis of proactive corporate governance.
Benefits of Taking This Course:
Position your risk management program for success by learning how to coach risk owners regarding implementation responsibility and process.
Communicate and consult more effectively with critical stakeholders by sharing internationally recognized risk frameworks and guidelines.
Broaden your understanding of risk through an understanding of the unique risk management needs for your organization.
Increase your value to your organization by learning to design a viable risk management program
Follow-on Courses:
Elements of Risk Management – Intermediate Principles – Threat and Risk Assessment
Elements of Risk Management – Advanced Risk Concepts and Applications
Agenda:
Module 1: Risk Management Definitions And Principles
Module 2: Risk Management Policies And Requirements
Module 3: Defining Risk Management Goals And Objectives
Module 4: Nist Assessment Process – A Best Practice
Module 5: Course Learning Summary
Prerequisites:
None
Course Materials:
Students will receive a course manual with presentation slides and reference materials.
Examination:
There is no exam for this course.
Technical Requirements:
For eBooks:
Internet for downloading the eBook
Laptop, tablet, Smartphone, eReader (No Kindle)
Adobe DRM supported software (e.g. Digital Editions, Bluefire Reader)
eBook download and activation instructions
Note:
However, catering to the demands of busy professionals, our virtual training programs are as effective as face-to-face learning. Reach us at info@academyforpros.com for dates and details of Instructor Led Live Virtual Session.
If you would like to get this course customized and delivered exclusively for your group, we have an On-Site Training Option you can reach us at info@academyforpros.com for more details about on-site or corporate training.
Offers:
Groups of 3 people 10% Discount
Groups of 5 people 15% Discount
Groups of 10 people 20% Discount