Elizabeth Fry Toronto 2019 AGM:What Does a World Without Prisons Look Like?...
Description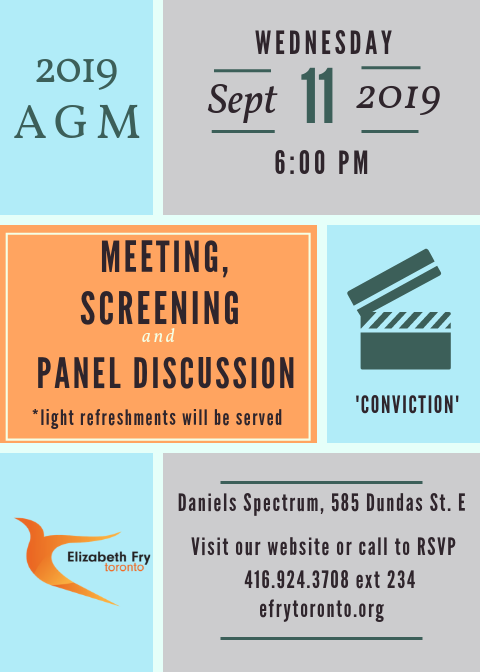 Women are the fastest growing population in prison, especially black, indigenous and women of colour. They are often put into conflict with the law because of their struggle to survive through poverty, gender based violence, mental health and addictions as well as other systemic oppressions.
Following our annual general meeting we will be screening the documentary 'Conviction' by Ariella Pahlke, Nance Ackerman and Teresa MacInnes. The film Conviction works closely with incarcerated women in Nova Scotia to tell their story and empowers them to depict their own versions of a better society. After the screening we will be hosting a panel discussion to uncover themes throughout the film that resonate with many incarcerated women throughout Canada. The panelists aim to facilitate a larger discussion around what a world without prisons looks like. We are thrilled to have 2 women with lived experience on the panel to share their insights and experience with the criminial justice system.

Moderator: Angie Seth

Panelists: Ja'Lisa Martin, Senator Kim Pate, Dr. Kelly Hannah-Moffat, Mckenzie Whiteman
September 11, 2019
Daniels Spectrum: 585 Dundas St. East ADA Slaight Hall
Agenda
Light refreshments: 6:00pm-6:40pm
Annual General Meeting: 6:10pm-6:30pm
Film Introduction: 6:40pm
'Conviction' Screening: 6:45pm-8:05pm
Panel discussion: 8:10pm-8:55pm
Closing Ceremony: 8:55pm-9:00pm