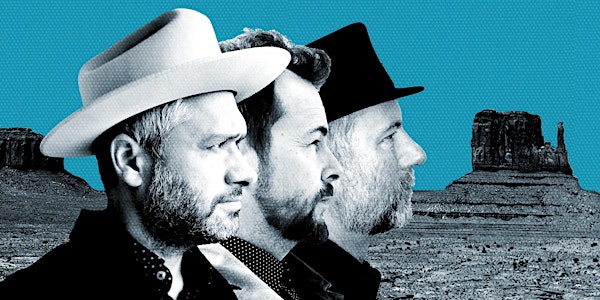 Elliott Brood
Ages 19+
Bridgeworks Presents
Supercrawl Presents Elliott BROOD's Out And About Tour — Live at Bridgeworks!
Date and time
Starts on Saturday, September 17, 2022 · 8pm EDT.
Location
Bridgeworks 200 Caroline St. N. (off Barton St. W.) Hamilton, ON L8R 0A6 Canada
Performers
Headliners
More Performers
About this event
From the mountains of Utah to the trenches of Vimy Ridge, Elliott BROOD's songs have travelled the gore and glory of history in equal measure for nearly a decade. With the stomp and thrash of their early albums, Elliott BROOD carved their niche drawing from the darker corners of history and memory. As heavy and harrowing the past can be, for Elliott BROOD, it is also a generous companion, giving the gift of appreciation for times of peace and grace. With 2020's Keeper, Elliott BROOD's seventh album, the trio deals with the past in more personal terms. The title, which speaks to loyalty and longevity, sets the tone for an album that explores the strength of conviction, and how that strength is tested, again and again, over time. Thoughts of worthiness and dedication, and their emotional flip-sides, inform a collection that sees the band exploring those battlefields much closer to home. For the first taste of Keeper, a bright acoustic intro bursts into the buoyant, carefree chorus of "Stay Out," a song about when and why we find our ways home. Mixed by Ryan Hadlock (The Lumineers), "Stay Out" is all blue sky and sunshine even while it revels in the night. The song weighs the fleeting elation of recklessness against the deeper ties that bind. The subject of family relationships, the push and pull of gratitude and conflict, reappears in more complicated forms with "Full of Wires," a song about not leaving things unsaid, and "A Month of Sundays," the fallout after too much is said. Keeper is especially focused on enduring, complex, long-term relationships, those into which we are born, those in which we grow older. With dips into '50s slapback throwback in "No Way Out," the metallic edges of "Bird Dog," one of two songs mixed by Tool/Johnny Cash producer Sylvia Massy, and the splashes of synth on "The Coast," Elliott BROOD continue to expand their sound beyond their acoustic origins. Keeper, created during mini writing and recording retreats while hopping across the summer festival circuit, marks another satisfying chapter in the ongoing evolution of Elliott BROOD. From the Polaris Music Prize shortlisted breakout album Mountain Meadows to the JUNO-winning Days Into Years, the well-traveled trio of Mark Sasso, Casey Laforet and Stephen Pitkin have created a body of work that is at once meticulous and boisterous, substantial and entertaining.
Instagram | Facebook | Twitter | Spotify | Apple Music
•
Energetic, hard hitting and hooks for days, Royal Castles are making nostalgic but contemporary garage-rock. Hailing from the Royal City of Guelph, Ontario and featuring the power trio of Katrin Sawatzky, Jordan Gabriel and AJ Johnson (JUNO-nominated Cuff the Duke), the three-piece take influence from the bands of their formative years, delivering pounding drums, crunchy guitars and a healthy dose of wooly bass. The trio recently released their much-anticipated sophomore album, Just The Hits, recorded at North of Princess Studio with producer, Zane Whitfield (The Glorious Sons, Bluestones). The full-length album is filled with ear candy: killer drum fills, psychedelic-bubblegum harmonies and crunchy guitar tones that will be sure to make this album feel like sunshine year-round.
Instagram | Facebook | Twitter | Spotify | Apple Music
••
General Admission standing 19+ event. Valid government issued photo ID is required in order to enter. Door time, set times, and event schedule subject to change.
About the organizer
Sonic Unyon is a Canadian indie record label, festival promoter, venue operator, and community partner in Hamilton, Ontario.