YWCA Canada and Fora are hosting a post-Federal election event unpacking #Elxn44 - Canada's First Pandemic Federal Election.
About this event
Unpacking #Elxn44 - Canada's First Pandemic Federal Election
On September 20th, Canadians will be going to the ballot box for the first Federal pandemic election. During the campaign period, so many issues have been raised to the forefront such as anti-racism, child care, climate change, economic recovery, gender equity, housing and homelessness, reconciliation and Canada's role on the global stage.
But what does this mean for young women and gender-diverse youth specifically, whose very futures are at stake.
Join Fora: Network for Change and YWCA Canada in a conversation with leading advocates on what does the #Elxn44 campaign and outcome mean for the communities we work with and serve through an intersectional feminist lens.
We will have the following speakers in attendance:
Fae Johnstone, Executive Director of Wisdom2Action and Board Member of YWCA Canada
Hannan Mohamud, Media Commentator including being a member of CBC's Power and Politics Youth Panel for 2021 Federal Election
Bailey Greenspon, Director of Programs and Global Engagement of Fora: Network for Change will be moderating the panel discussion.
Anjum Sultana, National Director of Public Policy & Strategic Communications of YWCA Canada will provide opening remarks.
--
Décortiquer #Elxn44 - La première élection fédérale pandémique au Canada
Le 20 septembre, les Canadien.ne.s se rendront aux urnes pour la première élection fédérale sur la pandémie. Au cours de la campagne, tant de questions ont été portées au premier plan, comme l'antiracisme, les services de garde d'enfants, le changement climatique, la relance économique, l'égalité des genres, le logement et l'itinérance, la réconciliation et le rôle du Canada sur la scène mondiale.
Mais qu'est-ce que cela signifie pour les jeunes femmes et les jeunes de genre différent en particulier, dont l'avenir même est en jeu.
Écoutez les jeunes femmes qui ont été sur le terrain et sur les ondes pendant cette élection, et évaluez ce qui s'est passé et ce que cela signifie.
Rejoignez Fora : Network for Change et YWCA Canada dans une conversation avec des activistes de premier plan sur ce que la campagne #Elxn44 et son résultat signifient pour les communautés avec lesquelles nous travaillons et que nous servons dans une optique féministe intersectionnelle.
Les oratrices suivantes seront présentes :
Fae Johnstone, directrice exécutive de Wisdom2Action et membre du conseil d'administration de YWCA Canada
Hannan Mohamud, commentatrice des médias, notamment membre du panel de jeunes de l'émission Power and Politics de la CBC pour les élections fédérales de 2021.
Bailey Greenspon, directrice des programmes et de l'engagement mondial de Fora : Network for Change, animera la discussion.
Anjum Sultana, directrice nationale des politiques publiques et des communications stratégiques de YWCA Canada, prononcera le discours d'ouverture.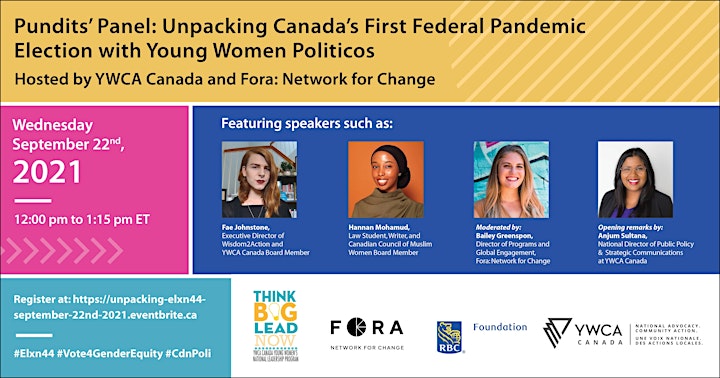 Organizer of #Elxn44 - Unpacking Canada's First Pandemic Federal Election