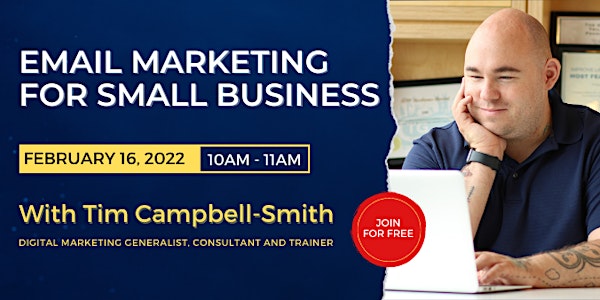 Email Marketing for Small Business
Join our interactive webinar where we'll cover fundamentals and best practices of email marketing in business.
About this event
If you're confused or could use some guidance on how email marketing can work for your business, this webinar is for you!
In this session we'll cover
-Tools for email marketing,
-Parts of the email marketing journey,
-Tips and best practices for each part of the journey, and
-Legal compliance everyone needs to know.
About the Speaker:
Tim Campbell-Smith is so extroverted he puts the social back in social media. Tim's love language is local restaurants, and Time Magazine describes him as "someone we've literally never heard of." Having a passionate love affair with Pinterest, Tim's dogs, Monster and Mini describe him as "the world's greatest social media consultant" and says "he knows a lot about YouTube, and gives us treats."
Tim also felt obligated to share he's consulted for hundreds of businesses worldwide, published books in the areas of marketing and small business and completed training with honours in both Adult Education and Digital Marketing Management.