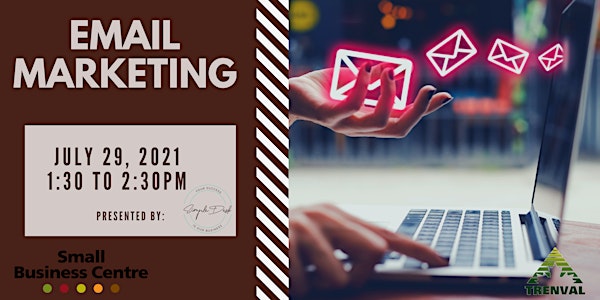 Email Marketing
Email marketing is growing more popular as a marketing tool for small businesses
Date and time
Thu, Jul 29, 2021 10:30 AM - 11:30 AM PDT
About this event
Email marketing is growing more popular as a marketing tool for small businesses, but if you've never done email marketing before, where do you start? Join Theresa Gannon, Head of Marketing at Simple Desk, as she unpacks how to get your start in email marketing! You'll learn:
• Why Email Marketing is Valuable (including the pros and cons of this strategy)
• Email Marketing platforms
• Best practices for creating emails
• Tools for Successful Email Marketing
• Marketing Strategy for Content and Growing Your List
• A Brief Look at Automations
You don't have to have a marketing degree to create compelling emails, this one hour webinar will get you started on the right track!
About the organizer
The Small Business Centre is a one-stop centre for entrepreneurs and small business owners. Our service area extends from Deseronto to Quinte West, Maynooth to the southern tip of Prince Edward County.
Our counsellors provide information on a full range of topics, from business start-up to growing your business right through to succession planning. Whatever stage you're in, the Small Business Centre can help find the resources you need.