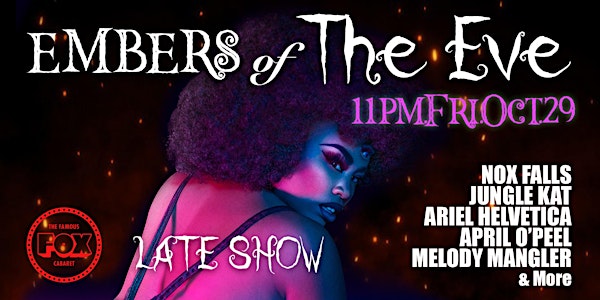 Embers of The Eve - Halloween Burlesque Show at The Fox - FRIDAY LATE SHOW
Embers of The Eve is a Halloween Burlesque Show that sparkles and spooks with performances from Vancouver's finest Sirens of Seduction.
About this event
EMBERS of The Eve - A Halloween Burlesque Show - LATE SHOW
Friday Oct 29th at The Fox Cabaret
10:30pm Doors, 11:00pm Showtime
Reserve your spot at one of our cabaret tables for this hallowed eve of smouldering Burlesque that reaches into the embers of the dark; firing the sparks of spooky, and sizzle of sexy. The show features a randy and raucous rotation of some of Vancouver's finest sirens of seduction and tease along with Seattle's Nox Falls.
Get out of your house! Do not miss your chance to be apart of these intimate performances at The Fox Cabaret--surely the hottest Halloween ticket in town.
Performances from:
NOX FALLS
JUNGLE KAT
ARIEL HELVETICA
APRIL O'PEEL
MELODY MANGLER and CHERRY ONTOP
EMBERS of The Eve is produced by Mercury Artists, who is also the producer of The Lost Girls Burlesque and The Blue Boa Burlesque .
*The venue will be checking for valid ID and Proof of Vaccinations.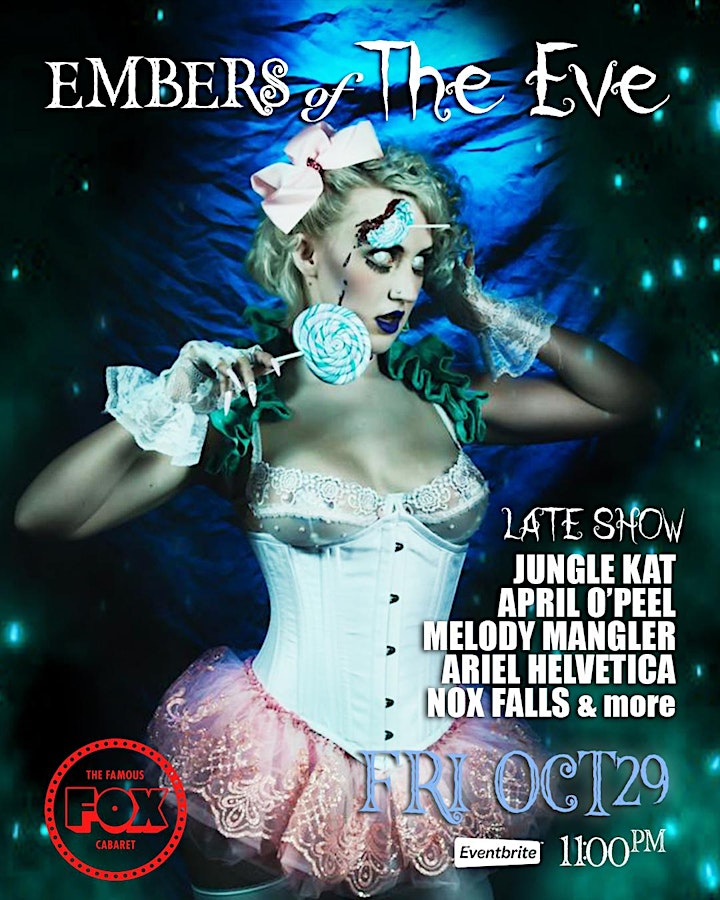 Organizer of Embers of The Eve - Halloween Burlesque Show at The Fox - FRIDAY LATE SHOW
Element-Eighty Entertainment is the arm of Mercury Artists that produces, manages, and promotes special events, concerts, and festivals.  We manage shows for the artist we represent, for artists we collaborate with, and for the corpoate client that is looking to have a major event planned, and executed with flare.  We have developed strong relationships with venues and promoters across Canada, the US, the Caribbean, and most recently, Europe.  
We don't just book the venue, we provide and manage the talent, the sound sytems, engineers, and lighting technicians.  Element-Eighty Entertainment handles ticket printing and sales, e-tickets, marketing, and catering; both food and beverage.  We work with media outlets, such as television, print, and on the web to ensure that everyone knows when we are throwimg a party. 
The goal of Element-Eighty Entertainment is simple. We create, promote, and manage events that are safe, memorable, sound great, and have fantastic culture and  food.  Wherever possible, we endeavor to include charities, and fundraising with our events. Music, is supposed to bring us together after all.