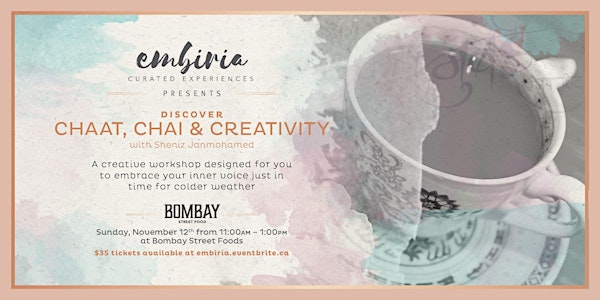 Embiria presents DISCOVER: Chaat, Chai & Creativity
When and where
Location
Bombay Street Food 828 Bay Street Toronto, ON M5G 1Z6 Canada
Description
"There are days I drop words of comfort on myself like falling leaves and remember that it is enough to be taken care of by myself."
- Brian Andreas
Welcome to the #embirialife, Toronto's newest way to enjoy unique, curated and pre-packaged experiences and activities that allow you to connect with yourself and others.
Facilitated by arts educator and author Sheniz Janmohamed, this creative workshop will encourage you to contemplate transformation in your own life, seek warmth in creativity, and find inspiration in the falling of the leaves.
As we prepare for cooler months ahead, we seek comfort from within and without. The origin of the word "comfort" has its roots in the word 'strength' from com- (expressing intensive force) + Latin fortis 'strong'. Indeed, being comforted and comforting others can strengthen us. Partake in creative prompts that embrace the transient nature of the season and remind you of the joy of finding comfort in words.
Get comfortable with a hot cup of tea, tuck in to delicious food, and and rekindle your creative fire just in time for colder weather. All taking place inside of the beautiful Bombay Street Food. Note: your ticket includes a cup of coffee or chai, plus chaat (an Indian appetizer).
You'll also be given a beautiful journal provided by Indigo and a writing exercise from Sheniz so that you can continue your creative journey at home.
-----
More about Sheniz Janmohamed:
Sheniz has visited dozens of schools and libraries to teach and perform. She is a firm believer in fostering community through collaboration, compassion and creativity. In her own practice, she strives to embody her words through performance, mandala-making and writing in the ghazal form. Shenizcurrently serves as a Mentor-Artist for the Digital Media Arts Program at the Royal Conservatory, and was the 2015 recipient of the Lois Birkenshaw-Fleming Creative Teaching Scholarship.
-----
To be the first to know about upcoming experiences like this, connect with us at embiria.ca.
FAQs
Do I need to bring anything with me?
You favourite writing utensil and notebook if you'd like. Otherwise, materials will be available for your use at the workshop.
How can I contact the organizer with any questions?
For any questions or comments, please connect with us at hello@embiria.ca.
-----
Please be advised that there will be photography taken at this event that may be used in press, marketing materials, and other publications at any time. By attending this event, you consent to this, and to the use of any images you may be a part of unless you inform us in advance.