Multiple Dates
EMBRACE by Hazel Venzon ft. Sawa Theatre written by Qudus Abusaleh
A Virtually Immersive Theatrical Experience by Hazel Venzon featuring Sawa Theatre, written by Qudus Abusaleh
About this event
EMBRACE is 1-part cooking show, 1-part story-telling and 1-part pandemic-dinner party. It is an immersive virtual performance that will cover things like freedom, identity and math - all during the making and sharing of a meal.
Join 3 twenty-somethings: Yousef, Suzan and Ameen in 3 separate episodes while they teach you how to cook a Middle Eastern dish from start to finish. Share the dish together and confirm you're connected to something larger than yourself.
There are 3 performance dates:
June 18: Yousef Almbaidin (Main dish, Mulukhiyah)
June 19: Suzan Palani (Side dish, Vegetable Dolma*)
June 20: Ameen Alnaser (Dessert, Kunafah)
5:30pm, approx. 1.5 hr duration
Proceeds from each ticket purchased for a meal kit** (minimum $10) will be going to Ka Ni Kanichihk.
There are three ways to experience the event, depending on which ticket you buy. When purchasing, choose which date and experience you would like (hands on - with meal kit, hands off, or DIY).
*vegan friendly option
** all Meal Kit reservations are Final
----------
HOW TO EXPERIENCE in THREE WAYS
1. HANDS ON (Suggested $10 donation for Ka Ni Kanichihk)
HOW IT WORKS:
The participant will receive a meal kit at their doorstep at least 30 mins before showtime. The kit will include every item, measured and portioned in order for them to complete the dish from start to finish. Inside the kit, they will find a recipe card listing the household supplies that are required. They will have 15 minutes to gather the cooking supplies listed on the recipe card and log into the ZOOM room.
At showtime, the participant will open the ZOOM link and begin the cooking lesson hosted by one of the cooks. By the end they will share a meal that they've made together, virtually.
2. HANDS OFF (By donation)
HOW IT WORKS:
On the day of performance, the viewers will receive a link to watch the performance from a birds eye view, watching the audience actively make their dish alongside the cook's instructions. Sit back and take it all in - the stories, the buzz, the dinner party.
3. DIY (do it yourself) (By donation)
HOW IT WORKS:
5 days prior to the performance, the recipe and recipe card for each episode will be available for download at UNITPROD.CA. Where ingredients can be found around town will be on the website.
On the day of the performance, they will get a link to the performance and then will follow along with the others via YouTube, Facebook or Twitch. They'll be adding to the buzz and getting an immersive theatrical experience. By the end they will share a meal that everyone made together, virtually.
Eating together confirms the sense of being part of a community.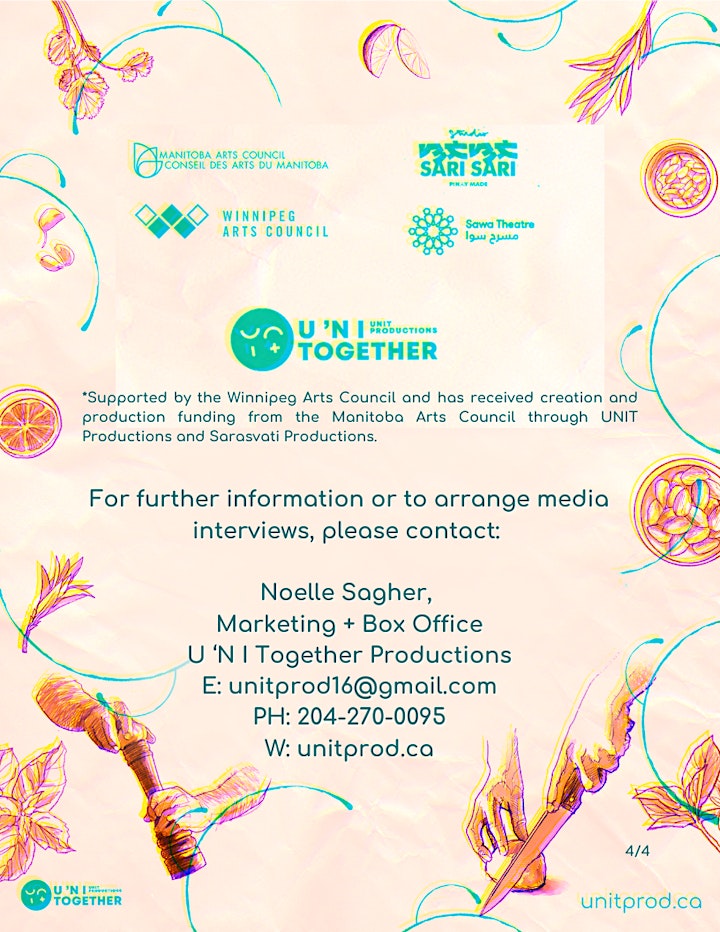 Organizer of EMBRACE by Hazel Venzon ft. Sawa Theatre written by Qudus Abusaleh