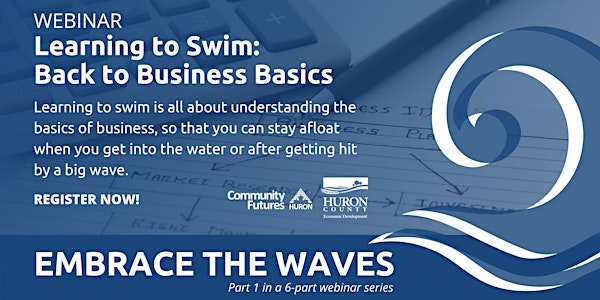 Embrace the Waves | Learning to Swim: Back to Business Basics
This webinar focuses on the basics of business.
About this event
Learning to swim is all about understanding the basics of business so that you can stay afloat when you get into the water or after getting hit by a big wave.
This webinar focuses on the core of business development. Can your business make money? What is your breakeven? What is your potential profit for the remainder of the year and next?
Now is the perfect time to re-assess and adapt for the next wave of business. Once you are clear on the amount of money you need to make, then you can focus on creating good products, good customer service, and developing your marketing plan. Start with a solid foundation by knowing your numbers. Stay centered on the basics and grow a strong, healthy business.
Join Tina Heathers, Business Lending Consultant with Community Futures Huron, for this webinar that reveals the tips you need to become a successful entrepreneur and grow and manage a business in wavy waters.
--
This webinar is part 1 of a 6-part webinar series. Please feel free to come to one of all of the sessions.
Please Note: Registrants will receive email reminders directly from Event Brite that will include Zoom meeting information. Please remember to check your junk mail for this email.