Learn how to tell a story through social media content!
About this Event
Do you want to learn more about telling a brand's story through social media content? This workshop will delve into how to create a content marketing strategy that aligns with your goals, how to come up with content ideas, and how to find the right format to tell your story. Whether you're starting your own business, or working for one, content marketing can help you make a lasting impression!
Prerequisites
None!
House keeping rules
Above all, it is a practical session, and we are here to learn together, make mistakes, ask questions & collaborate so that we can learn intuitively.
Despite all workshops being online this fall, we are trying to emulate the in-person experience as best as we can, which would benefit from you having your camera on during workshop unless of course you don't have access to a webcam, in which case we still encourage your presence. Our only requirement from you is that you are eager to learn!
* This event is offered only in English.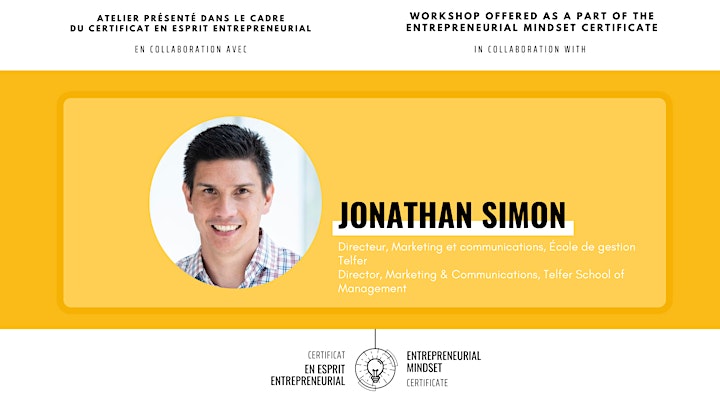 Jonathan Simon
Jonathan Simon is a digital marketer and Director of Marketing & Communications at the Telfer School of Management, University of Ottawa. He also teaches digital marketing at both the undergraduate and graduate levels. Formerly the Director of Marketing at Magmic – a leading publisher of mobile games partnering with global brands like Hasbro (Scattergories), Mattel (Skip-Bo, Phase 10, Blokus), and Rubik's Cube (Rubik's Cube, Rubik's Uncubed). He leads the Telfer marketing team, responsible for communicating the Telfer vision, Programs marketing, Research marketing, and supporting Develop and Engagement activities.