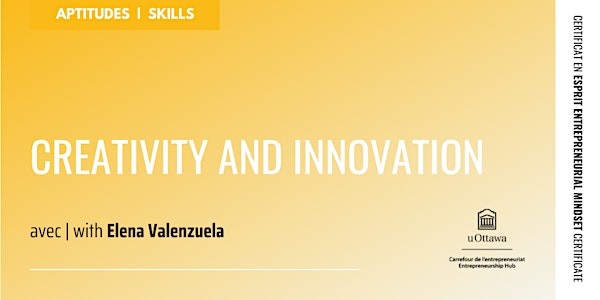 EMC: Creativity and Innovation
Gain skills and knowledge on creativity in a business context!
About this event
Cet atelier est également proposé en français. Cliquez ici pour accéder à la version française.
Whether you are starting a business or working in a company or organization, at the heart of any entrepreneurial endeavors and successes, you will find creativity and innovation. This workshop will discuss the importance of these ideas within a business context. Through interactive activities, we will provide you with tools to develop your own creative power so you can find new ways of looking at problems and opportunities and transform them into innovative solutions!
Prerequisites
None!
House keeping rules
Above all, it is a practical session, and we are here to learn together, make mistakes, ask questions & collaborate so that we can learn intuitively.
Despite all workshops being online this fall, we are trying to emulate the in-person experience as best as we can, which would benefit from you having your camera on during workshop unless of course you don't have access to a webcam, in which case we still encourage your presence. Our only requirement from you is that you are eager to learn!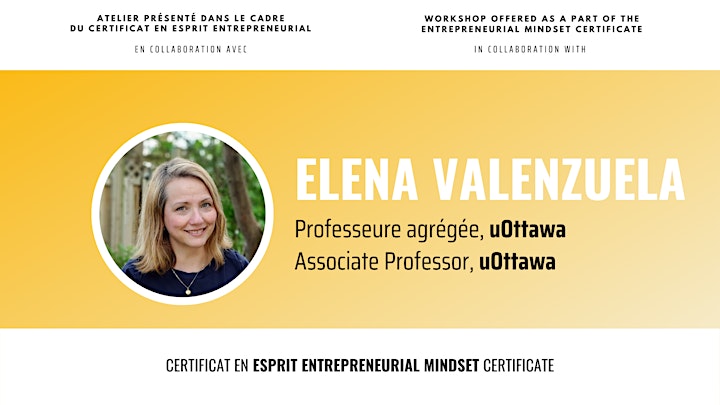 Elena Valenzuela
Elena Valenzuela is an Associate Professor in the Department of Modern Languages and Literatures. Her research focuses on language acquisition and bilingualism. She examines the processes underlying the development of second languages as well as heritage and immigrant languages. She is currently director of the Spanish Graduate Program and director of the Entrepreneurship, Creativity, and Social Innovation option at the Faculty of Arts where she teaches Creativity and Innovation and explores the connection between the creative method and the scientific method.
Twitter: @Prof_Elena