EMC: Developing an Intrapreneurial Brand
Learn about developing a new brand inside an organization!
About this event
Cet atelier se déroulera également en français en même temps ! Vous pouvez vous inscrire ici - vous pourrez participer à l'atelier dans l'une ou l'autre langue le jour de !
An intrapreneur is an employee that leverages their entrepreneurial mindset and skills within an existing organization, rather than striking out alone.
In this workshop, learn the ins and outs of developing a new exciting brand persona while working within an organization. We'll dive into creating a core brand message, position your brand, and developing innovative brand personas through engaging activities and examples. These skills can be used to develop a brand persona for your own business, too!
Prerequisites
None!
House keeping rules
Above all, it is a practical session, and we are here to learn together, make mistakes, ask questions & collaborate so that we can learn intuitively.
Despite all workshops being online this fall, we are trying to emulate the in-person experience as best as we can, which would benefit from you having your camera on during workshop unless of course you don't have access to a webcam, in which case we still encourage your presence. Our only requirement from you is that you are eager to learn!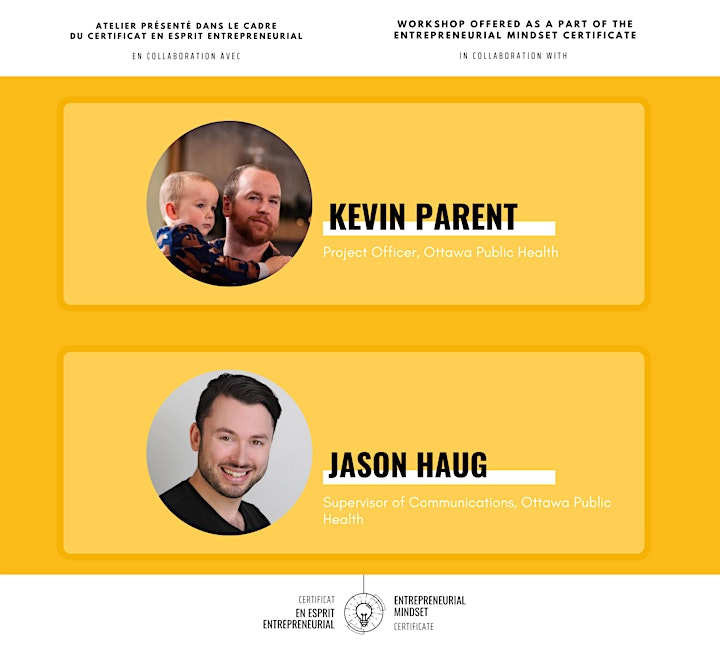 Kevin Parent
Kevin Parent is a Project Officer at Ottawa Public Health, currently deployed as the lead for our team responsible for the Ottawa Public Health Twitter, Facebook, and Instagram platforms. Kevin has been working with OPH since September 2018. He has a background in marketing and has degrees in Communications and Sociology. He is also the single most handsome individual to ever work at OPH, as per our records.
Jason Haug
Jason is the Supervisor of Communications for Ottawa Public Health (OPH), with a team that includes social media, engagement, media relations, web, new content development, internal communications, graphic design, videography, and multilingual adaptation. Jason studied at the University of Ottawa in Health Sciences and Business. His specialty areas are brand strategy development, social marketing (behavior change communications), and public engagement. Prior to his 10 years with Ottawa Public Health, Jason was a local entrepreneur in the health and fitness industry, working with small businesses and individuals with nutrition, exercise and wellness initiatives.
Organizer of EMC: Developing an Intrapreneurial Brand