Learn how to seamlessly navigate your life as a student, entrepreneur, and human being with purpose!
About this event
* Pour l'atelier français, veuillez consulter le site de la CEE : Faites-le avec détermination et précision *
As an entrepreneur, it is important to remember your "why" - the reason you started your business, and the reason you continue to work on it! In this workshop, we will discuss the importance of doing things with purpose. We will learn valuable entrepreneurial skills such as evaluating growth opportunities and staying resilient while networking. We will also look at ways to balance life as a student, an entrepreneur and as a human being!
Prerequisites
None!
House keeping rules
Above all, it is a practical session, and we are here to learn together, make mistakes, ask questions & collaborate so that we can learn intuitively.
Despite all workshops being online this fall, we are trying to emulate the in-person experience as best as we can, which would benefit from you having your camera on during workshop unless of course you don't have access to a webcam, in which case we still encourage your presence. Our only requirement from you is that you are eager to learn!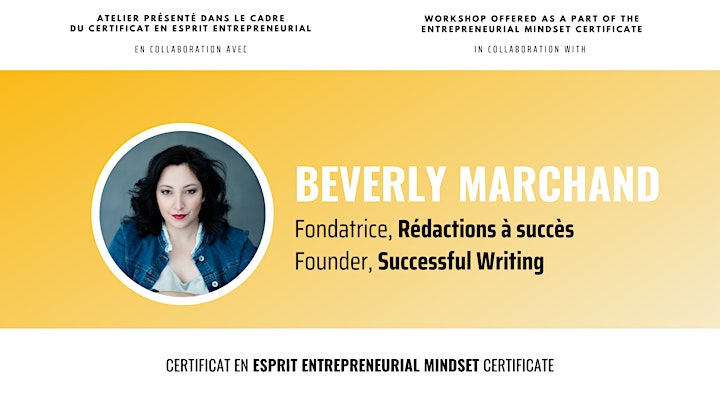 Beverly Marchand
Beverly is a 4th year PhD student in the Faculty of Arts and the founder of Successful Writing (Les Rédactions à Succès). For the past 3 years, she has dedicated her expertise and passion to writing bilingual and impactful professional resumes, bios, and profiles to make tomorrow's professionals and entrepreneurs shine.
Organizer of EMC: Do it with Purpose