Join us to better understand and quantify your target market!
About this event
Cet atelier est proposé en anglais. Pour l'atelier en français, veuillez consulter la rubrique Études de marché.
Have an idea but need to understand and quantify your target market? Learn tips and tricks to scope out your audience and understand the market landscape in detail so you can make a convincing business case. We'll show techniques anyone can use, plus subscription tools available to uOttawa students.
Note: this workshop will mostly discuss secondary market research.
Prerequisites
None!
House keeping rules
Above all, it is a practical session, and we are here to learn together, make mistakes, ask questions & collaborate so that we can learn intuitively.
Despite all workshops being online this fall, we are trying to emulate the in-person experience as best as we can, which would benefit from you having your camera on during workshop unless of course you don't have access to a webcam, in which case we still encourage your presence. Our only requirement from you is that you are eager to learn!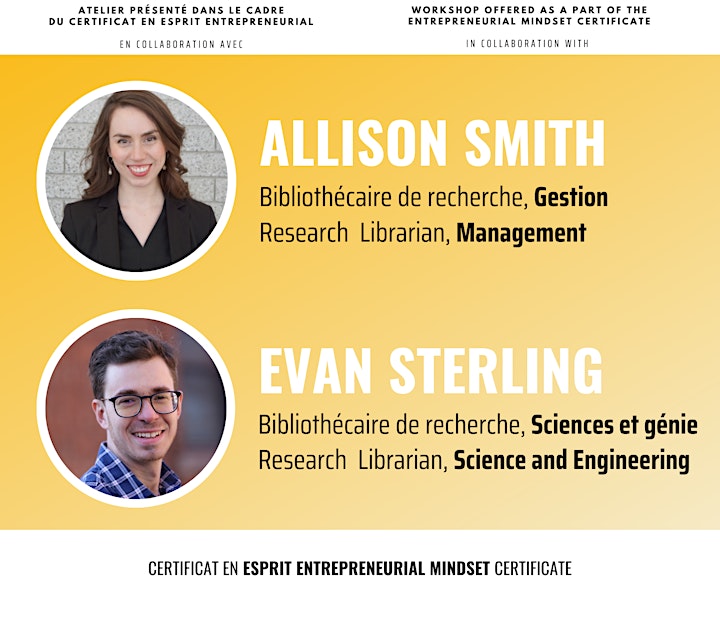 Alison Smith
Allison Smith is a Research Librarian specializing in business and management where she helps connect the uOttawa community with a wide range of information resources and tools for their projects. Prior to joining the University of Ottawa, Allison worked in knowledge management and competitive intelligence for Fortune 500 companies. She is looking forward to hearing more about your ideas!
Evan Stirling
Evan Sterling is a Research Librarian for engineering and engineering management at uOttawa, who helps students in these programs find hard-to-find information. Previously he worked as a consulting engineer in Toronto and Kingston. He loves seeing the interesting ideas and projects that students are working on.
Organizer of EMC: Market Research